27 Jul

11th Annual Community Photo Show

Redlands Art Association is again hosting its annual community photo show, from July 29 to August 4.

Come see what inspired our community artists! All were invited to bring in their photography … from their cell phones – their Single Lens Reflex (SLR) camera – or their drone photos. One week only… so don't put it off.

Take-in is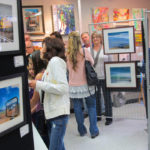 Saturday July 27, 1-4 pm and will be ready for viewing on Monday, July 29. So, take your best shots and bring them to RAA for a chance to show them off, and be part of a fun show!
A reception will be held on Sunday, August 4, from 2 – 4 pm. Bring friends and family to enjoy the show, have some refreshments, and meet other like-minded photographers.
Gallery hours are 11 am to 5 pm, Monday through Saturday.