Report from the Remodeling Task Force
As our membership has expanded, we have outgrown our existing space. Our classroom is over utilized and the gallery bursts with great art packed into too small of a space.
To address our space limitations, a Remodeling Task Force was formed: John Fisher, Patty Hayden, Evelyn Ifft (chair), Jerry Meeker and Annette Weis. Armantrout Architects were retained for the preliminary and feasibility plans only. The architect's cost of $3500 was donated by Larry Harvill and Evelyn Ifft.
The task force met many times with Leon Armantrout and his assistant, Avani Pavasia. We informed them of our needs, hopes and restrictions as pertained to the project. Avani spent much time researching ideas, materials, furniture, etc. and then planning the space.
Below is Avani Pavasia's statement of purpose, the new floor plan and the visualized RAA façade. Further information, pictures, and material samples are in the gallery for you to see.
Now we need your help to meet the visual arts needs of the community. Your donations, no matter how large or small, will help us continue to provide art classes and opportunities to artists of every age.
Thank you, Evelyn Ifft, chair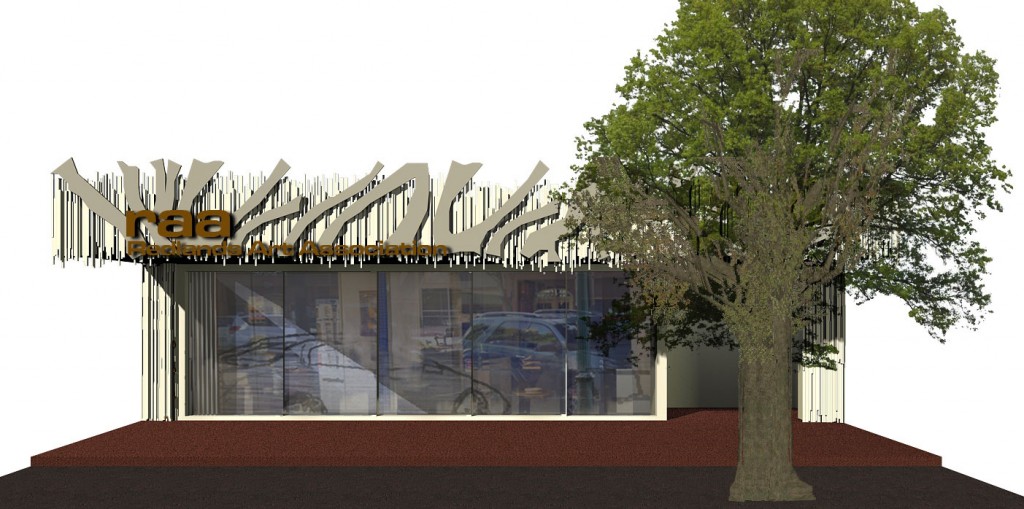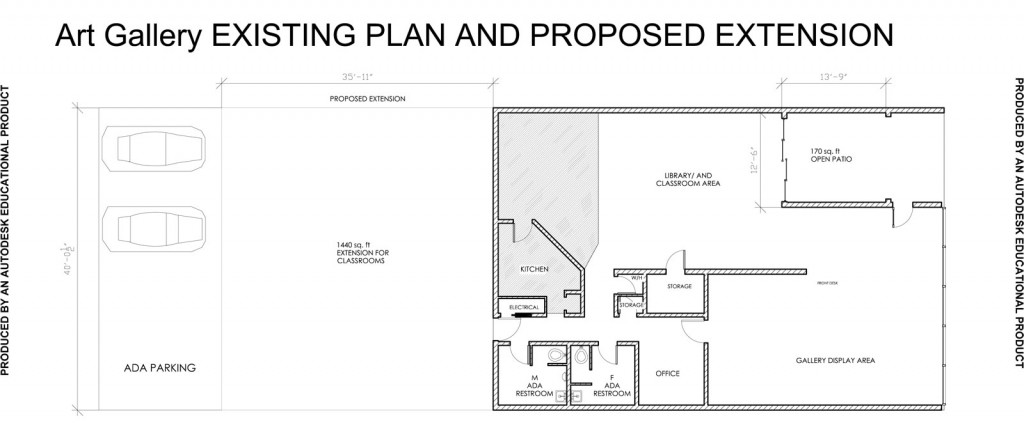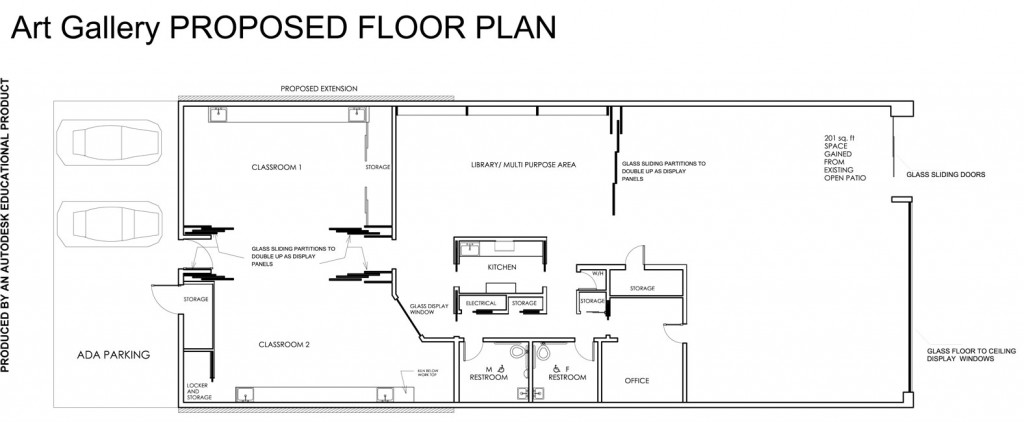 Philosophy and Approach to the RAA Design
The inspiration and motivation to update and expand the present gallery space came from the collective enthusiasm of numerous hearts and souls directly and indirectly involved in the project.
The existing RAA State Street Gallery is the result of the history of a place originally built by the Gas Company in the mid-sixties and subsequently purchased in 1973 by Carl Doss for one of the first Century 21 Real Estate offices. Today its' location at 215 East State Street in Redlands is enhanced by one of the Indian Laurel trees lining the street. These large trees define a beautiful setting in downtown Redlands for an art gallery/association.
There is also the remarkable motivation and inspiration among the members involved in this design project. The goals and visions of these folk are all based on various degrees of involvement. Together, all of us believe in creating a gallery design which can support our environment and health. A well-organized collection of design elements, both interior and exterior, can lead to higher productivity, happiness, and prosperity. The RAA Art Gallery is a perfect example of that happening in Redlands today.
Not so long ago I started working with Armantrout Architects who assigned me the task of creating a new and distinctive place for art education and exhibition purposes. RAA's goal was to do a major renovation to gain space for their expanding classroom needs and a larger exhibit area. Thanks to Leon Armantrout and the RAA Remodeling Committee, my imagination took flight. Their strict guidelines and requirements became a challenge, but my mission was to translate their necessity into a creative preliminary design…and that is how it all began.
Due to the emerging green movement, artists have begun to incorporate nature into every field of art. My goal was to take advantage of that to create a gallery space that is unique, yet close to the roots of RAA and culture of Redlands. The idea of a floated organic shaped drywall ceiling with a partially exposed roof structure and a skylight will add high volume and light to the space. I have always enjoyed using a combination of different surface materials in interior space. The use of industrial materials, such as glass and bare metal, combined with sustainable materials like bamboo flooring and with natural organic shapes can create a very effective and inviting interior space. A freeform-shaped lacquer finished front desk, abstract metal tree branches for the jewelry display wall and exaggerated stacked metal strips behind the desk balance a perfect tranquility with sophistication. The green movement has already been effectively implemented by the solar panels above the north wall. We will retain and add to them with the new addition. Our goal is to make the building as green as possible in order to earn maximum LEED (Leadership in Energy and Environmental Design) certification so that Redlands will have another example of a high quality, sustainable building at RAA.
Each project has a story and inspiration. This project's inspiration came from the Indian Laurel tree that stands just outside of the existing entrance. Time and trends are constantly altering that which shapes our society and living. As I always say, "Design makes a difference". Materials gathered together harmoniously create a place for meetings and educational purposes, for exhibition of art as well as a contribution to the environment.
The interior design is edgy, yet it has a classic twist. When I envision the art gallery space, I think of simplicity, elegance, art, comfort and belongingness. With high regards for RAA's specific guidelines and Leon Armantrout's architectural expertise, this vision came alive. It can be seen when you look at the preliminary plans and sketches which are displayed in the gallery. The RAA art gallery should be a place where people can meet to appreciate, enjoy and create art.
Avani R. Pavasia of Armantrout Architects