Academic Year 2021-22
We are a Covid Compliant Business: California State guidelines apply
---
Session D: Jan. 24 – Feb. 18th
Module 4: "Texture" w/Vanessa Aiken 6-9 yrs
Learn to create actual texture with 3-dimensional art & implied texture with 2-dimensional art. We will be creating observational drawings.
Mondays: Jan. 24, 31 Feb. 7, 14. 4 x 2 hr classes Time: 10:00am – noon
Fee: $85 all supplies provided
---
Clay Trek w/ Lisa Mertins
We are welcoming local ceramic artist Lisa Mertins this session to the Youth Education team. She will be teaching hand building techniques and glazing
Mondays: Jan. 24, 31 Feb. 7, 14. 4 x 2 hr classes, 4 x 2 hr classes Time: 3:30 – 5:30pm
Fee: $85 all supplies provided
Please note: New time
---
Module 10: "Form & Texture" w/Michele Laughlin
Explore the principals of form and texture by using various mediums
Tuesdays: Jan.18, 25 Feb. 1, 8, 15. 5 x 1.5hr classes. Time: 10:00 – 11:30 am
Fee: $85 all supplies provided
---
Module 4: "Texture" w/
Lauren Jacob 6-9 yrs
Explore the concepts implied & actual texture. We will use varied mediums to created textures on varied surfaces.
Tuesdays: Jan.18, 25 Feb. 1, 8, 15. 5 x 1.5hr classes. Time: 3:30 – 5:00 pm
Fee: $85 all supplies provided
---
Module 9: "Form & Texture" w/Mrs. Mount ages 10+ yrs
Explore the principles of form & texture by creating pieces in varied mediums to create textures on varied surfaces.
Wednesdays: Jan.19, 26 Feb. 2, 9, 16. 5 x 1.5hrs classes. Time: 4:00 – 5:30 pm.
Fee: $85 all supplies provided
---
Cartooning & Anime w/ Darlene Douthit ages 6+ yrs
Discover interesting drawing and coloring styles to help celebrate the holidays. Learn cartooning & anime with the aid of drawing guides and demonstrations. Students learn inking, marker, and watercolor pencil techniques.
Thursdays: Jan. 20, 27 Feb. 3, 10, 17. 5 x 1.5hrs classes. Time 3:30 – 5:00pm
Fee: $85 all supplies provided
---
"Fun Friday" w/ Rachel Vandehay 6+yrs
Drawing, painting and so much more…come and explore with the new art teacher.
Fridays: Jan. 21, 28 Feb.4, 11, 18. 5 x 1.5 hrs classes. Time 3:30 – 5pm
Fee: $85 all supplies provided
---
---
Valentine Holiday Workshop – Saturday February 12th
Time: 10am – noon 6 – 9 years
Time: 1:00 – 3:00pm 10+ years
Fee: $35
---
Spring Art Camps – March 2022 TBA
Painting, drawing and so much more art fun
---
CLASSES FILL FAST!! Register early by calling 1-909-792-8435 or stop by Redlands Art Association Gallery, 215 E. State Street, Redlands between 11am and 5pm Monday to Saturday. Our flier is on Peachjar, Facebook & Instagram
Charter Schools: parents need to sign up for classes with RAA & obtain a PO from their Charter School, otherwise they will be held responsible for class fees. Charter Schools do not book classes with us. We are vendors for: Empire/River Springs, Gorman, Granite Mountain, Mission Vista, Sage Oak, Sky Mountain. If you would like RAA to become a vendor please ask your Charter School.
PLEASE NOTE: A 72 hour notice prior to the start of the class must be given to the RAA to receive a refund or transfer to a different class. If your child is unwell, please keep them at home and call the gallery.
There will not be a registration confirmation. Students will be notified if the class is cancelled. Please contact us if your child is unable to come to class or they are sick. Class fees will not be prorated/refunded for missed classes.
* Children must be 6 years old by December 1, 2021.
Scholarship application deadlines: for Classes: 1 week before classes begin; for Winter/ Spring/Summer Art Camps: 2 weeks before classes begin. Application forms must be picked up at the Redlands Art Association. Only 1 full scholarship per family, per year.
---
Youth Teacher Bios
Suzanne Burke
Suzanne Burke has been a teacher at RAA for 4 years and has coordinated all the Youth Education Classes for the last 2 years. Suzanne studied Art History at San Diego State University and graduated in 1987. She taught Elementary Education for 12 years in both public and private schools. Teaching Art was always a priority in her General Education classroom. Suzanne loves teaching at RAA and bringing Academic and Creative art lessons to the children of Redlands.
Darlene Douthit
Darlene Douthit is a professional caricaturist, portrait artist, cartoonist, demonstrator and teacher. Her formal art education was obtained from Univ. of Redlands, San Bernardino Valley College and Scottsdale Artist School. Darlene was personally instructed by such renowned artists as Robert Abbett, Sam Savitt and the famous cartoonist Charles Schulz. She has been a professional artist since 1978. Darlene was employed as an illustrator and Layout Artist for 10 years and has many commissioned portraits, humorous illustrations and caricatures to her credit worldwide. Her teaching workshops and demonstrations span a career of over 38 years.
Firouzei Flordelis
Firouzui enjoys sharing her passion for art and art history with the youth of our community. She loves to inspire young artist to be creative, expressive and imaginative. Firouzei earned a BA in Studio Arts and Art History from the College of Charleston and a MA from National University. She holds a California Teaching Credential and enjoys teaching Ceramics and AP Art History at Moreno Valley High School. Firouzei has been a RAA Youth Ed. Teacher since 2007.
Michele Laughlin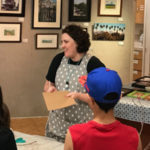 Michele Laughlin spent her childhood making objects and drawing with what ever materials could be found. She grew up surrounded by very talented and creative people who have greatly influenced her own artwork. Michele has a Masters Degree from Azusa Pacific University. She taught Art at the High School level for ten years. Currently she teaches at Riverside Community College. Michele loves the opportunity to teach at RAA and for the chance to give back to her community.