09 Apr

4-24-16 Art-On-State-Street

The Redlands Art Association invites you to browse the arts at ART-ON-STATE STREET on Sunday April 24, 2016 from noon to 6pm.  The block of State Street between 5th and 6th Street will be dedicated to RAA artist's …  their canopies, tables, racks and standards lined up with easy pedestrian walking down the middle of the street.   Both fine arts and crafts will be offered out on the street.

RAA is participating with Redlands' Downtown ArtWalk.  The day's fun also includes a Kid's Zone, sidewalk chalk art, bake sales, beer garden, food trucks and music. The whole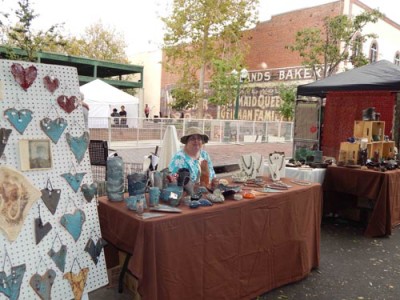 downtown area will be involved!  Many businesses will have solo art shows – Cheesewalla food truck at Civic Plaza and Fire_Apizzaco at Ed Hales park. Renaissance Banquet Hall, upstairs at 19 E. Citrus will be hosting The Fan Four at 1pm. Stop out for great local food, drinks, art, and music!
RAA's Gallery at 215 E. State Street will also be open during the event.