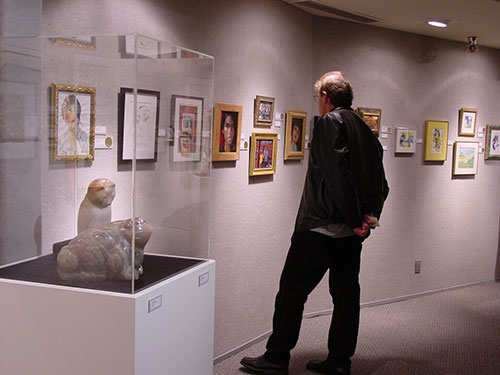 09 Dec

December 2014
46th Annual MULTI MEDIA MINI SHOW
Make us some art ~ Make a pledge to buy art ~ Make a trip to see our art.
March 2015.  Make us some art! Get your creative juices flowing and make us a small treasure!   The Multi Media Mini Show (MMM) is unique to Redlands. What makes it different is, 1) the limitation of the art piece to 14.5″ including base or frame and 2) that all media is accepted. Artists can submit photography, digital (computer) work, fiber art, drawings, glass, sculptures in wood- stone- and metal, as well as the traditional fine arts. Leslie Brown, artist and teacher, will jury the art into the show. Take-in for the MMM Show is on Sunday, March 1, 2015. Prospectus will be online and at the Gallery soon.
Maybe you thought art patrons were from days gone by. Not so! By committing to purchase art at our show, you are supporting the artists. You will be advertising that you are a Patron of the Arts!
The Purchase Award Patrons get first viewing of the show after it goes up ~ first opportunity to buy!! Then you will get Your name tag placed beside the piece(s) you purchase and on the Awalk-around sheet@ of all the art & artists in the show. Your name will also be in all of our publicity.
Your commitment can be as little as $ 75.00. Good art is not always expensive. Yes,Aknown@ artists will be priced accordingly, but remember, the Mini-size will affect their price in your favor. Make your commitment now so we can add you to our publicity. Selection takes place on Thursday, March 5, 2015. Call Sandy Davies for more information, at the Gallery, 909-792-8435.
Make a trip to see our art! On display March 5 through March 27. See the unique – the pieces that make you say, "Wow". Bring family and friends to see the art. Make a day trip of it – several restaurants close by. Redlands Art Association, 215 E. State St – downtown – Redlands. Hours: Mon – Fri, 10 am to 5pm. (Closed Sunday)
Sandy Davies, Publicity