12 May

RAA News May 2013
Spring/ Summer Adult Art Classes
Rekindle your creative spirit by taking a class or workshop.  RAA has a lineup of terrific teachers who are knowledgeable, creative and very people oriented.  They truly care about their students and give attention to individual needs.  I hear such good comments about our teachers.
Check out the schedule.  It was in last month's newsletter, is on the RAA website and is in the RAA Gallery in flyer form.  Sign-up by calling or visiting the RAA Gallery.  You'll be glad you did!
Lori Powell, Adult Education
Join Us all at Art in the Park
Memorial Day Weekend, May 25 & 26, 9am – 5pm
Browse through the park to see all the new art by RAA members and other local artists…70+ artists!    I'm sure some treasures will be found!!  Refreshments by Sigma Phi Sorority, as usual.
Art-in-the-Park at Smiley Park, just off the corner of Citrus and Orange Streets, downtown next to the Police Annex (Old City Hall- oh yeah, check out this building – handsome craftsmanship!)
Also in Smiley Park, behind the Smiley Library, will be the Redlands Festival of Arts, a celebration of the arts for the 125th Anniversary of the City of Redlands.  Indoor and outdoor music performances, excerpts of theatrical works, children's art fun, food trucks, beer garden and more artists!
Make the weekend full of art!
Sandy Davies
Annual Potluck Dinner
The RAA annual pot luck dinner will be Wednesday, June 5, at 6:00 PM. Members bring the most amazing food; family members and friends are welcome. We will install our officers and committee heads for next year, meet members of our Board of Directors. Our Historian will display some of our collections of newspaper articles and photos.
Wednesday, June 5, at 6:00 PM
Redlands United Church of Christ
168 Bellevue (Bellevue at Olive)
Redlands
Don't forget to register for this event so we know how many people to expect. You can do this by calling the gallery. Your Operating Committee and your Board of Directors hope to see you there.
Artist Bios
Dear Fellow Artists,
We are well into the new year and our annual meeting and pot luck dinner are just around the corner and it would be good to have our bio book out on display for the event.
For new members and old members alike, the artist's bio has a simple format –
Page 1: ONE SIDE ONLY: a small photograph, some details about yourself and your art, plus contact details. ie. email address, website ( if you have one).
Page 2:  ONE SIDE ONLY: 2 or 3 photographic examples of your work. Make sure your name is on the page and perhaps your email & website address.
Either :email them to me at bizzilizzi7@gmail.com or print them and put them in my box in the office.
Many thanks
Liz Coviello, Historian in the cupboard.
Executive Director Leaves RAA
Randy Hill, Executive Director since September 2011, has left our organization.
Randy's responsibilities will be covered by the Chair, Board of Directors, President, and Vice President. We wish him the best in his future endeavors. If anyone has any questions about this, please call me 909-793-8889.
Gail Brownfield, RAA President
MCAEEF'S "Redlands Cinema Classic" Film Series: Special Screening of Disneynature's Newest Film "Wings of Life"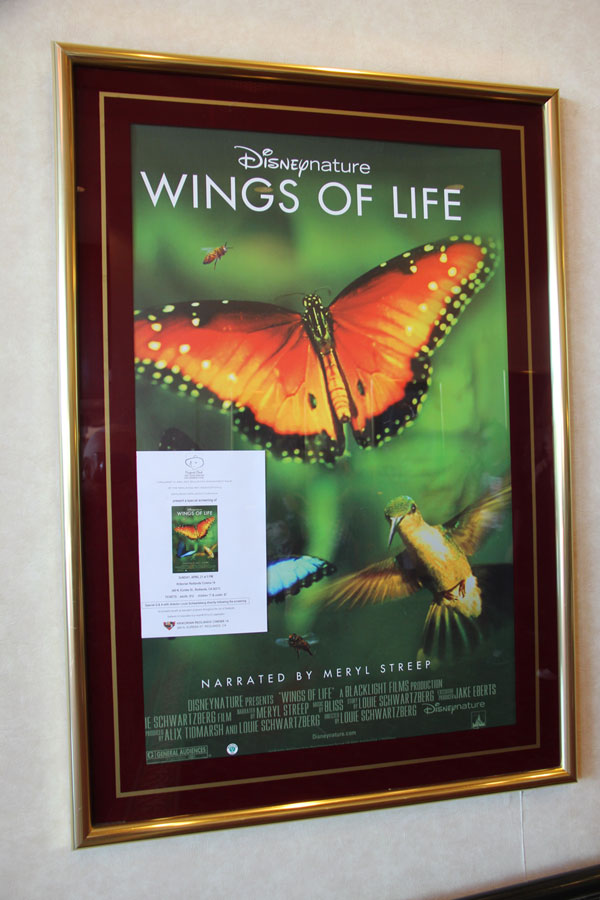 On Sunday April 21st we presented a special screening of "Wings of Life" the newest film from Disneynature to a packed audience. We were fortunate to have the opportunity to present this beautiful film narrated by Academy Award winner Meryl Streep and directed by Louie Schwartzberg through the generosity of Disneynature and Mr. George Krikorian at his beautiful 14 plex theatre . An added bonus was the attendance of director Schwartzberg and Mr. Krikorian.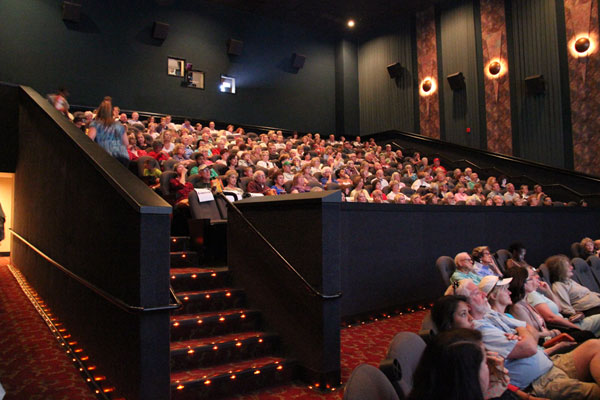 Director Schwartzberg described his inspiration for this film as "the joy of doing this film is to be able to explore worlds that humans can't easily experience-bats sipping nectar in the middle of the desert at night, orchid bees expertly manipulated by a bucket orchid, exotic hummingbirds flying like airborne dancers and a clustering monarch colony with millions of butterflies. I hope to share the spectacle of nature and to spark in others the sense of wonder I have about the natural world."
"Disneynature to celebrate the debut of this film has made a contribution to the Disney Worldwide Conservation Fund to protect pollinators worldwide. They have already supported 20 projects across North America focused on protecting pollinators and their habitats. Grants have helped conservationists save endangered butterflies, expand habitat for honeybees and educate children about the importance of pollinators and how they can help protect them."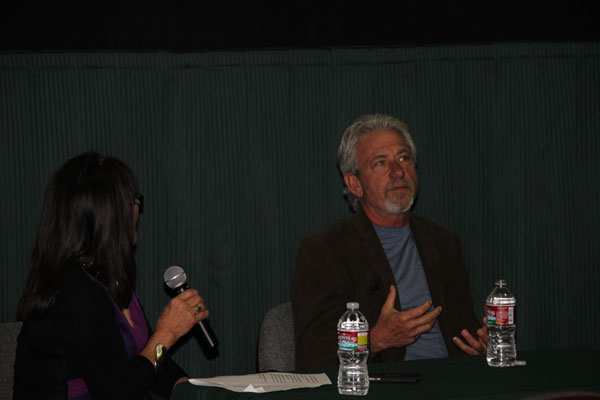 In a Q & A after the screening Mr. Schwartzberg emphasized the importance of our awareness of this and encouraged the audience to plant milkweeds to help save the Monarch butterflies. There were many children in the audience some of whom stayed for the Q & A and asked very intelligent questions. Mr. Schwartzberg also recommended to learn more go to http://nature.disney.com/wings-of-life
"Wings of Life" is available in DVD Blu-ray Combo pack at local stores as well as online. It is definitely a gift worth giving to anyone who loves nature including yourself.
Annette Weis, co-ordinator
Redlands Cinema Classic photographs by Kent Fogleman
Edwards Show at Redlands First United Methodist Church
Janet and Fred Edwards are currently showing a selection of art work at the Redlands First United Methodist Church at Olive and Cajon in Redlands.  The show will be on display during May and June and will be available for viewing after Sunday church services  and through contact in the church office during the week.  There will be a reception with the artists on  Sunday June 23rd from 2-4 p.m., the week before it closes.
New Etching to Benefit Smiley Library
Janet has created a new etching design in honor of the 125th celebration of the city of Redlands.  The title is "The Lincoln Shrine, A Jewel In Redlands' Crown"  The edition number is to be 125 and 12 artist proofs.  Number 1/125 has been presented to the Library for their permanent collection as well as reserving a/p #1 and #2 to be auctioned off for the library's profit during their special celebration in the spring of 2014.  In addition, $25 will be donated to a project of their choosing for each print in the edition that is sold.  The AK Smiley Public Library is indeed worth supporting and preserving and it brings great pleasure to do it in this way.
Janet and Fred Edwards
Losses in the Art Community
The art community has recently lost two men, both who supported/encouraged visual arts and one, who practiced art and mentored it in his students as well.
Dr. Ken Ghormley, was sharp as ever when he was in the gallery just a few weeks before his death. He was instrumental in starting the Redlands Community Hospital art program along with Marianne Finley in the 70's, while Chief of Staff there. The hospital now has more than 700 pieces in its collection, that bring comfort and soothe patients and families. Dr. Ghormley received his medical degree from Harvard Medical School, performing his residency in Urology at the Mayo Clinic in Rochester, MN. He practiced medicine at the Beaver Medical Clinic for 33 years. He was actively involved in supporting the A.K. Smiley Library and the Fortnightly Club. He loved the arts and was a kind and gentle man.
Leon Moburg, a world-renowned artist, had a stint in the U.S. Navy, then attended Monmouth College and graduated Cum Laude from Wesleyan College of Fine Arts, Macon, GA. He then achieved a MFA from Southern Illinois University in Carbondale, a doctorate at Ohio State University. While teaching ceramics at UR, he was known as a master teacher, who is remembered by teacher/artist, John Fisher as a "master ceramist, who was responsible for many other ceramists being known today for their own work.
John Brownfield, artist and Emeritus Professor of Art from the University of Redlands was there at the same time as Moburg. He remembers Moburg's "infectious cackle." "Leon knew how to enjoy life and was a great cook."
After UR, Moburg began teaching at Redlands High School and taught more students who became as "cherished" as each person he mentored. He was noted for his unusual techniques in glaze and form.
Tomi Olson
Highlights from the MCAEEF Committee Meeting
The MCAEEF meeting was called to order by Jerry Meeker on Tuesday, April 9, at 3:00 PM.  The trailer for Walt Disney's "Wings of Life" was shown Wednesday at the Krikorian Theatre  The entire film was shown at 5PM, Sunday April 21.  Annette Weis negotiated with Disneynature to bring the film to Redlands.
RAA needs an electric kiln for firing student's clay projects.  A grant will be written for financial aid.  Two kilns were donated. Unfortunately,they are not useful for this purpose.
Money is available for grants to elementary schools in Redlands. Applications are at RAA MCAEEF  The possibility of including Junior high level was discussed and is being considered.
Smiley Elementary and Kimberly Elementary have been awarded grants by MCAEEF for after school art classes.
Ed Sotello