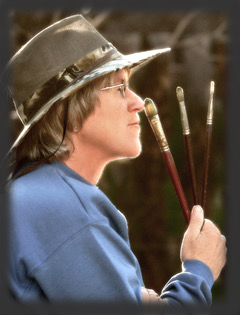 18 Apr

So you want to enter the Big Shows? 
April Program Tuesday, April 24, 2018
presented  by Elin Thomas
Programs are Free and open to all members of the public
This program will focus on shipping, jurying and a general overview of how to choose which shows to enter and why. Anyone interested in the greater world of art exposure will enjoy this PowerPoint presentation.
Elin Thomas (formerly Pendleton) has been active in the art world since 1982, building her career through continuous painting, workshops and self challenges. She was one of the original "Painting A Day" movement artists, being featured in the New York Times along with Duane Keiser for their daily painting challenges. As an emeritus member of Women Artists of the West, she has curated and been receiver for five major shows from professional artists submitting over 150 works to each. She's repacked those shows and has learned a great deal about issues of shipping and receiving.
Her own show career has topped out at the Salmagundi Club in New York City and the Miniature Art Society of Florida, with many shows in all types of venues across the United States. She has done booth shows (La Quinta) and solo gallery shows. Her membership in the American Academy of Equine Art introduced her to artist-in-residence programs and allowed for teaching workshops in distant venues. She is now painting for pleasure and selling those works through social media and her web sites. She only travels via motorcycle, continuing to plein air paint whilst on the road with her beloved pup Sparky.