29 Mar

Art-in-the-Park Memorial Day weekend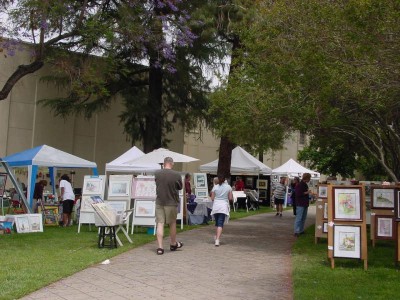 SAVE THE DATE!  MAY 24 & 25 !
SMILEY PARK WILL BECOME A GALLERY FOR RAA'S
ART IN THE PARK
Memorial Day weekend, May 24 & 25 from 10 am to 5 pm., will be Redlands Art Association's semi-annual outdoor sale.   About 70 community artists and craftsmen will exhibit and sell their work in a variety of media at Smiley Park, which runs beside the Police Annex (old City Hall) on the corner of Vine and Orange Streets, downtown, Redlands.  Artists will be hanging their masterpieces on pegboards, A-frames, and trellises.  Glassware, pottery, wood crafts and jewelry will be set out to touch.  Easy-Ups, canopies and umbrellas will add color and shade.  Sandy Davies, from the Redlands Art Association says, "This is the best place to find original art from artists you can get to know.  Everyone can take home a treasure!"
Also underway will be Redlands Festival of Arts … Fine arts, music, theatrical events, Kid's Zone, food trucks… behind Smiley Library, kiddy-corner from Art-in-the-Park.  A wonderful day of Art!