10 Apr

May 27 & 28: Art-in-the-Park
 & Redlands Festival of Arts
SMILEY PARK WILL BECOME A GALLERY FOR REDLANDS ART ASSOCIATION'S ART IN THE PARK!  Artists will be showing off their wares:  Glassware, pottery, wood crafts, jewelry, as well as paintings of all styles will be set out for sale on this coming Memorial Day weekend.  Art-in-the-Park further demonstrates the blend of arts: from crafts to fine art.  Sandy Davies, from RAA says, "This is the best place to find original art from artists you can get to know.  Over the years, you can create a small collection from the artists whose art you appreciate".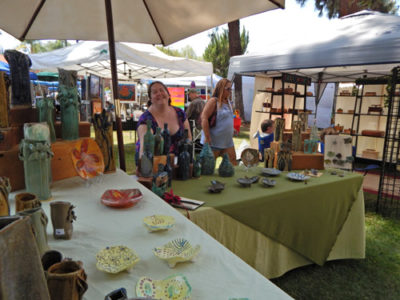 Open both May 27 & 28, the weekend before Memorial Day from 10 am to 5 pm, this is Redlands Art Association's semi-annual outdoor sale.   About 70 Southland artists  will exhibit and sell their work at downtown's Smiley Park,  situated beside the Police Annex (Old City Hall) on the corner of Vine and Orange Streets, Redlands.
The Redlands Festival of Arts, behind Smiley Library – across the street from Art-in-the-Park, will encompass ALL the arts … music, theater and the visual arts.  Artists will also have booths- their art  juried by Penny McElroy for prizes.  RAA is helping with the hands-on Kids Zone supplying the craft materials.  The Lincoln Shrine will be open, as well ..  Food trucks, beer and wine will feed the crowd. For more information, visit their website.
It's sure to be a weekend to celebrate the arts in Redlands!