24 Jul

Athene Johnston & Adele Johnson: 7/27 to 8/7

Athene and Adele will be joint Featured Artists From July 27 to August 7, 2020
Athene Johnston
Athene Johnston graduated from Laguna Beach High School. She exhibited at the Pageant of the Masters upon graduation from Wheaton College, Illinois. Karl Steele, the Professor of Fine Arts at Wheaton, took the art students on plein air trips to Brown County, in Indiana. They camped and prepared their own meals painting in the beautiful fields, morning and afternoons in the spring and autumn. They also visited the Chicago Art Institute many times. One of their projects was to copy a masterpiece exhibited in the Museum. Athene chose Rembrandt's "Girl at the Half Door" where she learned the technique of using many monochromatic glazes.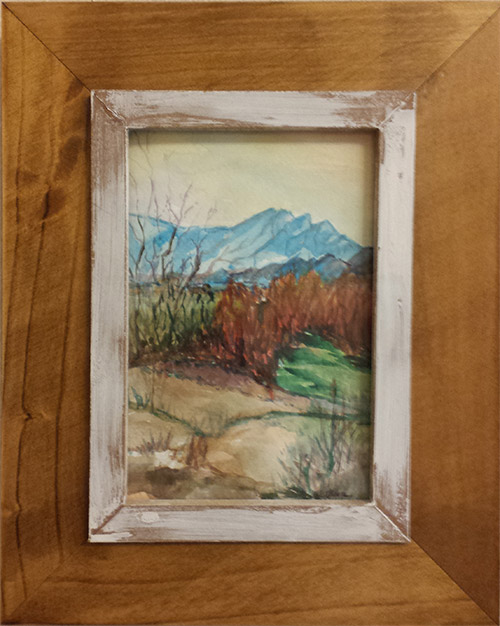 Athene majored in fine art with minors in Bible and Education courses. Wheaton had started the ROTC program and in her senior year she found out she would qualify for the new program in the Army Medical Specialist Corps. Since she heard about Occupational Therapy when she was 13 and discovered the Army would complete the training, she signed up for the program. She was sworn in in Dana Point where her parents had moved while she was away at college.
She checked into Ft Sam Houston Army Base and began a vigorous program in military training and accelerated classes in occupational therapy. She served at Walter Reed Hospital in Washington, D.C., receiving her National Board of Registered Occupational Therapist certification. She then was sent back to San Antonio. Although she served in the chapel, she also attended a church in downtown San Antonio. There she met her Air Force husband. They traveled to Florida, Sumter, S. Carolina, Yokota, Japan, back to S Carolina, only this time the beautiful city of Charleston. From there they moved to New Jersey followed by Kansas with various temporary duties in between such as Tinker AFB and Altus in Oklahoma and Omaha, Nebraska. When her husband went to Vietnam she moved to Los Alamitos. They ended up in Norton AFB after the war and soon were transferred to Travis AFB near San Francisco.
She participated in art shows, won first place and designed a cover for the Air Force Wives' Magazine, but did not get actively involved in art until returning to Redlands and taking a refresher course from Marc Wurmbrandt, Professor at Crafton Hills College. She joined the Redlands Art Association and Fine Art Institute and participated in shows in San Bernardino County Museum and the Civic Center, San Bernardino and Loma Linda Civic Center.
Some of the places her art is displayed include South Africa, Chicago, Illinois, Raleigh, North Carolina, Colorado, Santa Maria, Big Bear Lake, Highland and Redlands. Her late husband, 3 sons and daughter have been a great encouragement and help to her. She says traveling the earth flying at low altitudes has been a joy and inspiration enabling her to create land and sea images.
Some Awards:
2nd Place in San Bernardino County Museum MMM
International Award
Blick Awards for Color
Abstract Art
Juried into Pomona Art Show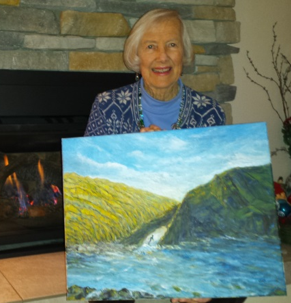 Adele Johnson
I have been working as a jewelry artist for over 10 years. My pieces are made from precious metals and gemstones as well as pearls. Some of my jewelry is influenced by Ancient Greek and Roman images and mythology but I also appreciate the symmetry and simplicity of more contemporary looks.