14 Jan

Bishop & Jarvis 3/17-4/6
Ada Jarvis & Debi Bishop are Joint Featured Artists from March 17th to April 6th
Reception Sunday 18th March 3-5pm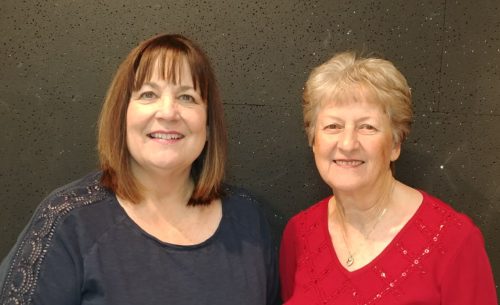 Deborah L Bishop, Assemblage Artist
I began my journey as an artist when I was in high school art class for four years.  I began taking oil painting classes in my twenties when I was living in Riverside.  I enjoyed painting as a hobby until I started working full time for the County of Riverside. I took a hiatus on art for most of that time period. Then I accepted an early retirement offer from the County in 2010. Since then I have taken many art classes through Redlands Art Assoc. such as Oil Painting with Chick Curtis; Still Life Painting with Martha Cowan; Assemblage/Altered Art with Richard Freund; Copper Jewelry with Tia Shira; Pastels with Patricia Ford; Mosaics with Ada Jarvis, and probably a few others I've left out.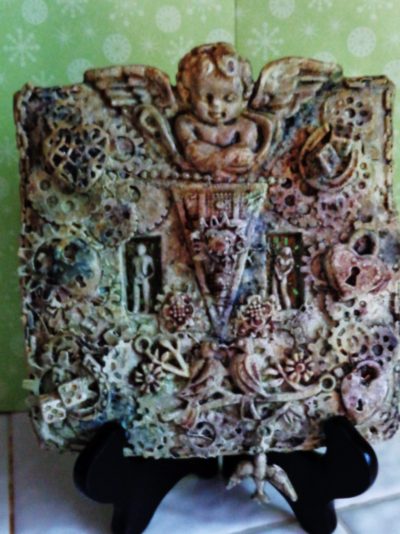 I've enjoyed all of the various classes I've participated in but the medium or type of artwork I am passionate about is Assemblage/Altered Art.  I can truly express my creativity through this art form.  The artwork I create is done in a three-part process: assembling the creation, prepping the piece for painting, and finally the painting process using fluid acrylic paints. One of my pieces, entitled "Lucky in Love" was submitted and accepted in the 45th Annual Multi Media Mini Show at the Redlands Art Assoc. Gallery.  I won a $50 Juror's Choice Award for this piece.  I have entered my assemblage art in many Multi Media Mini Shows since then and a number of my pieces have been accepted. I have participated in Art on State Street & continue to sell my pieces through the Redlands Art Association. I hope to continue my journey through the world of art as long as I enjoy doing it and others enjoy seeing it.
Ada Domke Jarvis
Ada began formal instruction in painting and scientific illustration after high school. She paints with acrylics and oils. Her specialties are historic or personal buildings, scenes and Harleys painted on decorative glass balls and mini canvases which are sold in Redlands, Mission Inn and on commission. Her art has been shown and/or sold in Oregon, Ohio, B.C., Maryland, Tennessee and California. Her paintings have been accepted in several juried art shows in Oregon and California.
Sixteen years ago she taught herself the art of pique assiette (mosaics using beautiful broken china and other interesting objects). Her pieces include birdhouses, bird baths, furniture, mirrors, frames, garden stones, house numbers, tea sets, backsplashes, and wreaths.
Her teaching of pique assiette includes: private classes; workshop for over 40 artists at the 2008 National Veterans Creative Arts Festival; classes at Redlands Art Gallery. She is a volunteer judge for the National Veterans Arts Competition at the Loma Linda Veterans Administration Hospital. She helped judge Redlands Unified School District children's art. For several years she volunteered on the Loma Linda Cultural Arts Association Board of Directors, and is currently a member of Redlands Art Association.
Contact: adacanada@yahoo.com, 909-796-0040. Like her on FaceBook.