24 Nov

Ken Carmean 12/9-30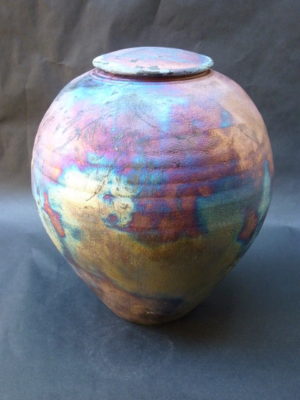 December Featured Artist – Ken Carmean
Show Dates: December 9—30
Reception: Saturday, December 9, 3–5PM
Redlands Art Association is honored to present Ken
Carmean, our featured artist, December 9–30.
Ken started making Pottery in his Senior year of High
School, from there he attended the local Junior College
in San Bernardino, Majoring in Art. He enrolled in Dick
Bossard's class and It wasn't long before he was an
emerging Studio Potter, making clay, glazes, loading
glaze kilns, firing Salt and Raku kilns. Then Proposition
13 hit and the college was shuttered for the summer.
After a season with a Hot Shot crew in the Forest
Service Ken went back to doing what he loved, working
full time as a Potter. He worked for this amazing potter
from Fontana who had a production studio. There he
learned how to throw a wide variety of forms quickly. He
also learned how to single-fire work to save on costs.
For 14 years he operated Arrowhead Stoneware. He
has sold his work all over the western United States to
many different retailers, art shows, and Galleries. After
a 7-year break from pottery Ken discovered Sonoma
Community's Ceramics Program. Ken Carmean has
been teaching Ceramic's classes for the past 5 years
at SCC.
"At SCC, we have two gas kilns that fire to cone 10, 3 Skutt
electric kilns that do a multi-range of firings, a Raku and
Soda kiln. There's a fully equipped print shop, and a Fiber
Arts class room, and a lot more," says Ken. For more
information go to sonomacommunitycenter.org.