11 Dec

December 2012 RAA News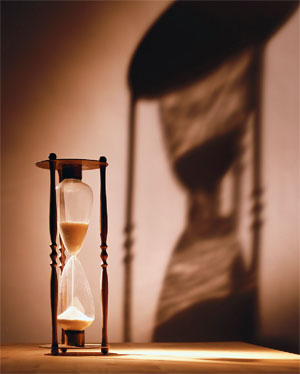 Time To Renew!
It's that time of year, it's time to renew your RAA Membership! This year we've made it even easier to renew by adding a form to our website that allows you to type in your information and then pay for the membership with your credit card. We're using PayPal as a way to safely and securely process credit card information, but you do not need to have a PayPal account to use this service, you can also just enter your credit card information and be on your way. This online form is located here.
We also have a form on the website that you can type in and then print out and mail with a check to the gallery, this form is located here.
This month's print newsletter will have a membership form, and of course there are always forms available at the gallery. However you do it, please remember to renew your membership with the RAA. As a group, this association can accomplish so much, and this all starts with your renewal dues!
Thanks – Candy Glendening, Newsletter Editor
RAA Finances for Fiscal Year 2011-2012
The end of year report on the RAA finances for the Fiscal Year 2011-2012 has been published online. You can find this information on the website under the "About" tab – when you hover over the "Board of Directors" in the drop down navigation a link will appear. Or just click this link.
Larry Harvill
chair, Board of Directors
44th Annual Multi Media Mini Show
Art group encourages artists to enter show
The 44th Annual MULTI MEDIA MINI SHOW at the RAA Gallery and Art Center is slated for March 1 – 21, 2013. Any artist residing in California or a member of the Redlands Art Association may submit up to three recent pieces of work, of their original design. Unique in Southern California, this show accepts work that includes fine arts of any kind: paintings, jewelry, ceramics, glass, wood, metal, digital art, photography, etc… hence the Multi Media part of the show. The size is what qualifies artworks for the Mini part… maximum size is 14 2″ including frame or base. Submitted art can be designated not for sale, if desired. New this year, RAA is waiving their commission on art sold from the show.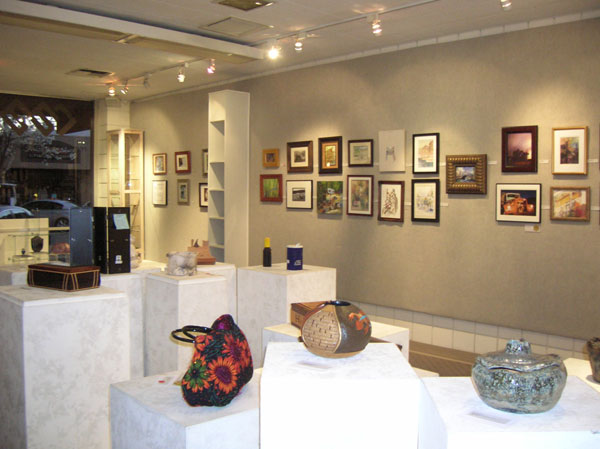 Entry is in person, Sunday, Feb. 24, 10am-4pm, at the Gallery. Entry forms can be picked up soon at the Gallery and Art Center at 215 E. State St, downtown Redlands or online at www.redlands-art.org, under forms.
The jurist, Robin St. Louis, noted watercolor artist, will select the art for the show. AIt=s a real thrill to have your art chosen for the exhibit, A says Sandy Davies, coordinator of the MMM show, Abut even if it isn=t chosen, just entering the show is a great teaching experience for future shows.@
The show's Open House Reception will be Friday, March 1 at the Gallery, from 5 – 7PM. The Artist Reception and Awards will be Sunday, March 3, at the RAA Gallery.
Sandy Davies
"Off the Shelf" by Joanna Mersereau, A.W.S.
This column will review books in the RAA library that I consider valuable art tools. In reading them I found my own imagination was stimulated. I hope it does the same for you.
"Drawing in Ink" 741.234, by Harry Borgman
Why would a watercolorist, or anyone who works in acrylic, pastel or oil want to read this book? Because—all of us need to make stronger statements, which involves VALUES.
Borgman shows the same subject with different placement of tones from light to dark. He recommends first drawing simple outlines, next placing the darkest (in ink it would be black). Then gradually doing the in-between gray values.
The artist who would profit most, in my opinion, is the plein-aire painter. With the necessity of working fast before the light changes, this painter must get down the crucial elements in the beginning, rather than trying to pull it together at the end.
Felt-tip pens are the current "pen and ink" elements, from superfine to bold Sharpies. They are permanent markers, and the fact that they cannot be modified makes the artist aware of innate principles—composition, center of interest, simplification of subject matter. When on location I find that making a sketch with a fine and superfine black marker along with two shades of gray, I could easily translate my sketch into color in the finished painting. Fast, easy, efficient!
The value sketch may be small, but the design will be strong. Minor details are not necessary in the sketch. Those will be in the painting.
Borgman's book was published in 1977; his method still holds true today. As Milford Zornes, noted watercolorist, demonstrated in his life, "Sketch whenever and wherever you have a moment."
I concur. Sketching has to promote those little brain cells what keep us alive and innovative.
by Joanna Mersereau, A.W.S.
Program and Workshop with Marijke Terwissha in January 2013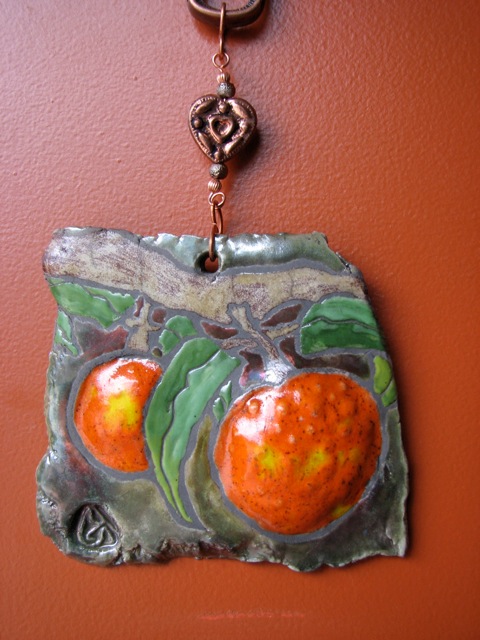 PROGRAM: GLORIOUS GLAZES FOR RAKU FIRING
Ceramic artist, Marijke Terwissha will be speaking on "Glorious Glazes for Raku Firing," at the Redlands Art Association Tuesday, January 22, at 7:00 p.m.
Marijke is well known for her unique and beautifully glazed, with jewel like colors, raku fired tiles. She will be bringing examples of her fascinating tiles for us to see, as well as sharing glaze information and special techniques that she uses. What she accomplishes with her glazes is nothing less than amazing.
Come see and hear about the gorgeous glazes that are characteristic of her ceramic art.
The Tuesday evening program is free to RAA members and $3 to nonmembers.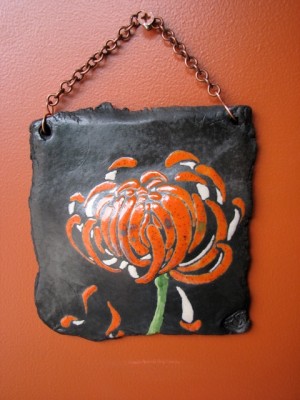 WORKSHOP:  GLAZES ON TILE FOR RAKU FIRING
Learn about the magnificent glazes and the techniques of applying them, that are used by ceramic artist, Marijke Terwisscha. With Marijke's guidance, you will experience using her glazes and techniques to create your own individually expressive tile. During this workshop, you will finish your tile by putting it in a raku firing. A great time awaits all who participate.
Saturday, January 26, 10:00 a.m. – 3:00 p.m.
Workshop Fee: $70 Members / $75 Nonmembers  with a $5 per tile materials fee paid at workshop.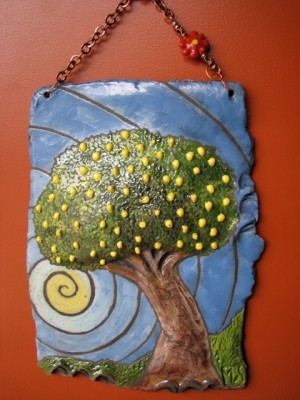 A New Class Opportunity at the RAA
Life Drawing with John Brownfield
A basic essential for artists of all media, is Life Drawing.  However, the opportunity to draw the human figure is not always available. This winter/spring, the RAA is pleased to have master figure drawer, John Brownfield, fill this void. He will be teaching Life Drawing at the RAA Gallery! A University of Redlands emeritus professor of art, John has many years of experience as a figurative artist and teacher of life drawing.
Participants of this class will draw from nude and costumed models. Emphasis will be on focused observational based drawing, that develops one's perceptual abilities and drawing skills. Important elements of this course will include instructor discussion and demonstrations of principles of proportion, anatomy, pictorial composition and various drawing techniques with a variety of mediums; as well as attention to individual student needs. Class critiques and discussions will also help build skills of drawing from life.
This is an intermediate to advanced level course, for those with fundamental drawing skills. Participants must be 18 years or older, because nude models will be used.  A supply list will be available at time of sign-­‐up.  Register soon for this class by calling or visiting the RAA Gallery, 215 E. State Street, Redlands  (909) 792-8435.
This class is offered twice this season:
Class A:  THURSDAYS;  JAN. 17, 24, 31, FEB. 14 & 21;  7:00 PM – 9:30 PM
(No class on Feb. 7)
Class B:  WEDNESDAYS;  APRIL 24, MAY 1, 8, 15 & 22;  7:00 PM – 9:30 PM
Class fee:  $80 to members, $85. for nonmembers: includes model fee
Upcoming Adult Classes at the RAA
Winter/Spring 2013
 Oil Painting with Chick Curtis
Informative instruction that is individualized and inspirational.
Class A:  Sundays:  Jan. 6, 13, 20, 27 & Feb. 3;  10:00 am – 1:00 pm
Class B:  Sundays:  Mar. 10, 17, 24, Apr. 7 & 14;  10:00 am -­‐ 1:00 pm
Class Fee:  $65 members / $70 nonmembers
 Weaving with Evelyn Ifft
Learn the basics of weaving and beyond; plus create fabulous fiber compositions.
Wednesdays: Jan. 16, 23, 30, Feb. 13 & 20 (no class on Feb. 6);  10:00 am – 12:00 noon
Class Fee:  $65 members / $70 nonmembers
Life Drawing with John Brownfield
Drawing from nude and costumed models, with emphasis on focused observational based drawing and individualized instruction. Outstanding drawing instruction from an extraordinary artist and teacher.
Class A: Thursdays: Jan. 17, 24, 31, Feb. 14 & 21 (No class on Feb. 7); 7 – 9:30 pm
Class B:  Wednesdays:  Apr. 24, May 1, 8, 15 & 22;  7 – 9:30 pm
Class Fee:  $80 members / $85 nonmembers; includes model fee
 Watercolor with Ed Sotello
Integrates creativity with instruction of basic skills, design and composition.  Beginning through advanced students will grow in this class.
Thursdays:  March 7, 14, 21, 28 & April 4;  7 – 9:00 pm
Class Fee:  $65 members  / $70 nonmembers
Sign up for a class by calling or visiting the RAA Gallery, 215 E. State Street, Redlands (909) 792-8435
Upcoming Classes with Richard Freund
You will learn how to join all sorts of objects together, then learn unusual acrylic painting techniques to give your
Assemblage creation a whole new look and feel, transforming the  Found Objects into a new and mysterious Work of Art.
Busted Books
Sun. April 28, Redlands, 9:30 – 5:30, $90 / $80 RAA members
Bookworms Beware, as these Busted Books will be Barely recognizable, and not at all readable, after this one day workshop where you will alter them and convert them into Barely Believable, works of art.
Take home your own artistic creation based on "literature".
Fancy-n-Fabulous, Fun-n-Freaky, Flatware
Sun. May 26,  Redlands, 9:30 – 5:30, $90 / $80 RAA members
The title says it all.
In this one day workshop, you will learn what all can be done when you combine Found Objects with simple pieces of Flatware. There are many possibilities for art involving Spoons, Forks and Knifes.
Will you go home with several separate art pieces, or a creation that combines them all into one grand display?
Bizarre Bottles
Sun. July 28, Redlands, Redlands, 9:30 – 5:30, $90 / $80 RAA members
In this full day workshop you will learn to sculpt a Bottle with Found Objects, turning your bottle into Art.
Will your bottle still look like a bottle?, like a statue?, like a shrine? Will your bottle be Bizarre?
Unordinary Ornaments
Sun. Oct. 13, Redlands, 9:30 – 5:30, $90 / $80 RAA members
In this one day workshop you will take unlikely objects and transform them into a Strangely Attractive or perhaps Odd Ornament. Either way, Your creation will most likely be a most Unordinary Ornament.
Will your Ornament adorn a Christmas Tree ??
WHEELS UP: The Wheelchair as Artistic Vehicle
December 23, 2012 –- February 21, 2013
Reception and Live Art Demo during January 3rd Arts Walk from 6:30 p.m.– 8:00 p.m.
The Riverside Art Museum (RAM) announces the opening of WHEELS UP: The Wheelchair as Artistic Vehicle. This exhibition, which features artwork from five artists with physical disabilities, will run from December 23, 2012 through February 21, 2013. There will be a live art demo by select featured artists during the January 3rd Riverside Arts Walk from 6:30 p.m. – 8:00 p.m. Sponsored by the Inland Empire Health Plan (IEHP), WHEELS UP is coordinated in conjunction with the Academy of Special Dreams, an organization championing awareness for the special-needs community.
"We believe that all persons, regardless of their disabilities, should have equal opportunities to express their talents and to be successful in the arts," says Michael Dergar, President/CEO of the Pasadena, California-based Academy of Special Dreams foundation. "This art exhibition furthers our mission to increase public awareness, recognition, and appreciation of the creative talents of people with disabilities."
WHEELS UP: The Wheelchair as Artistic Vehicle features work of various media by five artists – Jhovana Cecena, Tom Doyle, Todd Tostado, Martin Vogel, and Nikita Wang – who are each highlighted for their artistic merit and creation of innovative tools for expression. Eminent artists such as Salvador Dali, Frida Kahlo, and Henri de Toulouse-Lautrec triumphed over their physical impairments with unrivaled feats of creativity and dedication. The WHEELS UP artists show similar fortitude and ingenuity. Both Vogel and Doyle utilize the front and/or rear wheels of their wheelchairs in the actual process of applying paint onto a surface, whereas Tostado's wheelchair serves as the physical link to a computer that ultimately captures the depictions of his imagination.
"The artists affiliated with the Academy of Special Dreams demonstrate the creativity and resourcefulness of artists who use the materials around them to communicate their lived experience and build communities of dialogue and understanding," says RAM Executive Director Drew Oberjuerge.
One of the artists, Jhovana Cecena, currently lives in Riverside and has a lifelong interest in the arts.
"Ever since I can remember I've enjoyed drawing in pencil to create characters and stories, but lately I have concentrated more on painting with acrylic on canvas to express my feelings for helping poor people," says Jhovana. "I am happy for this opportunity to have my art appreciated in my hometown."
RAM relies on the generosity of members and donors to support its exhibitions, education programs, and special events. A 50-plus-year-old, private, non-profit cultural arts institution housed in a National Historic 1929 building designed by Hearst Castle architect Julia Morgan, the museum welcomes over 50,000 visitors a year. The museum is open Tuesday – Saturday, 10:00 a.m. – 4:00 p.m. and Sunday, 12:00 noon – 4:00 p.m. For information on exhibits, events, classes, memberships, or sponsorship opportunities, visit www.RiversideArtMuseum.org.
This exhibit is sponsored by the Inland Empire Health Plan (IEHP) and is coordinated in conjunction with the Academy of Special Dreams, a locally-based organization championing awareness for the special-needs community.
 Ai M. Kelley
951.684.7111×303 | akelley@riversideartmuseum.org