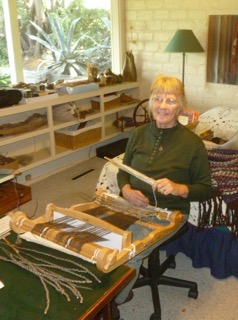 13 May

Evelyn Ifft 6/4-25
"Exploring Fiberart"
Opening Reception: Saturday, June 11, 2:30-4:30 PM.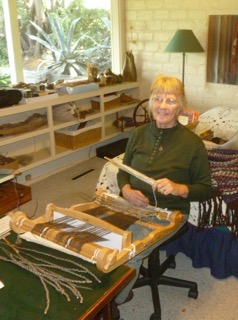 Evelyn creates artwork in many mediums:  watercolor, collage/assemblage, pine needle basketry as well as fiberart and weaving.  Nature is the inspiration of many of her creations.  She incorporates driftwood, grasses, twigs and seedpods into her wall hangings.  She tries to communicate through weavings her love of natural things and of the wonderful textures and colors of fibers.  In her work you will also find manmade forms especially old or rusty artifacts found in the desert and local groves.  Her loom of choice is the portable rigid heddle or the backstrap loom.
A native of Pennsylvania, Evelyn was born into a family of artists.  In 1963 she moved to Redlands with her family.  She has an AA Degree in Commercial Art from L.I. (N.Y) State University and a BA in Art Education from L.A. State (CA).  She taught high school art and later, weaving at the University of Redlands, San Bernardino Valley College and Redlands Art Association.  She traveled extensively in Europe and Israel while living in Denmark for 2 years.  There she took classes in tapestry and double weaving.  From 1985 until 2002 she owned a business in home remodeling design in Redlands.  She retired to making art, gardening and RVing.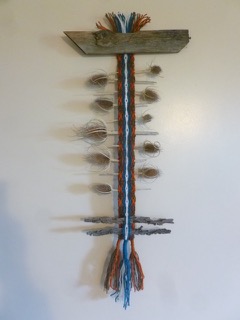 Her commissions include liturgical-season wall hangings for the Cannon Chapel at Emory University in Atlanta, GA., the Jamison Center wall hanging and Student Center Office wall hanging at the University of Redlands.  Her watercolor "Studio Still Life" won First Place at the Multi-Media-Mini Show at the San Bernardino County Museum and a watercolor/collage "Findings in a Grove" won First Place, Citrus Division, Citrus Fruit Fair.  Her artwork has been accepted in juried art shows and is in many private collections.  Evelyn is an active exhibiting member and past president of the RAA.  Her husband Larry Harvill, has chaired the RAA board of directors.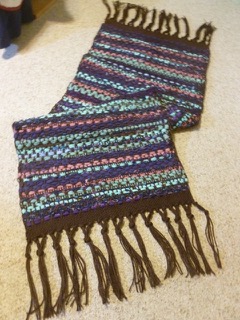 Evelyn's Featured Artist Show will be exhibited at RAA from June 6 through June 24, 2016.  The gallery is located at 215 East State Street, Redlands and is open Monday –Saturday, 11 AM – 4:30 PM.  The opening reception for Evelyn's show and RAA's new exhibit "School's Out for Summer" will be held in the gallery on Saturday, June 11, 2:30-4:30 PM.  All are welcome to attend.