01 Oct

Fariad and Jennifer Ali – Oct 4-25

Recption on Oct. 4th from 5-7 Pm at the Redlands Art Association, 215 E. State Street, Redlands, Ca
FARIAD
Fariad's passion for painting began when he was a young boy. He hosted his first exhibition with 36 paintings when he was just 12 years old, and he hasn't put the brush down since. He grew up painting the beaches, people and rainforests of his home, the Caribbean island of Trinidad. This established the foundation for Fariad to develop his skills as an artist. Fariad left Trinidad when he was awarded an art scholarship to Syracuse University in New York. After two years, he dropped out and bounced around to different schools while constantly honing his craft. His greatest education came from painting on the streets of Los Angeles. Fariad sold his "Wildland Images" to everybody he met—the rich, the poor and the indifferent. He feels privileged to have made a living as an artist and has won numerous accolades for his work. Fariad now spends most of his time at the Parrish Pioneer Ranch in the San Bernardino Mountains of California, where his gallery is located. He paints the people, the places and the things he sees in Oak Glen, and the surrounding areas. Fariad considers his style of painting as Interpretive Impressionism…Abstract brushstrokes in a Representational Painting…He primarily works in Oils & Charcoal..sketching in Watercolors…Come meet with this Adventurous Painter….
Artist Statement: "I have been documenting this poetry in life for some 40 years now. I currently live in the United States, and paint as an Interpretive Impressionist. I try to expose the image with deliberate and rhythmic brushwork and a mesh of thick and thin paint to try and capture the life and feeling of what I am looking at."
Recent Awards, Honors & Memberships
2014 AAI 2nd Place Judged Artist Member Show – Oil Division
2013-2014 Art Alliance of Idyllwild Artist of the Year
2013 Plein Air Painting Competion, Art Alliance of Idyllwild, Judges Choice
2013 A. K. Smiley Library acquired "Smiley Library" painting for their permanent collection
2013 Art Alliance of Idyllwild's Judged Members Show, 1st Place – Judges Choice Award
2013 Eye of the Artist Judged Art Show & Fundraiser: Theme "Sensuality", 1st Place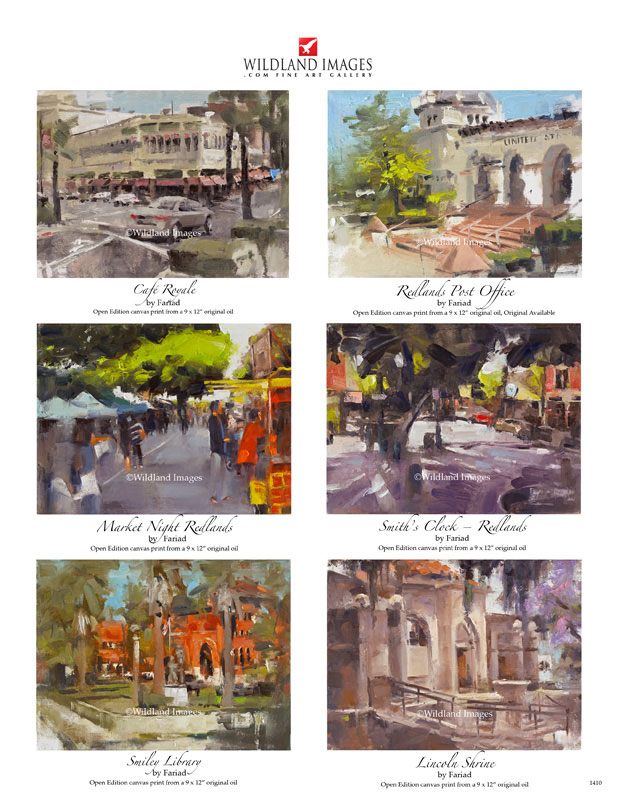 JENNIFER ALI
Jennifer's profession as a fine artist spans over 37 years. She began her career painting a mural of movie star portraits during her high school years in Michigan. That's where she caught the excitement and satisfaction of being a artist that would carry her through to today. Out of college she landed a position as Art Director and private label fabric designer for Diane Von Furstenburg. She has been the recipient of numerous awards and publications.
Over the years, Jennifer has created a name for herself in the portraiture, equine and floral genres. She has been an integral part in developing Wildland Images Gallery and Publishing. A company, created by her husband, publishing, showcasing and distributing their art throughout the United States & the world. They're celebrating their Gallery's 21st Anniversary on the Historic Parrish Pioneer Ranch in Oak Glen.
Artist Statement:"I paint subjects that are important to me. I love to paint dream like watercolors on paper or oil on canvas choosing to start sometimes with a with a light compositional sketch which takes into account the negative as well as the positive space of the subject. My paintings are a combination of planned wet on wet glazes transitioning to raw " one shot" dry brush leaving the viewer with a painting which has enough depth and movement to provide sustenance and entertain the eye."
Recent Awards, Honors & Memberships
2014 AAI 1st Place Judged Artist Member Show – Watercolor Division
2014 AAI 2nd Place Representational Division, Eye of the Artist Show
2014 Redlands Art Association Member, showed in 2 member Shows
2012 AAI Spring Show, Art Alliance of Idyllwild, 2nd Place – Judge's Choice Award
2010 Second Place, Lake Arrowhead Art and Wine Festival 2010