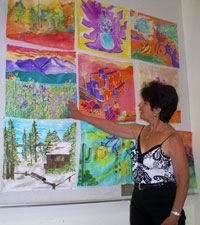 25 Jun

Antionette Hanson, July 3-24

Born in the San Francisco Bay area, Antionette has always been a lover of art and art in all forms. She became interested in Silk Painting due to a friendship in Lake Tahoe California ; she was introduced to Addie Chernus; a well known silk artist and instructor. Once introduced to Silk Painting, she has never looked back.

A mother of two and grandmother full time, she is able to escape all cares in her studio at home. Antionette is new to Southern California, having lived previously in Washington , Arizona and Grass Valley California. Her latest endeavor was with an online personal development company. This company decided to change marketing strategies, which has freed her to pursue her love of Silk Painting.

She continues to build on her skill set as an artist and is always eager to learn from fellow artists. She will be offering a beginning silk painting class for children and encourages any adults who may have an interest to contact her for information on a private class or upcoming workshop.