10 Feb

Featured Artist | Joe Colley
Show: April 5 – 25
The photography of Joe Colley will be featured at the Redlands Art Association April 5 through April 25.  An opening reception to Joe 's work will be held from 5PM to 7PM Friday, April 5, at the Redlands Art Association Gallery on State Street. Joe's interest in photography began as a child, a time when he first recognized the effect of light and its ability to reveal the nature of his subjects. After receiving a  B.S. degree from California Institute of Technology (V12 Program) and a M.S. degree from USC, Joe had a successful professional career as a registered Civil Engineer. However, his true calling was photography, and he continuously studied and promoted photography as an art form throughout his life. Joe's work has been exhibited nationally and internationally. In addition to actively shooting pictures, he taught courses at Riverside City College and through Redlands extended education. He created The Cambria Experience coastal workshop at California State university, San Bernardino, which he led with his wife Ruth for sixteen years. He was a member of the Lens and Shutter club of San Bernardino, the Redlands Art Association, and the Redlands Camera club.
A highlight of involvement with Ansel Adam's numerous annual Yosemite gatherings  occurred when Ansel commented to all present that as a photographer, "Joe Colley has the eye".
Following his death in August, art critic Shirley Harry, former owner and manager of the EOS Gallery, wrote in the Redlands Facts "Joe Colley's stunning black and white photographic images were of a quality that equaled such photographers as Ansel Adams and Edward Weston. Those of us who were fortunate to know him and to have a piece of his work have appreciated how much his photography meant to him."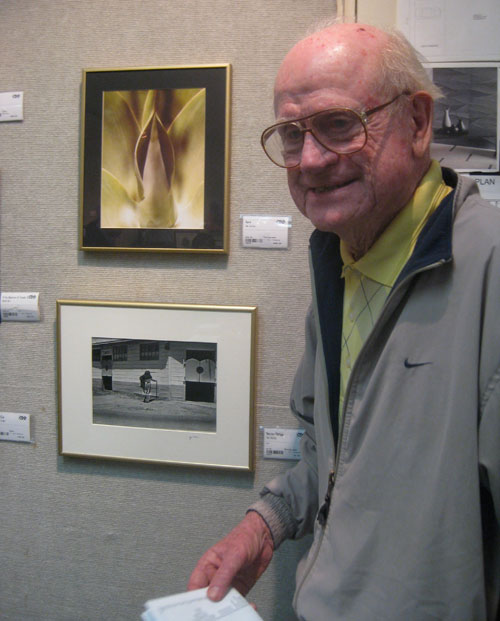 Joe's statement titled "My Photography" follows:
"SEEING and SEEING AS A CAMERA" an oft used quote, reveals a burden one may have to overcome in the pursuit of photography. The lens does not see in the way the eye sees because the eye is constantly moving and refocusing. The photographer's challenge is taking the viewpoint of the camera and learning to be exposed to the different perspectives through the lens. The camera eye must isolate and emphasize in order to present a valid image.

"As we grow in life, we grow in art," Edward Weston once said.  As we mature we tend to appreciate more of the avenues that life offers and the camera offers us the opportunity to look at life in its infinite ways. My photography shows the things revealed to me through my experiences and interest levels. My photographs put me in direct contact with the earth's cycles and bits and pieces of man's intrusions.
Everywhere Joe went he saw things that we might not notice and captured the image with his camera.
This exhibit is to show those images, those unique designs, to be found all around us that we never notice until they are put before us in a photograph.