27 Jul

Featured Artists… Ernesto & Terrie

Featured Artists: Ernesto Gomez & Terrie Burian
July 20–Aug. 9 | Reception: Saturday July 20, 3-5pm

Ernesto paints watercolors. He says, "I don't always know what I'm going to paint. My most satisfying work takes me in unexpected directions while I am painting it and I deeply enjoy the dialog between me and my work. I don't aim for realism – I want to give my impression and feelings, and I use bright colors to express my joy in being able to create art."

Local artist Terrie Burian's passion is for making jewelry inspired by nature. She's been a dedicated Yosemite camper since 1955 and has never missed a year. Her mother was a Cherokee, Native American, and feels that is where her desire to create Native American style jewelry comes from.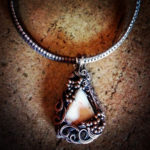 This format, having a wall art artist AND a jeweler, is new to the Featured Artist Corner. Ernesto's watercolors are on the wall in the corner and Terrie's jewelry is in the tall case opposite Ernesto.  Looks pretty good!