10 Feb

February Program: Mess into Masterpiece with Elizabeth Carr
February 26; 7 p.m
Watercolorist, collage and acrylic artist, Elizabeth Carr, will be the special speaker for the Redlands Art Association on Tuesday evening, February 26th, at 7:00 p.m.  She is an award-winning artist, who has exhibited at local and national shows, including exhibiting and demonstrating her work at the prominent Millard Sheets Gallery at the Los Angeles County Fair.   Carr is an active member of the National Watercolor Society, where she has served for several years on the board, as show director.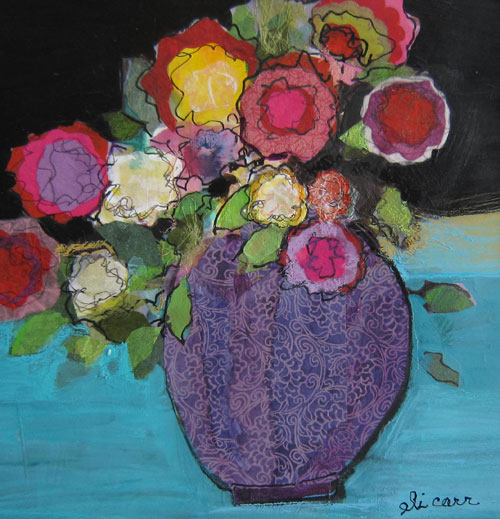 Her works are known for their bright, joyous colors and whimsical shapes.  She enjoys creating abstract and non-objective paintings in many different media, with collage now being her specialty.   Moving from Las Vegas to San Bernardino in July 2002, after working with computers and writing software for casinos in Las Vegas and Reno for 20 years, she started taking watercolor classes.  Studying under well-known watercolorists, Tom Fong, Chris Van Winkle, Gerald Brommer, and others, Carr energetically developed her talents.  Having always loved art, she now enthusiastically submerged herself into creating art and has emerged as a well-known artist.  She is an accomplished watercolorist, who also loves working with such media as acrylic, ink, collage and gouache.
During the program she will share examples of her work and talk about, as well as demonstrate, the process she uses to develop her work.  Carr believes "all unsuccessful paintings can be made into masterpieces."  She plans to make us all believers too.  It should be an interesting evening.  Don't miss it!
The Tuesday evening program is free to RAA members and $3 to non-members.