06 May

Combined: Flowers & Art

Many Thanks go out to our florists who chose a piece of art, or two, to create their own original designs in live flowers.  Hockridge Florist, City Florist, and Joanne Ohnemus (Bird Abode) set up their arrangements in the gallery for the enjoyment of the Redlands Horticultural & Improvement Society's Garden Tour visitors.  Hockridge Florist chose a photographic close-up of a sunflower by Bruce Herzig and then had a big white vase full of sunflowers and draping greenery (no, I'm not a gardener!).  They also chose an oil painting by Tomi Olson and matched the painting with a square glass vase with salmon/pink tulips.

City Florist also chose a sunflower- a giclee print of a watercolor by Maggie Macro.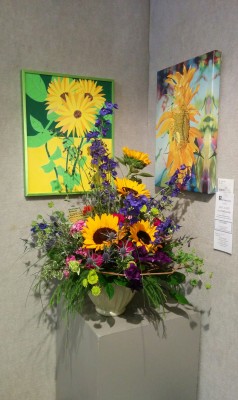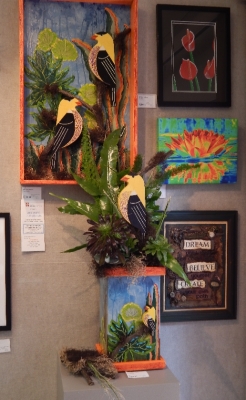 Joanne Ohnemus selected her own multi-media piece, a wooden rainforest scene with colorful birds.  Her    matching flower art featured succulents and a wooden bird.