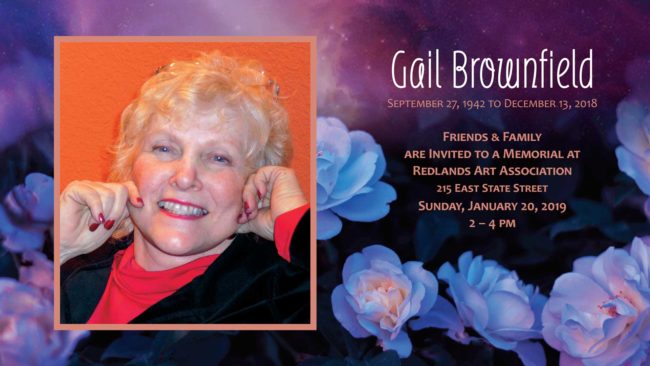 17 Jan

Gail Brownfield Memorial
Sunday, January 20, 2 – 4 pm
It is with tremendous regret we must tell you that RAA lost one of its friends. Gail Brownfield passed suddenly of a heart attack last month.
For more than three decades, Gail was a strong leader who exemplified the values and ideals of our community of artists and art lovers. Her heart was open to everyone and gave much of her time and considerable talents to RAA. She served as President of the Operating Committee, on the Board of Directors and once her board term was up, continued on the Featured Artist Committee and the Personnel and Finance Committee. For years, several of us met at her house to bead and craft. She was dear to those who had the privilege of working with and loving her. Our loss is beyond words.
We will hold a memorial service at the RAA Gallery on Sunday, January 20, 2 – 4 pm. Everyone is welcome to pay their respects.
If you have any questions do not hesitate to call the gallery (909) 792 8435
Gallery Opening Hours: 11 am – 5 pm Monday to Saturday, extended opening Thursday Market Night to 8pm
Address: 215 E. State Street, Redlands, 92374