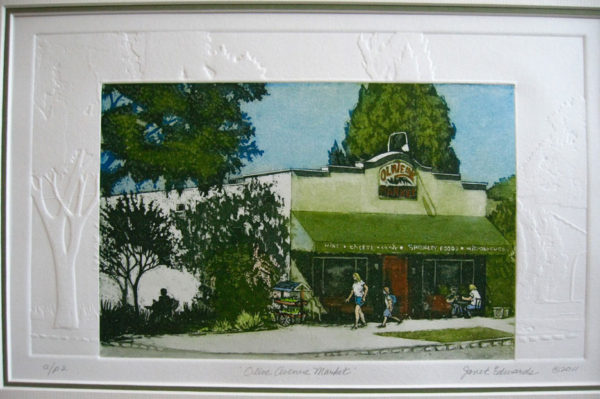 08 Nov

Guest Artist – Janet Edwards
Our special Guest Artist, November 23 – 25, 2018
Janet Edwards— Printmaker, Watercolorist, California Artist, and Redlands Treasured Artist
Janet's work will be on display in the East Gallery at Redlands Art Association, 215 E. State Street, downtown Redlands.  Opening Reception is in conjunction with Liz Coviello, our Featured Artist, Saturday November 24, 3 to 5pm. Gallery hours: Friday and Saturday, 11 am – 5 pm, Sunday, 10 am – 4 pm.
Janet Edwards is a California artist whose work reflects her love of the natural beauty of California, though she also includes beautiful scenes from traveling to other places. Many of her etchings include embossing as part of the design.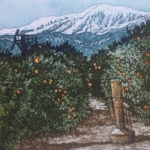 Janet's work often depicts the rugged central and northern California coastline, as well as the flowers, trees, wildlife, and buildings characteristic of the state. Her series on whales illustrates what you might see, if you were lucky enough, during the yearly migration of these huge mammals. She is especially well known in the inland Southern California area for her depiction of the tall palm trees, mountains, and orange groves common to that region. Janet has also produced designs based upon travel to other states, and to England, Scotland, Ireland, Mexico, and Canada. Janet Edwards' art work is in homes, civic buildings, and offices throughout California, in all 50 states of the Union, and at least 40 other countries.
She has worked in many print media, especially serigraphy. While working primarily in the etching medium, she is also an accomplished watercolorist, and a watercolor-like style is often reflected in her work. Etchings are printed from metal plates upon which an image has been etched with acid to produce a texture that will hold ink. Each print is the result of hand inking on the plate and printing by pressure under the roller of an etching press. Though the prints of the same design are as much alike as a hand process will allow, minor differences from print to print may sometimes be detected. Inasmuch as each print is the direct end product of the artist's work, and printed by her from the plates she has created, it is one of a series of multiple original pieces of art and not a copy or reproduction.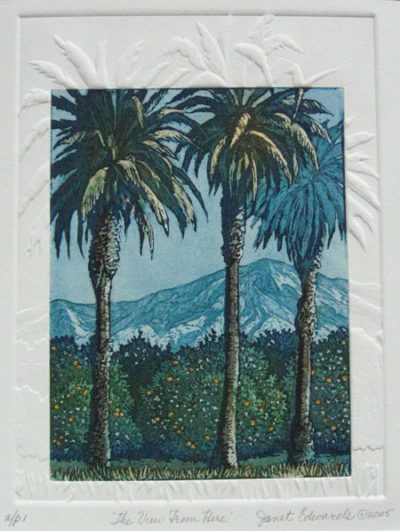 Printmaking coursework was taken at Long Beach State University, Westchester Adult School, Santa Monica College, and San Bernardino College, followed by many years of work in her home studio, shared with artist husband, Fred. After earning a B.A. degree in Art Education at the University of Redlands, she taught public school art before raising a family.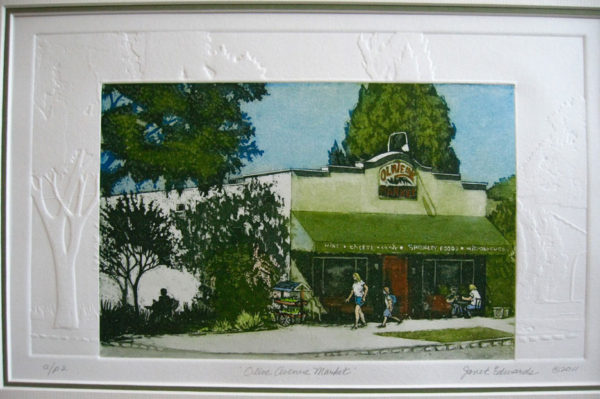 Janet Edwards' work is currently available through Highlight Gallery in Mendocino, CA, The Chambers Gallery in Cambria, CA, Earthworks Gallery in Yachats, OR, Smith Jewelers in Redlands, and Redlands Art Association.
She has been an active participant in the RAA Gallery since the early 1980s. She has been a past president, the program chair, and for 14 years- since its inception- she has been a member of the Margaret Clark Art Education Enrichment committee (MCAEEF).
She is also available by contacting her home studio (909) 793- 7169, www.janetmedwards.com. See more of her art at www.janetmedwards.com.
Join us for the Opening Reception Saturday November 24, 3 to 5 pm.
Gallery hours: Friday and Saturday, 11 am – 5 pm, Sunday, 10 am – 4 pm.