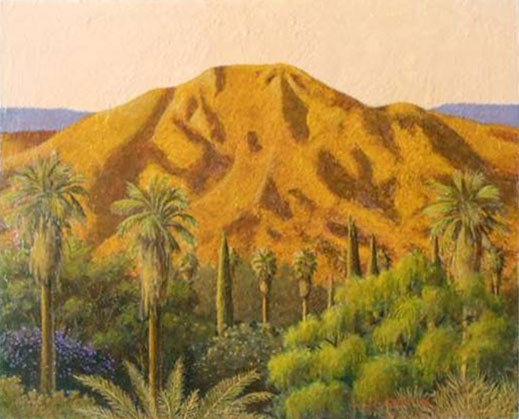 08 Nov

Jeff Owens Dec. 6 – Jan 3
Featured Artist Owens' "Peeks at the Peaks" at RAA
Redlands artist, Jeff Owens, will be the featured artist at the Redlands Art Association Gallery for the month of December. Owens' exhibit will open December 7thand continue through the month.
The exhibit, titled "Peeks at the Peaks" will feature a suite of small acrylic paintings each incorporating a landscape composition built around the many mountain peaks that surround the Redlands area. Each piece will incorporate three basic elements: the contour of a mountain peak or peaks, the sky above, and trees of the urban forest of Redlands below. All the peaks selected are from what the artist can see from in and around the neighborhood where he lives.
Owens, who grew up in Redlands, has been a member of the Art Association since it first began. From cartooning to fine art pieces, Owens has won enumerable awards and honors. He is a signature member of the National Watercolor Society and Watercolor West. His work is in many public and private collections. Now retired from teaching he spends his time involved with several art and design projects.
"Peeks at the Peeks" was created specifically for this exhibit.