02 May

Joan Marie Smith & Sue Priest 5/14 – 6/3/22
Joan Marie Smith will be displaying her oil paintings… 
Sue Priest offers her unique flame painted copper jewelry and paintings…
Joan Marie Smith grew up in Manila, Philippines where she attended the American School. It was her high school art teacher, Ruth Geoffey, who introduced Joan to the variety of art mediums. Joan loved to create pastel pictures of still life displays. Using pastels to create the roundness of a vase or the highlight on an orange prepared her for her future interest in painting with watercolor, acrylics and oil.
At Hope College in Michigan, Joan prepared for a teaching career. After she married and moved to California, she began teaching. Once a week her husband very kindly said he would take care of the toddlers while she drove to Valley College to take an oil painting class. As her children grew she used her spare time to study for her master's degree and her reading specialist credential. After teaching for 30 years, she retired and at last found time for painting. She took a watercolor class at the Redlands Art Association. Then she began painting with a group at a church in Redlands, started private lessons in Chino and joined the group at the Loma Linda Senior Center. She now paints with Martha Cowen at the RAA in Martha's advanced oil painting class. Joan's husband said, "She'll probably become a Grandma Moses." 
"A grandma of seven I am, she says, but Grandma Moses I highly doubt. I'm at peace when I paint. I lose myself in what I'm doing and if I have good results, I'm happy."
Contact Joan at Joanmarie.finearts@gmail.com or rnj.smith65@aol.com, phone 909-792-8061.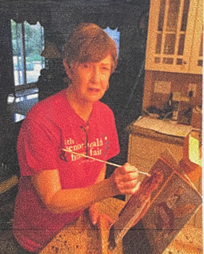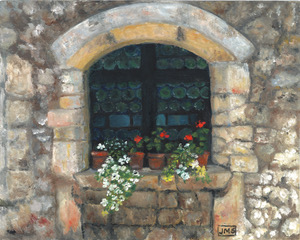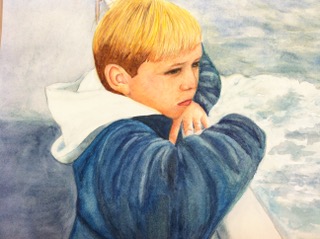 Sue Priest has a "flare" with her copper painting… pun intended!
Using a torch, she "paints" the copper sheet creating colorful abstract images then cutting the sheet into her jewelry pieces. She also guides her flame to make representational images on the sheet.