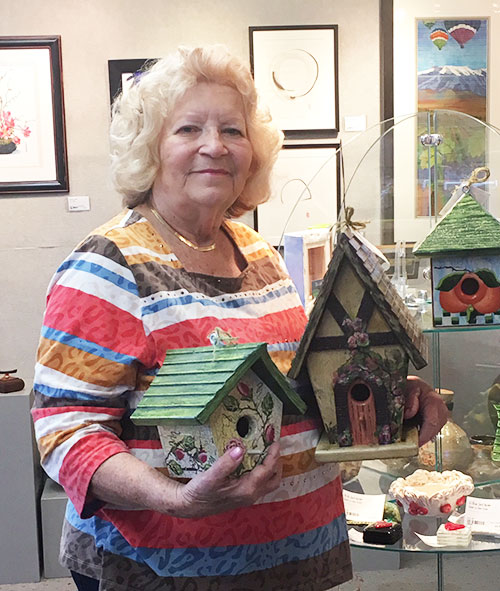 16 Mar

Joanne Ohnemus 4/2 – 4/23
Joanne C. Ohnemus, Featured Artist, April 2 through 23, 2016
Meet Joanne on Saturday, April 16 from 1-4 pm at her reception.
"Garden Party" is the theme of Joanne Ohnemus' Featured Artist show.  Ohnemus, also known as Bird Abode, has been a member of the Redlands Art Association for more than 25 years, showing her bird houses and garden related art.  Although her medium in the early years was watercolor, acrylic, oil photography, monoprint and collage, her art now uses wood, recycled materials and cast away objects.  Most of the art relates to nature and the great outdoors, but once in a while she'll take up some abstract fun design.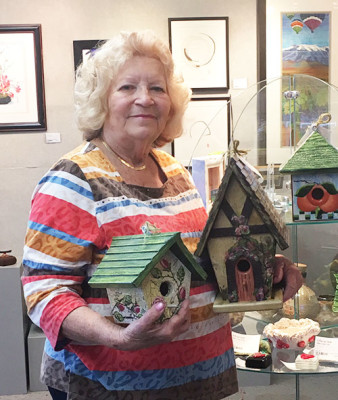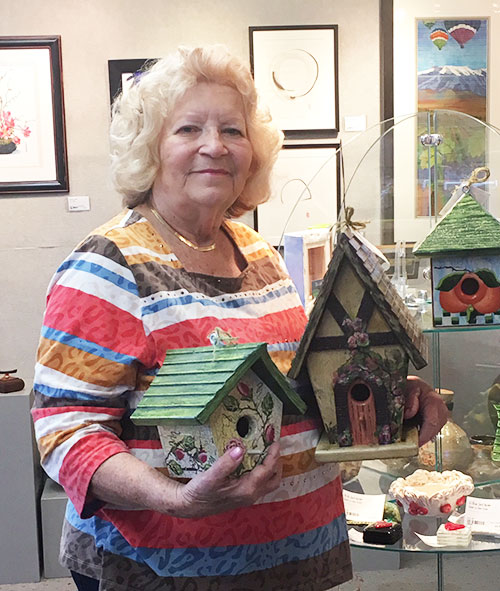 In 1992, Ohnemus and her husband, Edward, decided to have a project both could work on… they loved original creative designs and colorful paint.  They started Bird Abode and what a fun journey.  To date they have made 9,157 Bird Abodes.  Edward designs and constructs each bird house and Joanne lovingly paints, numbers, and signs each one.  During the process of making bird houses, the inspiration of the assemblage art piece was developed.  Facades and full bird houses have been used on these one-of-the-kind art works. Recycled materials and cast offs from her artist friends have been used in many of their sculptures.  They make up to 5 assemblage pieces a year and keeps the design whimsical and full of color.
Currently, Joanne's focus is mosaic wood jewelry, alcohol ink framed tiles, garden box planters, and multi-media cards.
Her Featured Artist show is April 2 – 23 at the Redlands Art Association, 215 E. State St, downtown, Redlands.  The public is also invited to meet her on Saturday, April 16 from 1-4 pm at her reception.