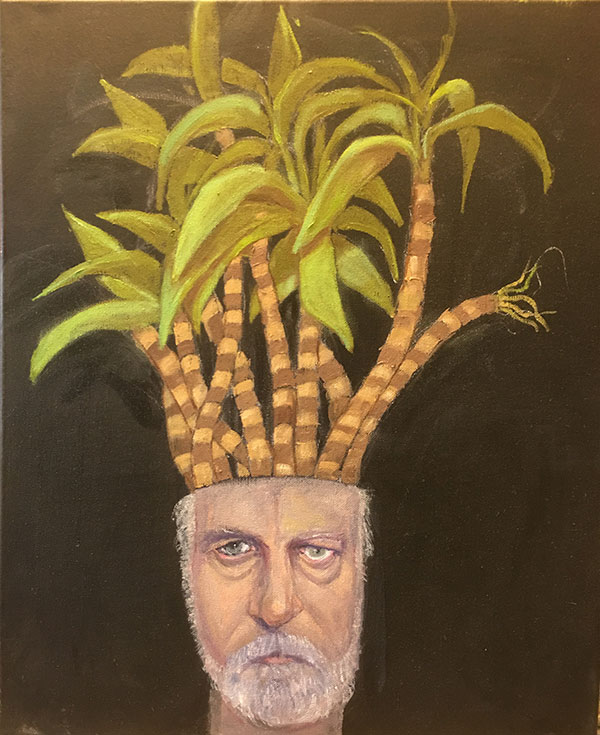 05 Apr

John Brownfield 4/28 – 5/18

Opening Reception in conjunction with RAA's "Celebrate Redlands" Saturday April 28th, 4 to 6 pm

I am looking forward to putting together an interesting little show. Works in drawing and painting media vary from the humorous and playful "self portraits as a potted plant" and other paintings to figure drawings in various mediums. This "featured artist" little show opens with the same opening reception for RAA members show, 4-6 pm Saturday April 28.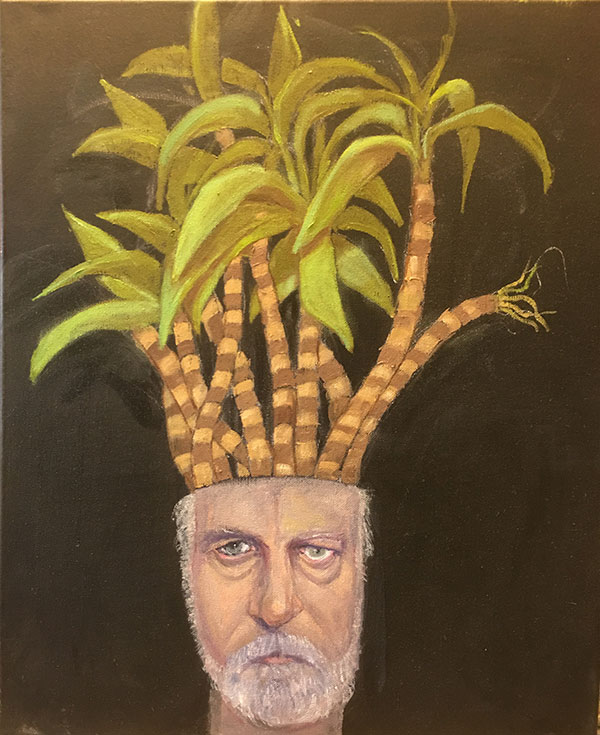 Artist's Statement: Thanks to those folks who are taking the time to have a look my work. A little more about me, as people seem to like a little personal information about an artist when considering their work. I grew up in Chicago, the city, on the north side, obligatory Cubs fan. I went off to college at Illinois Wesleyan University where I earned a Bachelor of Fine Arts degree where I met my first wife (and married too young). I began graduate work at University of Iowa but money pressure forced me (us) to move back to Chicago where my wife returned to a caseworker job with Cook County. I was admitted to the School of the Art Institute of Chicago, a move I wish I had taken first of all. A generous amount of units from Iowa transferred in and I was accepted into candidacy and loaded up a large course load and finished and awarded my MFA two years after Bachelor degree.
I got real lucky in getting a full-time teaching gig at Portland State University. I was hired as sabbatical replacement and was invited to stay on the following year. Nice, BUT I was invited to make a visit to Redlands. The late Margaret Clark, who was a professor at the University of Redlands, was most instrumental in this. I had made an application to a position at the University of Redlands while still in grad school. Job went to someone else, then position re-opened. Meanwhile, Margaret was on sabbatical, which included a stop the Art Institute where an old acquaintance worked, and arranged a morning interview with me. Early the next semester I was invited to interview everybody and I got the job (well… I found the unrelenting grayness of Portland depressing—figured heat was preferable). I arrived in August of 1965. And the job was what I wanted; small liberal arts department, tremendous flexibility in course design, easy, friendly, connections with other disciplines, small class size… very much like my experience at Illinois Wesleyan. There is a lot of luck in the arc of my academic career. I found myself holding the position one would expect to obtain after 10 or 15 years of part-time gigs, sabbatical jobs, etc. So I spent the next 6 years rising up to a position as a full, tenured professor (also a stint as department chair) and retired after 38 years.
As for growth as an artist; My first love, my enduring refuge has been in drawing the human image. I have never grown tired of practicing and life drawing. There was a special time when I had a colleague who shared this love. The ten years John Nava and I shared this enthusiasm were an enormous influence on me. The other major influence on my art was in making several trips to Europe… I have been profoundly influenced by the great humanist, and classicist tradition… particularly Italian art of the 15th, 16th, 17th centuries. I hope you can see the echo of this tradition in much of my work.