06 Jun

Jun 24 – July 16: Evelyn Ifft

Evelyn Ifft will be the Featured Artist from June 25 to July 16. The title of the show is "Wacky Weavings and More". The reception will be Saturday, June 25, 2011 from 3-5 PM at the Gallery.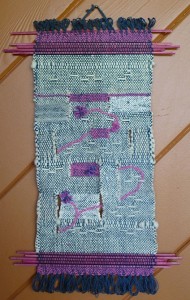 Evelyn is primarily a watercolor artist although she does collage/assemblage and weaving as well. Nature is the inspiration of many of her creations, incorporating natural elements such as grasses, twigs, feathers, etc. into her wall hangings. She tries to communicate her love of all natural things as well as her love of the wonderful textures and colors of fibers. In her assemblages she delights in using natural and manmade forms such as old, rusty artifacts that she finds in the desert and local groves.
A native of Pennsylvania, Evelyn was born into a family of artists. Her uncle, Albert Staehle was the creator of the Butch covers for Saturday Evening Post and Smokey the Bear for the USFS. In 1963 she moved to Redlands with her family. She has an AA Degree in Commercial Art from L.I.(N.Y) State University and a BA in Art Education from L.A. State. She taught high school art and later, weaving at the University of Redlands and San Bernardino Valley College. From 1970 to 1985 she was an active fiber artist, now an occasional one. She traveled extensively in Europe and Israel while living in Denmark for 2 years where she took weaving lessons in tapestry and double weaving. From 1985 until 2002 she owned a business in home remodeling design
Evelyn is an active member and past president of the Redlands Art Association.
Her many commissions include liturgical season wall hangings for the Cannon Chapel at Emory University in Atlanta, GA., the Jamison Center wall hanging and Student Center Office wall hanging at the University of Redlands. In 1994 her watercolor "Studio Still Life" won First Place at the Multi-Media-Mini Show at the San Bernardino County Museum and a watercolor/collage "Findings in a Grove" won First Place, Citrus Division, Citrus Fruit Fair 1994. Her work has received several awards in the Fine Arts Institute Show, the Riverside Art Museum. Her artwork has also been accepted in juried art shows in Palm Springs, Cucamonga and is in many private collections.
Evelyn has been the Featured Artist at Redlands Methodist Church, Living Springs Gallery and Redlands Art Association. Her work is shown at RAA, Riverside Art Museum, Art in the Park and Art for Heaven's Sake. She also does commissions (909) 793-6761.