06 Jun

Jun 5 – 24: Janet Edwards

Redlands artist Janet Edwards will be the Featured Artist for three weeks at the Redlands Art Association Gallery, 215 East State Street, Redlands, beginning June 5, and continuing through June 24. An opening reception will be held in the gallery on Sunday afternoon, June 5, from 2:00 to 4:00 pm. with the public cordially invited. The exhibit can be seen during the gallery's normal hours – 10:00 a.m. to 5:00 p.m. Mondays through Saturdays.
Janet specializes in color etchings, and is well known throughout the area for her work, much of which centers upon scenes of Redlands. However her work does include coastal and northern California material, as well as various nature subjects, and scenes from overseas travel. Many of her designs include embossing which extends the colored scene into the surrounding area, and has become a signature feature of much of her work.
Two new designs of local interest will be featured – "Olive Avenue Market," a favorite local place to eat and to meet friends, and "Judson and Brown," featuring the tall deodar trees at the corner of Center and Cypress streets, two of the many planted by Redlands founders, E. G. Judson, and Frank Brown. Never officially named, Frank E. Moore, former co-owner of the Redlands Daily Facts used to refer to those trees as "Judson and Brown."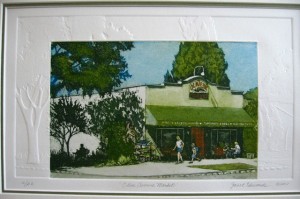 Janet Edwards' work hangs in many homes, offices, and civic buildings locally and throughout the state; is in all the states of the Union, and in at least 40 other countries. Her work has been chosed by educational, cultural, and civic organizations to honor dignitaries, professors, musicians, ambassadors, politicians, and many other people. All her work is produced in her home studio.
Janet is a graduate of the University of Redlands, with a degree in art education. Her work is currently available through the Redlands Art Association, and Haven Home Essentials, both on State Street in Redlands, and in Highlight Gallery, Mendocino; The Chambers Gallery, Cambria; and Earthworks Gallery, Yachats, Oregon.