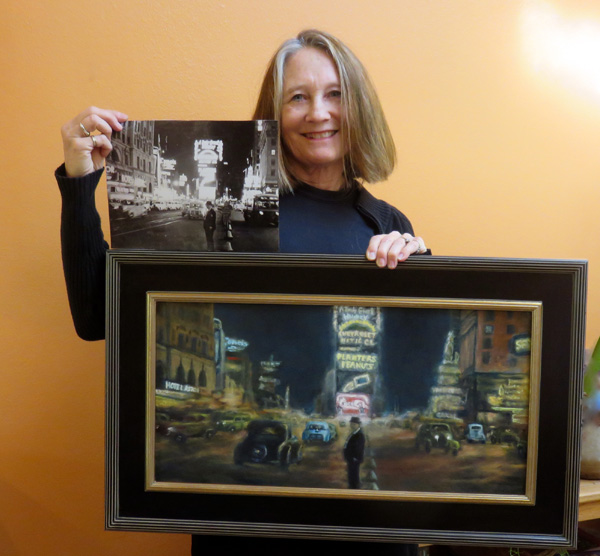 29 Mar

Linda Richards 5/13 – 6/3
Featured Artist brings her Father's Vintage Photos to Life
Featured artist Linda Richards from Redlands will be showcasing her vintage themed oil paintings in her show, "Scenes from my Father's Past," at the Redlands Art Association Gallery at 215 E. State Street, downtown, from May 13th through June 3rd.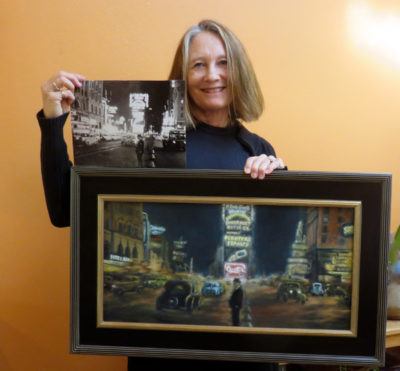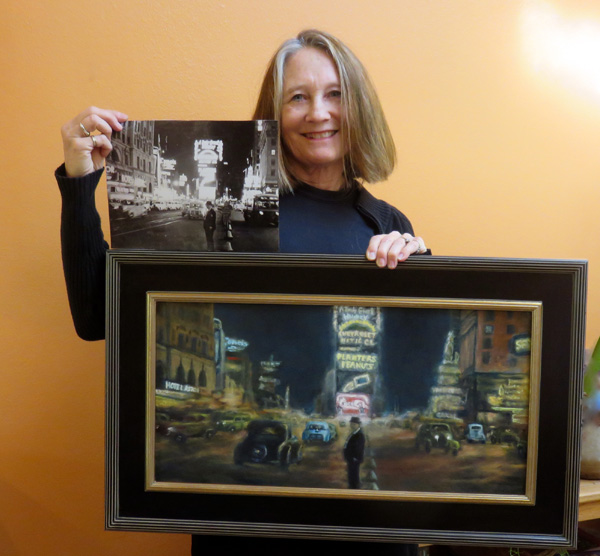 After her father died, Richards discovered negatives of black and white photos he took as a young unmarried man in the late 30s and early 40s. Some were from stage shows in Chicago or New York, some from road trips throughout the country.
Recognizing their importance, she contacted a couple museums to see if they were interested, but the subject matter and featured cities covered too wide a range.
Now she's finally found them a home — through her color oil painting renditions.
Richards says it's been a fun journey to map out his travels.
In several cases, she's returned to the places he stood to take his photos. "When I was in New York in December, I found the vantage point at Times Square and also one on Wall Street," she says. She has also discovered how he took them, from the back of a taxi or perhaps his Dad's car. One of her paintings from Time Square shows her grandfather in the crowd.
"I love how they tell stories, or how they show quirky vaudeville shows popular at the time, and of course, the street scenes are full of vintage cars and even old Checker cabs," Richards says.
The biggest challenge was also the most fun, choosing what colors to use. Some feature a limited sepia palette, while others like the Time's Square scenes are full of color.
She's happy to give them a new voice through her paintings, and to honor her father by exhibiting his original photographs in her show. She also wonders how many people have old vintage photographs in their family that could be put to similar use.
Richards welcomes all to her reception at the Redlands Art Association on Saturday, May 20th from 4 to 6 pm.
File