10 Mar

March Program: Portraits in Watercolor with Robin St. Louis
Tuesday, March 18 @ 7:00 PM
Redlands Art Association is honored to present the brilliantly talented and nationally recognized, Palm Springs watercolor artist, Robin St. Louis.  Bring your friends, an interest in expanding your appreciation of color and design, along with a desire to learn from a woman who captures a feeling of warmth and sunlight in her paintings.  She begins creating with random wet-in-wet layers of several colors over a whole page.  She builds her painting on top of that, filling her portraits with very saturated color and high contrast, while developing powerful compositions.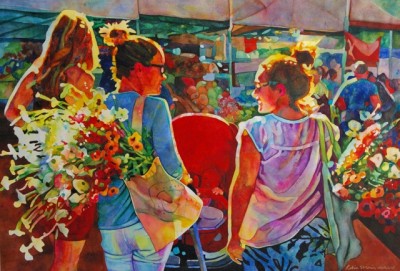 Robin's artwork has been featured in the following magazines:  International Artist, Watermedia Focus, The Palette, and Watercolor Highlights.  Her paintings have won awards in many national exhibitions.  She is a Signature Member of Watercolor West, the National Watercolor Society and the San Diego Watercolor Society.  Robin is past President of the Board of Watercolor West and was a board member for twelve years.
Don't miss this opportunity to learn from Robin St. Louis, as she shares her techniques in creating captivating watercolor portraits.
The Tuesday evening program is free to RAA members and $3 to non-members