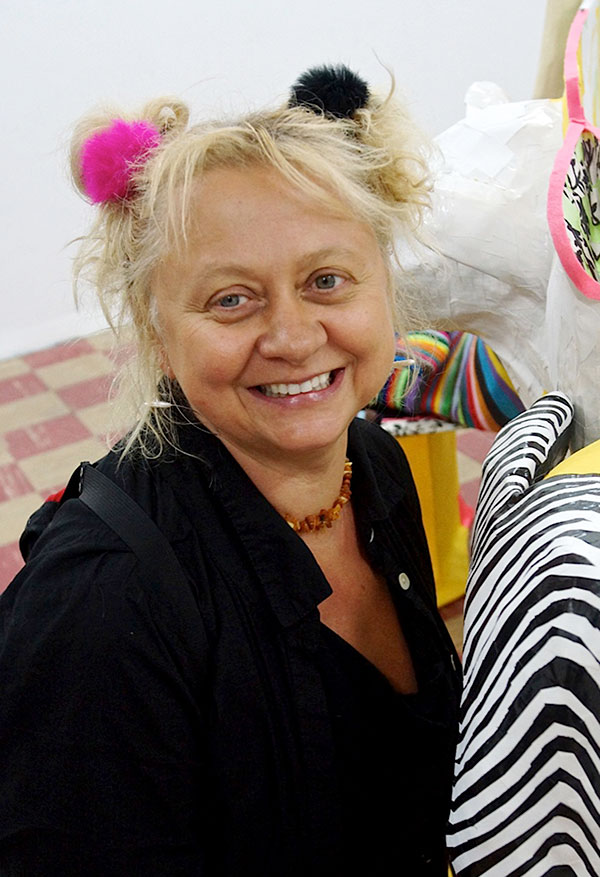 08 Mar

March Program: When Life Turns Upside Down: Art Emerges
with Snezana Saraswati Petrovic
Tuesday, March 31st at 7:00 PM
Snezana Saraswati Petrovic is an amazingly creative artist who has stretched art boundaries in many directions.  It is a privilege for RAA to have this nationally and internationally acclaimed artist as a program presenter.  This Redlands based artist, has lived here with her family for the past 24 years.  Her artistic journey started in Belgrade, Yugoslavia (now Serbia), and has continued throughout Europe, the USA and Japan.
She is an award winning 2D, 3D and 4D artist, an independent curator, gallery director, educator; as well as an award–winning set/costume designer.  She is a recipient of the UC Regents Grant and National Endowment for the Arts for the collaborative project, "Song and Dances of Imaginary Lands."  She involves local community on project developments.  For instance she repurposed and recycled designs for 240 costumes and 27 installations for the avant-garde opera by O-Lan Jones, produced by Overtone Industries.  She is the recipient of the "Ovation Award 2010" for this design in Large Theater category.
Collaborative environments are what Snezana is most passionate about.  She just returned from a residency in Tokyo, Japan.  There she worked as a founding member of the "Butterfly Effect Project" that consisted of installations and performance art collaboration between Japanese and US artists.  Her most recent work is a performance piece, "Improvisatore," performed at UC Irvine and the Silver Jubilee Celebration of Highways Performance Space in LA.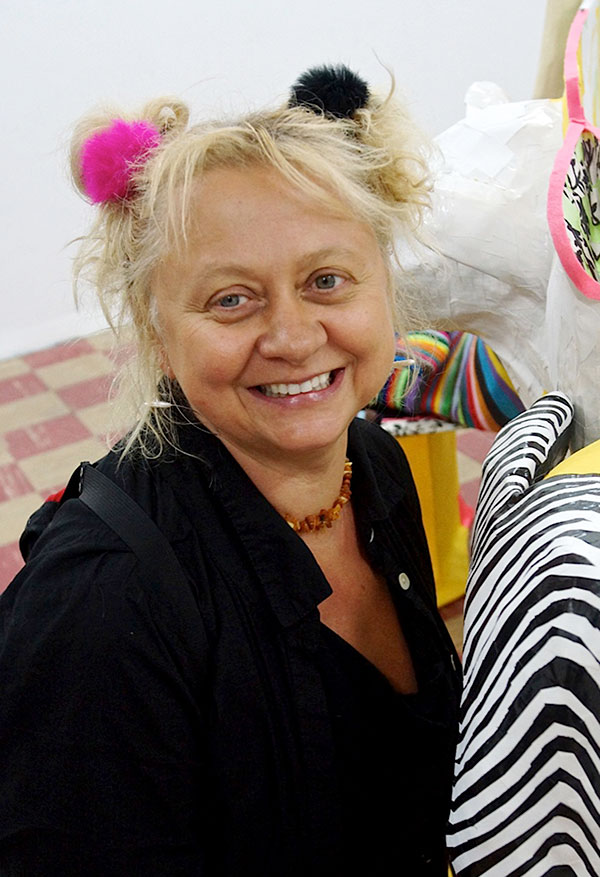 For 17 years, Snezana was resident set and costume designer for Redlands Theater Festival.  Also, she has been set and costume designer for the "Feast of Lights," at the University of Redlands, creating magnificent, ecumenical costumes with rich fabrics and symbolic colors of Roman and Byzantine art.  They are a feast for the eyes.
For 8 years , she studied art at Belgrade University, where she experienced learning from a disciplined, traditional, European system.  When she graduated, she was able to replicate any artist and masterpiece.  Her first job required her to do the paintings of Picasso and van Gogh, forging their work.  She says, "I was a specialist of van Gogh."  Today she is constantly in conflict with her early training and trying to break through the experience.
Snezana holds a MFA from UC Irvine and a BFA from Belgrade University, Serbia.  Also, she is a resident artist at the Beacon Arts Building in Inglewood, CA and is Professor of Art at Crafton Hills College
Snezana is delightful, uplifting and OH, SOooo-o-o, creative.  Don't miss this program!
The Tuesday evening program is FREE to all.
Submitted by Lori Powell