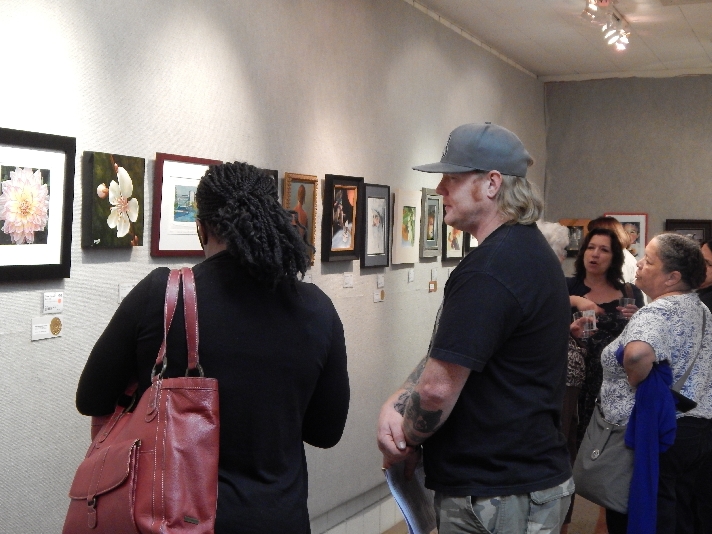 12 May

May 2014
RAA brought together Southern California artists for the Mini Show
The 45th Annual Multi-Media Mini Show, hosted by the Redlands Art Association during the month of March, brought a variety of art from all over Southern California.  86 artists submitted 268 pieces ~ only 150 pieces were chosen to show.  Our jurist was Thom Wright from Huntington Beach.
Winners of the competition participated in over $ 3000 in cash and product awards.
First Place, $400, was presented to Judith Sparhawk from Redlands for her photo, "Lady Bountiful".  Second Place, $300, to Patty Hayden and Third Place, $200, to Jeff Owens, both also from Redlands.  Juror's Choice awards, $ 50 each, to Debi Bishop from Moreno Valley and Nancy Shiershke from Arcadia; Excellence Awards, $ 50 each, to Wayne Sheets from Lucerne Valley and r. mike nichols from Riverside. Past President's Award, $100, given to Mary Gehley; Joan Wiley Memorial Award was presented to Rachel Haigh. Watercolor West gave a $50 award to Jack Rowe for excellence in watercolor.  Community Sponsors donated to fund awards.  Our community sponsors were Security Bank, Ozel Jewelers of Redlands, Evans & Co. Performance Fitness Studio, Burgertown USA. Community Bank, Pacific Western Bank, Show Stoppers, John & Dianne Speaker at Coldwell Banker Realty, the Tartan, and Stone Wheel Olive Oil Co.  Winners of the community sponsored awards are: Dan Soury, Antionette Hanson, Evelyn Ifft, Tony Radcliffe, Julie Evans, Mary Lou Wallace, and Sally Wirth.
Art supply companies also donated goods for prizes.  Those companies are: Salis International, Guzapa Art & Framing, Aaron Bro., Bud Rickert's, and F+W Media.  The winners of the goods were: Angela Koenig, Barbara Garcia, Joanna Mersereau, Pat Meeker, Michael LeBlanc, Sheila LeBlanc, Helen Carson and Martha Cowan.
Purchase Award Patrons pledged to buy art even before the show opened.  They were: Shirley Harry, Redlands Community Hospital Foundation, Susan Sequeira, Sandy Davies, Carolyn McHugh, and David & Marjorie Olson.  The morning before the shop opened, they chose to buy art from: Tony Radcliffe, Martha Cowan, Janet Edwards, Vlad Voytilla, Tom Gillett, Cindy Cannarozzi, Pat Meeker, Ginger Pena, Angela Koenig, Eric Martell, Beverly Brett, and Nancy Shiershke.
Sandy Davies