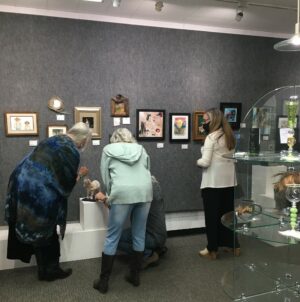 07 Jan

54th Annual Multi-Media Mini Show
  · · · Open House Reception Friday Feb 24, 5-7pm · · ·
ADVANCE NOTICE– Call to Artists
Redlands Art Association's MULTI-MEDIA MINI SHOW Open to the public – no membership required.
MMM54 · Feb. 23 through Mar 15, 2023
The limitation of the art piece is 14.5″ on any side, including base or frame.  More information on the 2023 MMM Prospectus entry form.
TAKE-IN: Thursday, Feb 16 from 11:30 am to 4 pm in half-hour increment appointments.
                 or Friday, Feb 17 from 9:30 am to 5:30 pm in half-hour increment appointments.

Call for appointment 909-792-8435. 

OR MAIL IN: No earlier than Feb 5 or later than Feb. 13. Mail in instructions will be furnished later.
Redlands Art Association 215 E. State St, downtown, Redlands, CA 92373.  www.Redlands-art.org
This show has been unique to the Redlands Art Association. What makes it different is that it is a juried show for both the traditional mediums and artists whose art doesn't usually get judged. All visual mediums are accepted. For example, artists can submit photography, digital (computer) work, fiber art, drawings, glass, repurposed materials compositions, sculptures in wood- stone- and metal, ETC, ETC… as well as the traditional fine arts. Naturally, its success has spawned similar shows, however, the MMM Show is still the only one of this scale in Southern California. The MMM Show is open to all California artists and RAA members. The juror for the show is Elizabeth Carr, artist and Gallery owner, who will choose the winners of the competition and designate more than $1400 in cash awards. Those artists whose art is chosen can put that on their art resume!
The 2023 MMM Prospectus fillable entry form (3 pages) is now available on the RAA website.
Artists may submit up to three entries. Fee: $45 for 1 or 2 entries, $60 /3; Members Fee: $30 for 1 or 2 entries, $45 /3. Fee is non-refundable. (Get the discount…sign up for Membership at $ 50 /year. Includes the monthly news updates, put your art in the Gallery and outdoor shows,  plus discounts on workshops/classes)
ART MUST BE FOR SALE. A 30% commission on sales goes to RAA. More information on the entry form.