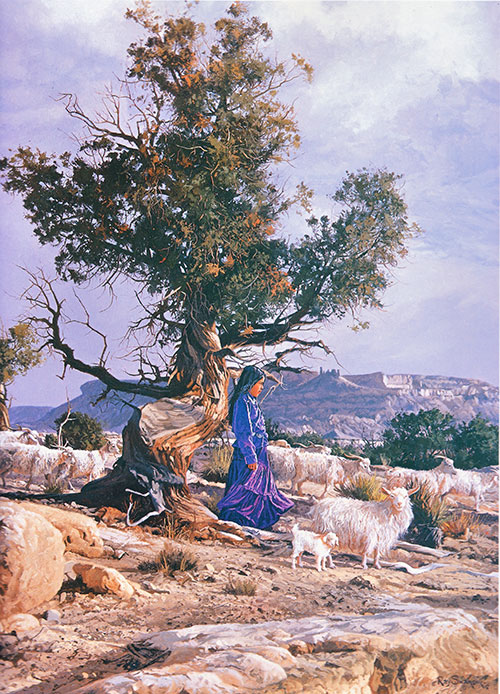 08 Nov

RAA News November '14
Special Alert for January Member Show
This January our member show will be different than usual.  Because the Ray Swanson Exhibition will be occupying the west gallery, the member show will be restricted as follows for hanging in the east gallery.  Members are to submit only one piece and it should be representative of your best work.  Try to keep it on the small side as the space is limited and we would like as many pieces shown as possible.  Take in is set for Friday, January 2nd and hanging will be Saturday January 3rd.  A special reception for both shows will be on Sunday, January 4th from 2 to 4:30 PM.
Larry Harvill,  Chair, Board of Directors
Advance Notice for Special Ray Swanson Exhibition
This coming January we will be holding a special one-person exhibition in the west gallery for a former member Ray Swanson who was a city engineer from 1964-1974.  Ray became a famous painter of the southwest and especially Native Americans with an emphasis on the children.  His paintings featured the Navajo, Suni, and Hopi.  Examples are below.  Although passing away in 2004, 27 of his paintings sold at auctions throughout the US in 2012 for nearly $435,000.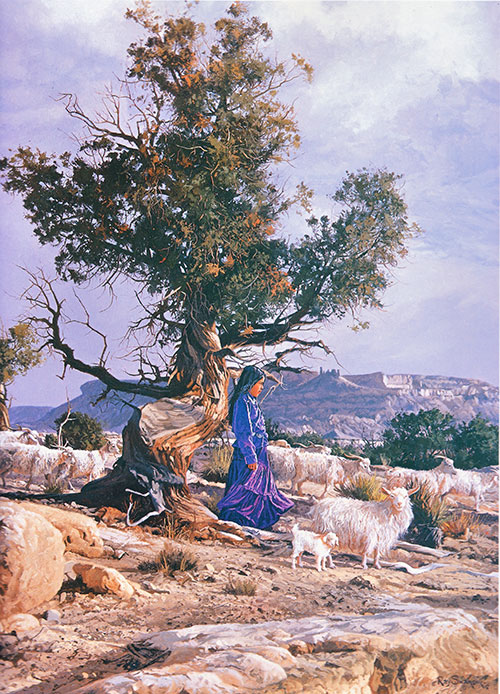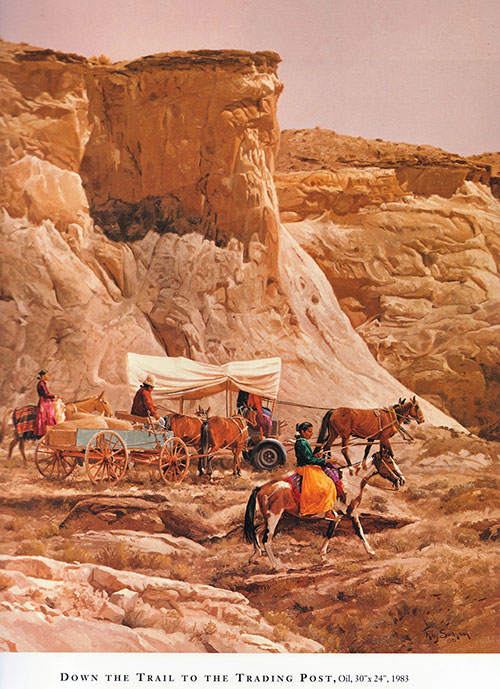 There will be a special reception on Sunday, January 4th from 2 to 4:30 and Swanson's widow, Beverly, will be giving a short talk.  Please mark your calendars, an RSVP will be requested.
This is a special show for us and hopefully we will have a large number of people visiting the gallery.
Larry Harvill,  Chair, Board of Directors
Redlands Area Artists' Holiday Studio Tour December 6 & 7
Join us for a holiday studio tour on Saturday or Sunday, December 6 & 7, 2014, from 11 am to 4 pm. Seven local artists, including RAA members Muriel Dolemieux, Adele Johnson, Aïda Schneider, John Brownfield and Candy Glendening, will open their studios to share their process with interested art lovers. They will also have work available for purchase to get ready for holiday gift giving!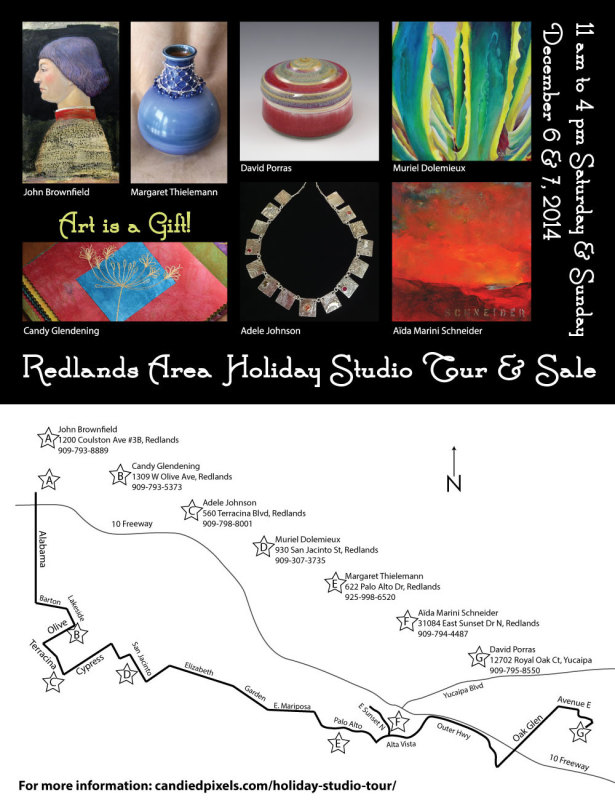 For more information see postcards in the gallery or this website.
I hope to see you there!
Aïda Schneider
Annual Tea Party Postponed Until Sunday 25th January 2015
Suddenly the holiday season is just round the corner and lots of artists are involved in shows in the lead up to Christmas. So we are postponing the Annual Tea Party until Sunday 25th January 2015 from 3-5pm. For those of Scottish descent it "Burns Night" when the haggis is traditionally piped to the table and there is rutabaga and boiled tatties (potatoes). There won't be these delights but there will be tea, cakes, sandwiches and other delectible nibbles.
It will also be the last week of the Ray Swanson exhibit in the main gallery so it will be an opportunity for those people who haven't seen the show to see the work of a past RAA member.
So please mark your calenders and we'll celebrate the New Year, Ray Swanson and Burns Night all together. It should be an amazing celebration.
If you had a ride last year you will be contacted early January.
Wishing everyone a Happy Holiday Season.
Liz Coviello (Historian in the Cupboard)
Special Christmas Tree Ornament Take In – November 21.
This year's take-in FOR CHRISTMAS TREE ORNAMENTS, will be on Friday, November 21.  Members may bring in up to ten ornaments to hang on our tree, to sell during the holiday season – through the December show (no member fee). Please make sure items are clearly marked with PRICE and ARTIST NAME.
Studio Tour 6 to be held Dec 6th & 7th
We're excited to share that Studio Tour 6 will be taking place on December 6th and 7th from 10 to 4 pm. This year's tour features the work of six women artists at three studio stops in Loma Linda and Redlands. Featured artists include:
Terry d Chacon's oil paintings and lost wax bronze sculptures.
RAA member Antonette Hanson will be showcasing her silk paintings both framed and as wearable art.
Patricia Rose Ford a popular RAA instructor and recognized plein air soft pastel artist.
RAA member and youth art instructor Jillian O'Dwyer will be sharing her handbuilt, functional pottery.
Adeola Davies-Aiyeloja, also an RAA member, will feature her enamel and metal smith jewelry.
Veronica Lucas joins the tour with her monotype prints.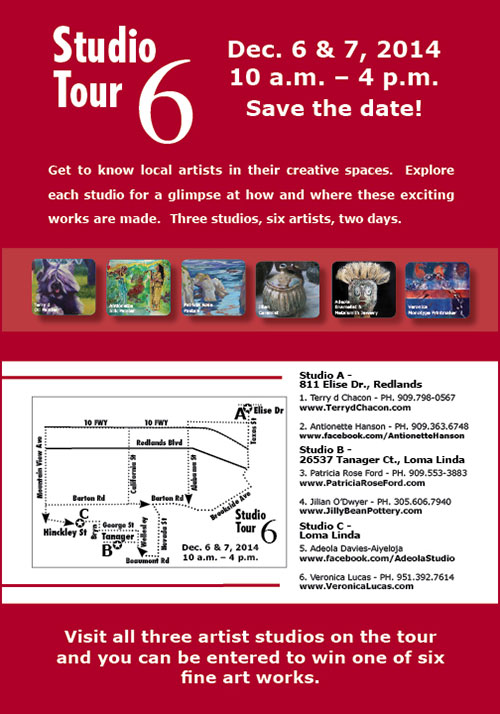 Highlights of the tour include Terry's largest lost wax bronze sculpture to date in progress at her studio as well as the raffling off of artwork donated by the featured artists. Visitors stopping at all three of the studios on the tour will be eligible for the raffle. We hope to see you there!
Jillian O'Dwyer
FOR RAA Newsletter, Regarding Fees
RAA has been a part of this community for the last 50 years. During this time RAA has run a public gallery where members display their art, hosted featured artists from the community and ran juried Art shows. RAA also provides excellent education for youth and adults via classes, workshops and summer camps at an extremely fair price. We also offer financial assistance to needy people to take classes and learn art. Our member fees and fees for classes have not changed over the past several years even when the cost of living has increased.
In its continuing effort to improve and enhance the quality and quantity of services the Association provides, the board has approved a change in the fee schedule.  The main impact of this change will be to reward the supporting members with significant discounts compared to non-members, while maintaining financially viable programs and standardizing and clarifying costs for membership, adult classes and workshops.  The changes are listed below; all other fees remain the same as 2014.
2015 Fees
Member
Non-Member
Individual Membership
$50/yr
N/A
Additional Family Members
$10 each
N/A
Membership, Sponsor
No change
N/A
Membership, Lifetime
No change
N/A
Adult class
No Change
$110
Workshop
$15/hr.
$25/hr
Program night
Free
Free
Per Show fees       *Regular Gallery shows are Members only 
 
     Hanging
$5
N/A
     Wall – 3 pcs. max
$15 no docent discount
N/A
     Art in the Park
$25
$75
As you can see, Annual Membership dues have increased; however, the differential between members versus non-members for classes and show fees is substantial. It is our hope that these changes will encourage a growth in membership and participation in RAA, while providing members with increased benefits. Maintaining financial stability and enhancing member benefits is an ongoing process and other changes may be forthcoming.
Spring Artist's Way Workshop
Sign-ups are being taken now for a new Artist's Way Workshop.  This popular class is based on the bestselling book, The Artist's Way, by Julia Cameron.  It is designed to unblock your creativity and to help in setting and reaching creative goals.  It is a fun and exciting class with a great group dynamic, and is led by successful photographer and  workshop leader, Judith Sparhawk.
The class begins with a free no-obligation Orientation on Wednesday, January 21, 2015 at 7:00 p.m.  This is a chance to learn more about this program, ask questions, and find out if it is for you.  The workshop will then begin the following week on Wednesday, January 28th, from 7:00 to 9:00 p.m., and will continue weekly for 12 weeks.  Don't miss this great experience.
Come into the gallery to sign up, or come to the orientation.  For more information, contact Judith Sparhawk at 909 793-1876 or email jsparhawk746@yahoo.com.
Judith Sparhawk