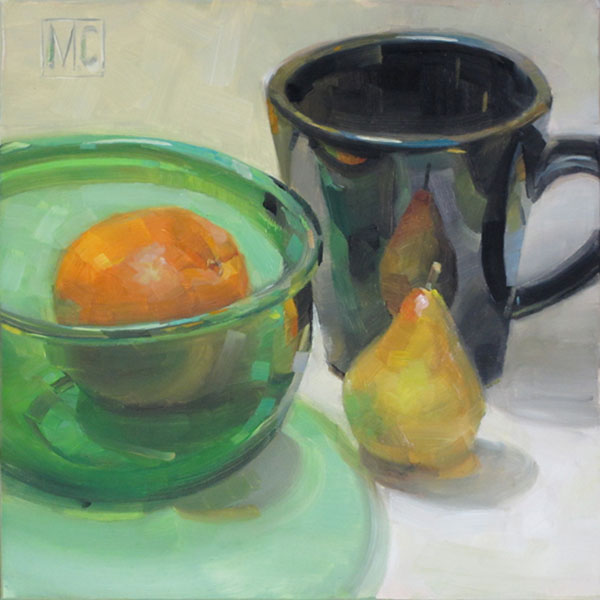 12 May

Paint What You See, and Less by Martha Cowan
Program Tuesday, May 26th, @ 7:00 pm
The Redlands Art Association is pleased to announce that the talented and accomplished oil painter, Martha Cowan, will present a program demonstrating the creation and execution of a small, still life painting.  As she paints, she will talk about how to design, simplify and develop a painting.  She says, "Choosing what to put in and what to leave out is what makes a painting a painting and not a photograph." After building a still life composition, she will show how she paints from large shapes with big brushes to small shapes with smaller brushes.
Cowan's favorite medium is oil, though she also enjoys working in pastels and watercolor. Her work is often highly personal, drawing on the heart and memory of her childhood in Redlands. In her jewel-like, still life paintings she transforms seemingly insignificant everyday objects into objects with timeless importance and reverence.
Her work has been exhibited widely, throughout Southern California and as far away as New York. In Redlands, her work has been shown at the Redlands Community Hospital Foundation "Evening With the Artists" event, Redlands Art Association Multi Media Mini Show, and recently during the Art Walk at Stone Wheel Olive Oil Company.
Her love of art began at about age six, when her father taught her to draw. At thirteen she took her first art class. She has studied art at Chaffey College, Art Center College of Design for four years, and graduated with honors with a Bachelor of Fine Arts degree from California State University, Fullerton.
She has taught art extensively at various locations in Southern California, including Orange County High School of the Arts, San Bernardino Valley College, and Dona Merced Elementary School, and at present teaches at a private elementary school.
The Tuesday evening program is FREE to all.