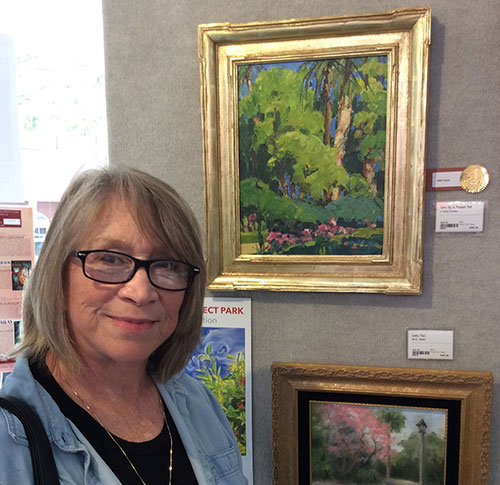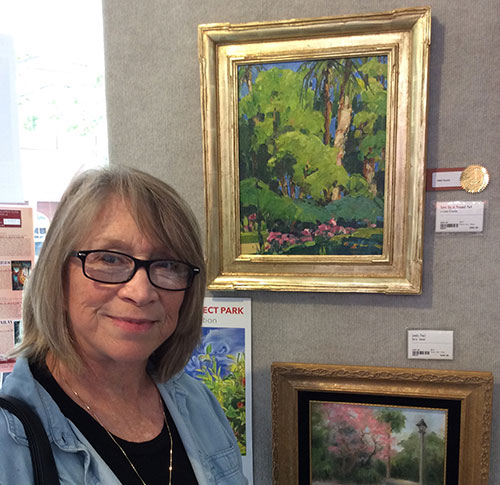 30 Apr

Plein Air Group 4/28 – 5/17

Judged by Chick Curtis

Last weekend was the Annual Plein Air Competition held in Prospect Park. Twenty three artists met at 8am and chose their locations to paint in the park. By 2:30pm they had finished their painting, framed it and delivered it to the RAA gallery ready for judging.

Chick said everyone was a winner. They had all gone out to paint Plein Air which is hard. The light varied from hazy and overcast to sunny with shadows. The air was heady with citrus blossom and the fragrance of the roses and other flowers. As if the lighting wasn't hard enough to capture, there were the walkers and visitors to the park, all curious as to what the painters were painting, not to mention the sunburn, aches, cricks in the neck or back from sitting or standing at the "right" angle to capture the images and the light for a long time.

Judging over Linda Richards and her husband Tom Gillett hung the show. You will see the paintings as you walk into the gallery on the Featured Artist board and in the Featured Artist Corner.
1st Place: Liliana Simanton "Sunny day at Prospect Park" oil
2nd Place: John Dougan "Jogging Prospect Park" watercolor
3rd Place: Geeta Pattanaik "Talking Heads" oil
Honorable Mentions
Terry Chacon "Arbor" oil
Patricia Rose Ford "Pretty in Pink" Pastel
Nita Harper "Colors of the Morning" oil
Michelle Myers "Wandering in the Garden" watercolor
Purchase Award
Christine White "Late April, Prospect Park" oil
Thank you to everyone who participated in the competition.
Many thanks to Linda Richards and her husband Tom for all the organizing of the competition.
Many thanks to Prospect Park for allowing the Plein Air Competition to be held there and to all the volunteers who organized the refreshments for the reception.