11 Apr

RAA News April 2011
Announcing Search for Executive Director
I am delighted to inform you that your Board of Directors has recently approved a search for a full-time Executive Director for RAA. As you may recall this was a major recommendation of our recent Visioning Project and the Board is hoping that such a person will be a major factor in bringing in new funding to help us move forward with a possible expansion and improvement of our gallery and teaching spaces.
The specific position description can be found on the website here:  redlands-art.org/jobs.
Larry Harvill, Chair, Board of Directors
Smiley Park Will Become a Gallery for RAA's Art in the Park
Artists will be hanging their masterpieces on pegboards, A-frames, and trellises. Glassware, pottery, wood crafts and jewelry will be set out to touch. Easy-Ups, canopies and umbrellas will add color and shade. It must be Art-in-the-Park time again!
Open Mother's Day weekend, May 7 & 8 from 9 am to 5 pm., this is Redlands Art Association's semi-annual outdoor sale. About 50 community artists and craftsmen will exhibit and sell their work in a variety of media at Smiley Park, which runs beside the Police Annex (old City Hall) on the corner of Vine and Orange Streets, downtown, Redlands. Sandy Davies, from the Redlands Art Association says "This is the best place to find original art from artists you can get to know. And don't overlook the small pieces of art. I was pleasantly surprised to find a small watercolor in a friend's motorhome!! She said it made her traveling home more like a real home."
A Refreshment booth will offer light snacks and a variety of beverages. Sponsored by the Beta Sigma Phi Sorority, their proceeds will fund community projects.
Artists are welcome to sign up and get a more detailed information sheet at the RAA Gallery and Art Center at 215 E. State Street, Monday-Saturday 10am-5pm or call 909-792-8435. Membership is not required. Original art only by the artist signing up.
The Redlands Art Association's Sales Gallery and Art Center at 215 E State St, downtown, displays member=s artwork year round. Open to the public Monday through Saturday, 10am to 5pm.
Sandy Davies
Edwards Spring Art Show
Janet and Fred Edwards invite you and your friends to their Spring Art Show in their home at 1314 Del Haven Court, in Redlands.
Friday, April 29, 7:30 – 9:30 p.m.
Saturday April from 10:00 a.m. – 5:00 p.m.
Sunday May 1 from 1:00 – 5:00 p.m.
Several new designs will be introduced.  (909) 793-7169.
"Palms To Peaks: The Art of Janet Edwards"
Text by Fred Edwards,  published by Esri Press, is now listed on- line on Amazon and other on- line sources.  It is due to be released October 1, 2011 (approximately)  A book signing event and Book Fair to benefit art education is scheduled at Barnes and Noble on Saturday November 12th.
Candy Glendening is Published in Quilting Magazine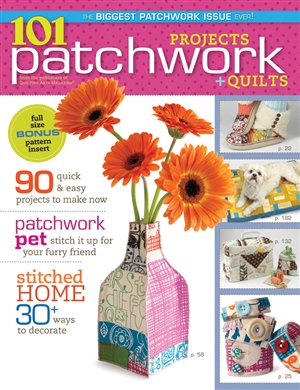 Candy Glendening, art quilter, web designer and RAA newsletter editor, has been published again!
This time, she has 2 projects in the just released magazine 101 Patchwork Projects from Quilting Arts.
She has found that publishing "how-to" articles is a great way to combine her "day job", teaching Biology, with her passion, art quilting!
This is her 4th and 5th publications, and she is excited to have her work seen again by the art quilting world.
Candy Glendening
Youth Hope
A Special Thanks to the MKAEEF Grant for Giving Redlands's Street Kids a New Avenue of Expression
Heidi Mayer founded YouthHope in July of 2009 after sitting at a bus stop and watching some Redlands' youth prostitute themselves and pan handle for food and shelter. What many residents of our hometown don't realize is that there is a significant population of youth attending school and living alongside of our own children who don't have safe places to sleep at night. Since the founding date, YouthHope has fed, clothed and helped over 260 young people ages 14 to 24. The three populations we serve are the runaway youth, ages 18 and under; the homeless youth, ages 18 to 24; and the borderline street youth, often called couch-surfers, that exist in both age groups. No matter the label any individual youths we serve may fall under, they might share any of these commonalities: hunger, lack of shelter, lack of clothing, an abusive home life, substance abuse problems, a lack of direction, and a desperate need for love and affirmation (which are useful for building a solid and productive sense of self with). YouthHope exists to offer assistance with any and all of those needs to each youth we encounter in Redlands.
In addition to the countless doctor appointments, school enrollment appointments, counseling appointments, grocery runs, free dinners, and free clothing YouthHope provides, we understand that the spirit needs just as much care as the body does. One of the ways YouthHope addresses the relational needs of our young people is through University of Redlands graduate Bryce Mee. He teaches a weekly art class that usually consists of a brief introduction to an artistic technique or material, and then lots of free space for the students to create at their individual paces. Loud music, plenty of art supplies and several hours to explore their favorite modes of expression and experiment with new ones has enabled YouthHope to provide something desperately needed by our kids: a safely challenging place for them to be themselves in. Whether a youth is extremely artistically inclined, or isn't at all, the safety of our art class is sought by some of what Redlands might consider its most troubled youth- and they come seeking paint, pastels, collage supplies, and good conversation.
Our art class' most recent project has explored the prompt "Redlands is … to me" for our upcoming art exhibit and auction, "Redlands Through Our Eyes." The vision for this exhibit/auction/banquet/fundraiser (catered by the Farm Artisan Foods) is to bring our street kids' artwork into the spotlight alongside of "real" adult artists with a common theme of the individual artist's experiences in our hometown. Because of a grant awarded to us by the Redlands Art Association's art education fund (MKAEEF), the kids have taken cameras out into Redlands to capture important facets of their lives on the streets on film. Familiar and unknown, winsome and shocking, we want to celebrate Redlands in awareness of as many of its complexities as possible. Chief-of-Police Jim Bueerman and Heidi will both speak at the event.
If you are interested in donating a piece or two to our auction in a holistic celebration of our beautiful Redlands, or are interested in purchasing tickets to the dinner to help us raise money to get our kids off the streets, please email Nicole Rutter at nicole@youthhope.org, or call at 719-659-3138.
Exhibition: Ink'n'Clay
Ann Bingham Freeman's work can be found at the Exhibition: Ink'n'Clay 37 an exhibit at Cal Poly Pomona
March 17-April 29, 2011
reception  Sat. April 9 2011    5:00-7:00 pm.
Gallery hours  11:00-4:00pm  Sat. 12:00-4:00pm
For more information call or 909-869-4301 visit the Website. Information about University parking can be found by calling 909-869-3061
Doug Ketchum's work on Etsy
I have opened up a new online shop at Etsy (
link here
). This site is for artist and craftspeople to sell their work.  Their fees are very low, and may be a 
better venue than
Ebay.
Fees are .20 cents to list an item, and 3.75% commission when sold. Notice how many "hits" I have had on my listings in just a few days. It is also a very user friendly site.
Doug Ketchum