02 Apr

RAA News April 2013
Late addition: Ceramics Workshop with Raul Acero
Raul Acero, professor of art at the University of Redlands will be giving a ceramics workshop this summer.
Dates are: May 13 to May 20th.
Beginners welcome, wheel throwing, Handbuilding and glazing techniques are taught.
For more information visit www.raulacero.net
Upcoming classes
Creative expression enlivens us and keeps us growing at any age. Stimulate your creative soul, by taking a class or workshop that will teach you new skills, while motivating your expressive self. Check out our upcoming classes here: https://www.redlands-art.org/education/adult-classes/
Lori Powell, Adult Ed Chair
Program and Workshop Reminder:  Abby Cameron
April Program:  The Spirit of Art and Color w/ Abby Cameron:  Tuesday, April 23 @ 7 pm
Abby will share with us her love of creating art that is infused with rich, dynamic color.  Her creative spirit has enticed her to successfully explore many media, (watercolor, oil, pastels, colored pencils, glass, silk, etc.).  Most recently, she has discovered drawing with colored pencils on Colourfix Paper offers wonderful possibilities for gorgeous color in her art.  She will discuss and demonstrate her methods of making drawings sing with amazing color, using colored pencils and other media.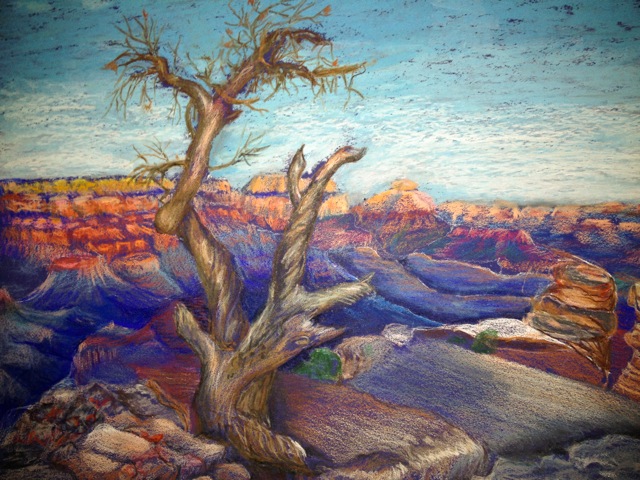 April Workshop: Saturday, April 27, 10 am – 3 pm
Join Abby and learn to infuse your artwork with color, using colored pencils, pastels and more on Colourfix Paper.  You will experience the joy and fun of experimentation and a new look to your drawings, making them sing with amazing color.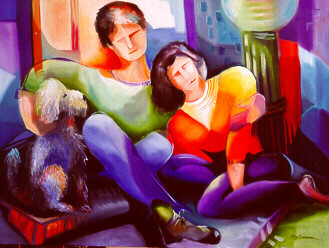 Program & Workshop Reminder: Charlie Ciali
Put Tuesday, May 14th, at 7:00 PM on your calendar now. Charlie Ciali, a well known and admired Palm Springs artist and teacher, will be our guest artist, speaking on and demonstrating methods and techniques he uses to create an Encaustic Painting. He has won many awards and is represented in many private and corporate collections. You won't want to miss this program!
Charlie will give a follow up workshop, Encaustic Experience, on Saturday, May 18, from 9 AM – 4pm. Sign up in the RAA Gallery now.
Workshop Fee: $70 members / $75 nonmembers, with a $16 materials fee paid to the artist at workshop.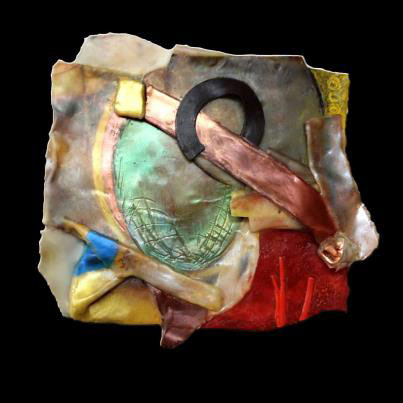 Lori Powell, Programs & Workshops
New Class Offered:
Disjointed, Juxtaposition, Transformation: Making  book with Ann Binghamfreeman
Wednesdays, May 8, 15, 22, & 29; 9:30 am – 12:30 pm
Well-known and beloved artist, Ann Binghamfreeman will lead this class.  Ann, a true-to-herself, free spirited artist, whose personal work is never contrite, should be a great inspiration to all participants.
The focus of the class will be on the process of making a book.  Participants will incorporate their own art and self-portraits, made in class, using gesture and contour drawings and more.  The class will look at the Surrealists for inspiration on linking introspection, creativity and finding a new prospective on one's art.  If you join this class, Ann will guide you, encourage you and inspire you to let your creative juices flow, in the process of creating a book of your own, introspective self-journey.
Class Fee:  $85 members / $90 non-members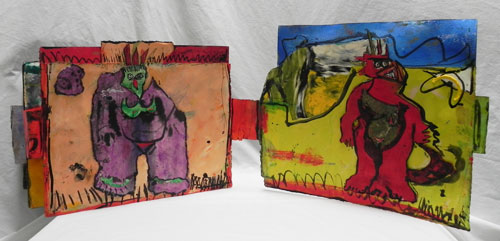 Lori Powell, Programs & Workshops
Tony Radcliffe in RCH Show
Redlands Community Hospital Foundation invites you to an "Evening With the Artists", which will present the work of six local artists, including Tony Radcliffe and Dennis Hare. This event is scheduled for Friday, April 19, 2013; 5:30 – 7:30 PM; at the Weisser Education Pavilion, 350 Terracina Blvd., Redlands. RSVP by April 15 – (909) 335-5540; $20 entrance fee payable at the door. Artists' works will be available for purchase.
Gail Brownfield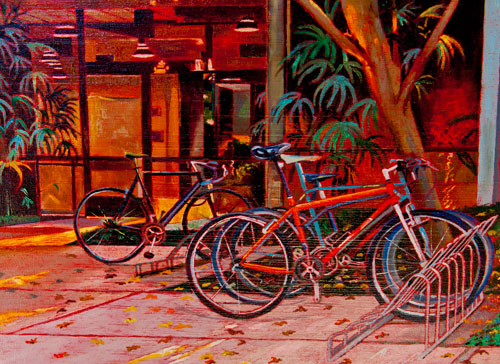 An "au revoir" to "Off the Shelf"
Joanna Mersereau, A.W.S.
My "red flyer" (walker) is an amazing convenience, but limited in helping gain access to the RAA library. So I'm sad to say I will no longer be writing a column on the RAA art books.
It's been a fun ride, and I have learned so much just in reviewing. (Having a deadline kept me prompt and on course.)
So thanks to whoever has read my ramblings—I now turn the RAA books over to you!
Fabric Dyeing Patio Classes
I've been teaching small fabric dyeing classes on my patio, and wanted share this info with interested RAA folk.
Scheduled at the convenience of both myself and the participants, a small group of fabric lovers can join me in an exploration of adding color and texture to fabric.  If you don't have a group of people you'd like to dye with, that's fine, I'll assemble groups of like minded color lovers.
I've got several classes designed for beginners, and would be happy to design one that meets the interests of a particular group. For more information, see this page on my website: http://www.candiedfabrics.com/patio-classes/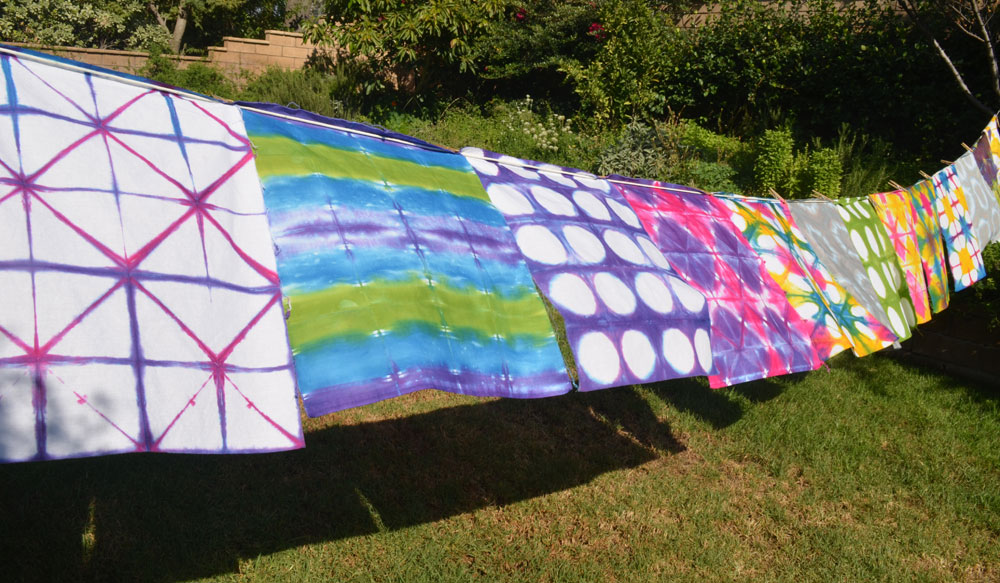 Candy Glendening
Interested in Solar Power?
Attention to all RAA members who might have an interest in adding solar power to their homes or businesses.
On April 28, 2013, at 2 PM, The Redlands Art Association is hosting an informational meeting on incorporating solar energy in your home or business. This workshop will be presented by ElectriCare Solar based in Murietta, CA. This presentation will cover:
How solar energy works

Benefits of solar energy

Choices: leasing or purchasing

Why solar now
Free, but limited seating. The Redlands Art Association is located at 215 E. State Street.
Larry Harvill
Gilman Wild West Days | Western Art Festival
June 1st & 2nd, 2013
Celebrate the return of Banning's Stage Coach and experience the Wild West Frontier. Enjoy Art, Food, Beer Garden, Western Re-enactments, Demonstrations, and Vendors. Plus, enjoy a free ride on the Stage Coach.
Saturday, 10am-5pm Sunday, 10am-4pm
$3/Walk-in adult $2/walk-in child $6/car $1/leashed dog
For complete details, visit www.Banning100Birthday.com
Western Art Show Contact: Chuck (951) 324-9701
Look Who''s Talking
A Series of Lectures Exploring the Art of Cooking, Travel, and the Human Spirit
 The Art Alliance of the Riverside Art Museum presents four lectures by four extraordinary women
The Art Alliance of the Riverside Art Museum presents "Look Who's Talking," a series of four fascinating speakers on four diverse topics, April 8, 15, 29, and May 6 at the Riverside Art Museum. Lectures range from topics such as competitive cooking to heroines of the French Resistance in World War II. The public can purchase the series of four lectures for $100 or an individual lecture for $30. All events begin at 6:00 PM at the Riverside Art Museum (3425 Mission Inn Avenue, Riverside). Refreshments are provided at no additional cost.
The series kicks off on Monday, April 8 with a look at the world of competitive cooking by Laureen Pittman, a chef who has participated in over 40 competitions, won over $40,000 in prizes and has published recipes in numerous magazines and cookbooks. Laureen's lecture, entitled "Everything I Need to Know I Learned From Cooking (Competitions)" will inspire both amateur and professional cooks, and give us a glimpse into the fast-paced world of competitive cooking.
On Monday, April 15 we are honored to have acclaimed National Geographic photographer and documentarian Karin Muller visit us. Her discussion will be about "Perilous Journeys" that she has taken in her extensive world-wide travels, from Peru to Kenya, Japan to Cuba. She has been featured on National Public Radio and has many important documentaries to her name. In addition, she has founded Take 2: The Students Point of View, a program to help students create their own documentaries and develop global citizenship. Approximately 40 schools (including RUSD) have joined the project thus far.
On Monday, April 29 we will be treated to the wit and wisdom of Monica Holloway, whose lecture entitled "Strong in Broken Places" will make us feel encouraged by her life story. Ms. Holloway's experiences with her lovable, brilliant autistic son, Wills, and the life lessons she has learned from these adventures, will help everyone who discovers bumps along life's road. She is a bestselling author whose memoir Driving with Dead People uses humor to connect us with the issues she cares deeply about.
On Monday, May 6, we will get a rare glimpse into France during World War II and explore the world of hidden children and French heroines who were instrumental in the French resistance against Nazi occupation. "Hidden Child and Clandestine Activities of French Women during WW" by Monique Saigal, Professor Emeritus of Romance Languages and Literature from Pomona College, will speak to us about these extraordinary people whose stories have been largely overlooked through the years. Professor Saigal has interviewed dozens of women to put together her tales of courage. She herself was a "hidden child" whose life depended on the kindness of a Catholic family during the war. It is against this backdrop that she will share a fascinating look back to a painful yet inspirational page of history.
The lecture series is a fundraiser for the Riverside Art Museum. For more information about the lecture series, or to purchase tickets, please contact the Art Alliance of the Riverside Art Museum at pcrabtree2@ gmail.com .
 Ai M. Kelley, Riverside Art Museum Communications