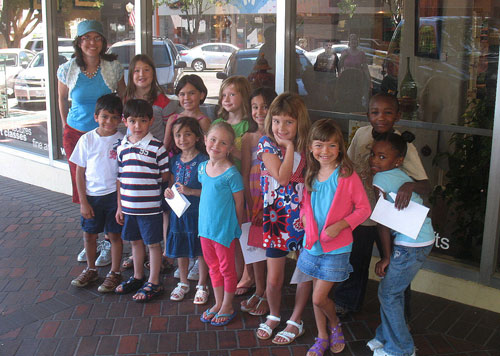 09 Aug

RAA News August 2010
Blast Away with Colors!
Once again the Redlands Art Association has had another wonderful and amazing Summer: 4 sessions of "Art Camp" for kids. The RAA teachers also want to thank Mrs. Patty Hayden for all her incredible work, with the kid's classes. We gladly welcome our current Education Coordinator "Sue K" who is a creative and dedicated artist. During Art Camp # 2, Ms. Gloria Steinweg helped teach the younger kids ages 6-9. Students were very involved learning about clay, painting and more. They did a collage of Green Sea Turtles, with newsprint and blue types of cloth pieces. Students did a Self Portrait, as a farmer (inspired by Grant Wood's "American Gothic"). Students did a watercolor scene of the ocean with their own creative boat design! All and all, it was a fabulous summer! Thanks to all the teachers involved! Thanks to the support of dedicated parents, and fun young artists! (photos of Art Camp#2 included)
Submitted by Ms. Gloria Steinweg
Wednesday – "The Artist's Way" Workshop         Judith Sparhawk
7-9 pm, September 22 through December 8, 2010  $105 members, $115 non members
This popular class is based on the bestselling book, "The Artist's Way", by Julia Cameron.  It is designed to unblock your creativity and to help in setting and reaching creative goals.  It is a fun and exciting class with a great group dynamic, and is led by photographer and successful workshop leader, Judith Sparhawk. Free no-obligation Orientation offered Wednesday, September, 15,  at 7pm.
Art Expo 2010
Art Expo is sponsored by Dick Blick Art Supplies and takes place in October.  Aug 1st registrations opened. To view demonstrations/classes go to: www.learningproductexpo.com or www.twitter.com/LPExpoArt . Open class schedules, hit the name of the class for a detail description and artist/teacher's name for bio on the presenter.  Last year two cars of RAA members attended.  Stay tuned for details.
Submitted by Margaret Spiess
Studio Clean-out Sale
Full sheets mat board
Plastic bags 24"x30" and up
Plastic bags note card size
Heavy stock 2 way fold for note cards
Art books
"Design Sense" CD by Virginia Cobb
Instant Slide Printer
Pasta maker, toaster oven & book (The New Clay) for polymer clay
Zipped Art Portfolio 24" x 32"
. . . and much more!
Call Aïda Schneider at 794-4487