08 Aug

RAA News August 2012
City of Redlands 125th Celebration
 The city of Redlands will be 125 years old this coming November. Events and celebrations will be held from November of this through November of next year and are in the planning stages right now.
RAA has been asked to be involved by sponsoring child/youth events involving the visual arts.  We are looking for experienced teachers who would like to teach an outdoor one or two day class which will focus on some aspect of the city's history.  The class could be in drawing, painting, sculpture, mural work, photography, etc.  There will be an exhibition of work following the end of classes.
If you are interested in teaching or have some ideas for the Redlands 125th Celebration committee, please contact Linda Apmadoc at 909-792-9414 or 
lindaapmadoc@verizon.net
.
Gail Brownfield
Remembering Nancy Yowell and Joe Colley
Redlands Art Association were saddened to lose two of its long-time members, photographers Nancy Yowell and Joe Colley.
Nancy was well known in the Redlands area, for her active volunteer role in the First Methodist Church, Redlands Camera Club, Redlands Art Association, AAUW, and other organizations.  She was retired from a long career as an RSUD teacher, and has been active as a photographer for many years.  She traveled to many places in the world to pursue her photography.  She is survived by her two sons, Paul and Jack, and several grandchildren.  She passed away on July 29, 2012 at the age of 78.
Joe was also a member of Redlands Art Association and Redlands Camera Club.  His career was as a civil engineer for the City of Redlands and the County of  San Bernardino.  He taught photography through UCR and CSUSB.  He once won Best of Show in RAA's Multi Media Mini Show, for his photograph of patterns in sand at the beach.  He recently showed his photographic work at Redlands Country Club, where he has been a member for many years.  He is survived by his wife of 58 years, Ruth, and his three children.  He passed away on August 2, 2012 at the age of 86.
Judith Sparhawk 
A Message from the "Take In" Crew
RAA and the Take In Committee needs your help. The evening crew (4-7 pm) needs additional members to make the process more efficient for everyone.  If you are interested in helping, please call Pat Meeker, Take In Chair, at (909) 793-5988.  Please give this your consideration.
 Pat Meeker
Help Needed for Children's Art Show
"We are looking for Artists that are good at making "balloon animals" to volunteer their time, as members, for the Children's upcoming Art Show, August 25th Reception. Please call Gloria/Teacher (leave a message in her teacher box, with your phone#), or Firouzei/Teacher, so they can let us teachers know. We also are asking for RAA members to help with the fundraising by donating 5-10 cupcakes, undecorated Sugar Cookies or cake decorating icing….for the Children's Art Show…bringing these in the Friday night, or Saturday morning of August 25th. We could use at least 50 cupcakes (with paper wrappers). Also if you could help volunteer to "set up" art or "take down" art for the Children's Art Show, let us know. Thanks
Gloria Steinweg
Fall Artist's Way Class
As summer draws toward an end, it is time to think about fall, back to school, and new beginnings.  If you feel like it is time for something new, think about signing up for the new Artist's Way Workshop.  This popular class is based on the bestselling book, The Artist's Way, by Julia Cameron.  It is designed to unblock your creativity and to help in setting and reaching creative goals.  It is a fun and exciting class with a great group dynamic, and is led by photographer and successful workshop leader, Judith Sparhawk.
The class begins with a free no-obligation Orientation on Wednesday, September 19, 2012 at 7:00 p.m.  This is a chance to learn more about this program, ask questions, and find out if it is for you.  The workshop will then begin the following week on Wednesday, September 26, from 7:00 to 9:00 pm., and will continue weekly for 12 weeks.  Don't miss it.  Come into the gallery to sign up, or come to the orientation.
For more information, call Judith Sparhawk at (909) 793-1876 or email jsparhawk746@yahoo.com.
Judith Sparhawk 
Redlands Area New Home for Mersereau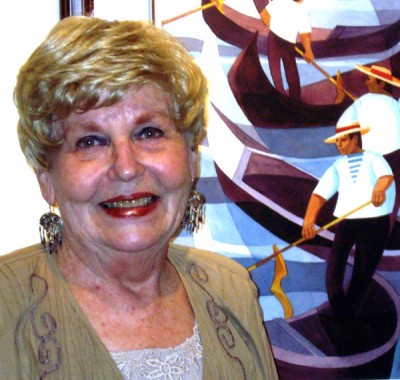 Joanna Mersereau has recently moved to Mentone after making her 57-year art career in Riverside. The new location has inspired her to create watercolors of the University of Redlands: "Administrative Building" and "Clock Tower".
The prestigious American Watercolor Society, founded in 1865, gave Mersereau signature membership in 1997. She is the only artist in the Inland Empire to have this status, given after being juried into 3 exhibits.
Joanna was recently informed that she was juried into the Watercolor West exhibit, October13-December 16, 2012. One hundred paintings were selected from over 1000 national and international entries. Watercolor West was founded by a small group of Redlands and local women with Milford Zornes as mentor. Mersereau was a founding member.
"The Art of Milford Zornes: Friendships & Inspiration" by Gene Sasse included Mersereau's  reminiscences of her travels in Zornes' workshops, especially her experience when she thought she had "murdered" her instructor. (All was well.)
A member of the Redlands Art Association for over 35 years, Joanna has painted most of the local historical places and buildings of this area. She was the first featured artist in the popular "Art for Heaven's Sake".
Mersereau's "Coyote and the Gods of Wood", a novel of the founding of the California Missions, was published in 2006. Historically accurate, Mersereau focused on the emotions and interplay among the padres, the military and the Indians. The book contains twelve of her watercolors.
Her paintings are in the permanent collections of the Riverside Art Museum, CCAA Museum of Art in Rancho Cucamonga, Na Balom in San Cristobal de Las Casas, Mexico and in private collections in the USA and abroad.
An interesting twist: her work and article is featured in VERGILAmerica in both Korean and English in its January-March 2012 issue.
Joanna Mersereau
FY 2012/2013 Budget approved
The Board of Directors has recently approved the operating budget for the coming fiscal year.  In this budget we have a projected total income of $197,115.00 and expenses of $221,651.00.  We will be starting the year with an anticipated deficit of $24,536.00 which means we have a challenging year ahead but represents beginning with less projected red ink than the year that is just now ending.  We will be ending the year with total assets of nearly $730,000.
For illustrative purposes I have made pie charts of the distribution of assets and the new budget so you may see how these are distributed.  Our major expense is clearly in the area of education which is consistent with our mission statement. These pie charts can be viewed on our website, click here.
Larry Harvill, Chair, Board of Directors
Drawing Heads and Hands with John Brownfield
Develop your people drawing skills with emphasis on heads and hands, in a class taught by master drawer extraordinaire, John Brownfield. John is a retired University of Redlands art professor and will give valuable instruction on how to make your drawings look more professional.
This class will be on Friday evenings from 7:00 – 10:00 pm, starting in late September and will continue into October. Please watch for more specific information in the RAA Gallery and on the RAA website. The information should be available very soon.
Lori Powell, Adult Education