15 Aug

RAA News August 2013
Mersereau re-cycle
Free! I have 2 boxes of clip-on lights which are not needed in my new studio/gallery. Also a couple of small easels for small paintings. If you can use these, call me (951-787-0847). My only request is that you pick them up, as I no longer drive. My new address: 1251 E. Lugonia Ave., #37 in Lugonia Fountains Mobile Home Park (between University and Judson).
Johanna Mersereau
Fall Artists's Way Class Forming
Sign-ups are being taken now for a new Artist's Way Workshop.  This popular class is based on the bestselling book, The Artist's Way, by Julia Cameron.  It is designed to unblock your creativity and to help in setting and reaching creative goals.  It is a fun and exciting class with a great group dynamic, and is led by successful photographer and  workshop leader, Judith Sparhawk.
The class begins with a free no-obligation Orientation on Wednesday, September 11, 2013 at 7:00 p.m.  This is a chance to learn more about this program, ask questions, and find out if it is for you.  The workshop will then begin the following week on Wednesday, September 18th , from 7:00 to 9:00 p.m., and will continue weekly for 12 weeks.  Don't miss this great experience.
Come into the gallery to sign up, or come to the orientation.  For more information, contact Judith Sparhawk at 909 793-1876 or email jsparhawk746@yahoo.com.
 Judith Sparhawk
Upcoming Class: Beginning Pine Needle Basketry 
Sundays, September 8, 15, 22 & 29; from 2 – 4:30 pm.
This new fall class will be taught by Kathleen Guru, an accomplished basket weaver. She learned, as a young girl, to make pine needle baskets from her mother and grandmother.   Kathleen's baskets are coiled with waxed thread, and made with needles from Florida, Redlands, and the local mountains.
Pine needle basketry is an art form that dates back to pre-Columbian times and has remained unchanged for thousands of years.  Using coiling techniques and long-leaf pine needles, baskets were made to carry water and food, as well as for winnowing seeds.
In much the same way as the pre-Columbians, Kathleen, will teach students to coil, wrap, shape and finish a pine needle basket.  Each student should be able to complete their own small basket during this class.
Bundles of washed long leaf pine needles will be available for $10, but students may bring their own if they wish.
Don't miss this class at the RAA Gallery on Sundays, September 8, 15, 22 & 29; from 2 – 4:30 pm.
Class Fee:  $70 RAA Member/ $75 Non-members
Submitted by Lori Powell, Art Education
Upcoming Class: Making a Book with Ann Binghamfreeman: Disjointed, Juxtaposition, Transformation
Tuesdays:  September 17, 24, October 1 & 8; 10:00 – 12:30 pm
Well-known artist, Ann Binghamfreeman will lead this class and should be a great inspiration to all participants.
The focus of the class will be on the process of making a book.  Participants will incorporate their own art and self-portraits, using gesture and contour drawings and more.  The class will look at the Surrealists for inspiration on linking introspection, creativity and finding a new prospective on one's art.  Ann will guide, encourage and inspire students to let their creative juices flow, in the process of creating a book of their own, introspective self-journey.
Students are encouraged to bring anything to class that seems appropriate for their book.  Ann will be sharing a great selection of her papers and materials.
Materials Fee:  $10.
Class Fee:  $85 members / $90 non-members
Submitted by Lori Powell, Art Education
"Patricia Rose" Ford is Back with a Soft Pastel Class
 Tuesdays, October 15, 22, 29, November 5 & 12, from 10 am – 12 noon.
I've heard people comment that they have missed seeing Pat and her beautiful, sparkling, soft pastel paintings.  Well, she has been very busy.  She has been traveling around to places with magnificent landscapes that lure her to paint.  However, she is going to take some time out of her busy travel/ paint schedule to teach a class, "Introduction to Soft Pastels," here at RAA.  She will share her love of capturing the luminous, beauty of nature with soft pastels and introduce you to her techniques of building a soft pastel painting.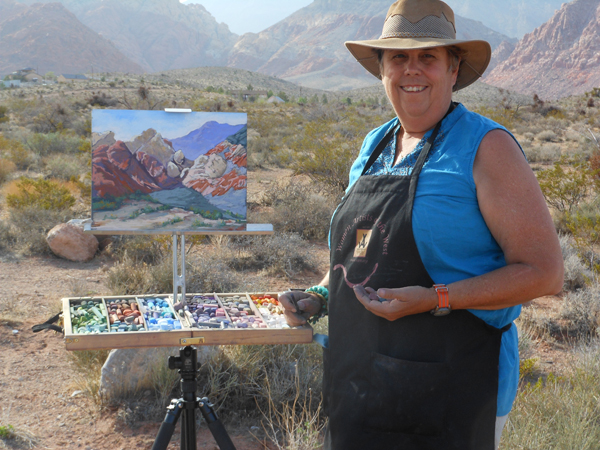 Don't miss this opportunity, at the RAA Gallery, on Tuesdays, October 15, 22, 29, November 5 & 12, from 10 am – 12 noon.
Submitted by Lori Powell, Art Education