12 Dec

RAA News: December 2011
Time To Renew!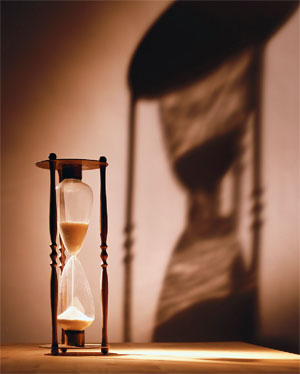 It's that time of year, it's time to renew your RAA Membership! This year we've made it even easier to renew by adding a form to our website that allows you to type in your information and then pay for the membership with your credit card. We're using PayPal as a way to safely and securely process credit card information, but you do not need to have a PayPal account to use this service, you can also just enter your credit card information and be on your way. This online form is located here.
We also have a form on the website that you can type in and then print out and mail with a check to the gallery, this form is located here.
This month's print newsletter will have a membership form, and of course there are always forms available at the gallery. However you do it, please remember to renew your membership with the RAA. As a group, this association can accomplish so much, and this all starts with your renewal dues!
Thanks – Candy Glendening, Newsletter Editor
Holiday Greetings from Executive Director Randy Hill
It's the most wonderful time of the year! Written about, sung about, movies galore and we even hum about it. We've had the turkey and stuffing and now it's time to pull out the holiday decorations, the pie tins and the cookie sheets. It is time to put up the lights, write the cards and light the candles. Time for the family to get together and share favorite stories, share favorite recipes, enjoy a cup of hot chocolate, have a slice of fruit cake (you may want to skip this one) and open gifts.
Speaking of gifts…two tidbits of information for you. Did you know the Redlands Art Association has unique, one of a kind pieces of beautiful art, incredible jewelry, gorgeous hand painted scarfs and ties and many more wonderful gift ideas. Come on by, take a look around, enjoy the gallery and support art in our community. And the second tidbit…we are open seven days a week and we are even open on December 24th!!! Come see what holiday shopping is all about. We look forward to greeting you soon.
From the Board of Directors, our volunteers and staff and our students and our artists we wish you and your family a wonderful, safe and happy holiday season.
Randy Hill
RAA book Fair and Book Signing a Big Success
There are many people to thank for planning and participating in the RAA  Book Fair at Barnes & Noble on November 12th.  Our art education funds will receive a check from B&N for $1,270.13 from the percentage of sales during the designated five day fair period.
Tia Shira masterminded the plan for the event that accompanied the book signing of "Palms to Peaks: The Art of Janet Edwards" by Janet and Fred Edwards.  In the midst of several personal family trips, she found volunteers, organized activities, secured children's art work, moved tables etc. to produce a great day!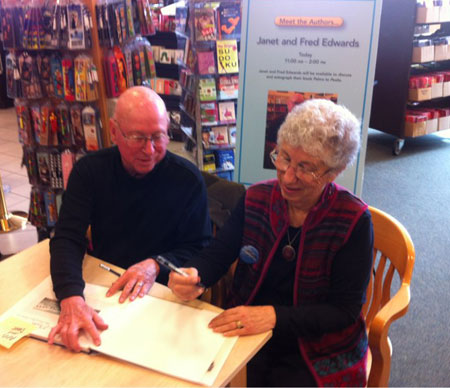 Among the members of RAA who assisted her were the following: Elena Pattison,  Sandra Meichsner, Sandy Davies, Kristy Bergeson, Sue Kavacevich, Kris Bussard, Jerry Meeker, Pat Meeker, Gail Brownfield, John Brownfield, Scott Shira, guest artists Larissa and Keith Marantz.  High School helpers:  Mailia, Matea, Jennifer, Jacob, Alex, Gabby, Melanie and Ryan.  Thanks also to Laurie Aldern of Barnes and Noble who helped co-ordinate the day.
Books are now available through the RAA and will of course benefit the association and can be signed and personalized as requested.
Janet Edwards– for MCAEEF
Edwards Christmas Art Show
Janet and Fred Edwards will hold their Christmas Art Show and Sale in their home:
Friday, Dec. 16 – 1:00 to 5:00 p.m.
Saturday, Dec.17 – 10:00 a.m. to 5:00 p.m.
Sunday 1:00 to 5:00 p.m.
At their home, 1314 Del Haven Court, Redlands, 92374.
For further information call (909) 793-7169 or see web site janetmedwards.com. All are welcome.
Spring Artist's Way Workshop
Sign-ups are being taken now for a new Artist's Way Workshop.  This popular class is based on the bestselling book, The Artist's Way, by Julia Cameron.  It is designed to unblock your creativity and to help in setting and reaching creative goals.  It is a fun and exciting class with a great group dynamic, and is led by successful photographer and  workshop leader, Judith Sparhawk.
The class begins with a free no-obligation Orientation on Wednesday, January 25, 2012 at 7:00 p.m.  This is a chance to learn more about this program, ask questions, and find out if it is for you.  The workshop will then begin the following week on Wednesday, February 1st , from 7:00 to 9:00 p.m., and will continue weekly for 12 weeks.  Don't miss it.  Come into the gallery to sign up, or come to the orientation.  For more information, contact Judith Sparhawk at (909) 793-1876 or email: jsparhawk746@yahoo.com
Upcoming Fiberworks Weaving Class
Tuesdays 1/10, 1/17, 2/7, and 2/21, 2012
$65/70 members/non-members for 4 classes
After basic loom dressing, I will emphasize fiber wall hangings and showing how to use methods of altering a flat weaving.  There are many hand-manipulation techniques to learn and class members can opt to make a sampler weaving for their own reference.  In addition we will explore warp and weft pulling or incorporating various non-fiber elements (such as weeds, branches, etc.).
I prefer a 2 harness Kayanee "Karin", 10 warps/inch, rigid heddle lap loom (20″ wide) which weaves a simple tabby.  If you have another portable table loom bring it to class.  I have 2 for borrowing.
Please see supply list with the sign up sheet at RAA gallery for information on buying a lap loom (there are many companies).  It is fun!
You are welcome to call me at 909-793-6761 with any questions.
Evelyn Ifft