07 Feb

RAA News February 2011
The Seventh Annual Open Air Art for Open Space Show
"Treasures of Redlands"
Show Dates:  April 11-17, 2011
Co-sponsored by Redlands Art Association and the Redlands Conservancy
All Plein Air artists are invited to paint on location at several beautiful, historic building sites chosen this year for their uniqueness:  The Asistencia, the Lincoln Shrine, old City Hall, and the Santa Fe Depot.  We've been very fortunate in obtaining permission to also paint on the grounds of The Burrage Mansion and at Kimberly Crest, and urge artists to take advantage of these "once in a lifetime" opportunities.
Artists are invited to enter the resulting 'plein air' artworks for the Show-Within-A-Show at the Redlands Art Association gallery, April 11-17.  Take-in for artworks is on Saturday, April 9 from 12-4.  The entry fee is $15 for the first entry and $5 for each additional entry, with a maximum of 3 entries per artist.  The reception and awards ceremony will be held in conjunction with the Spring floral show reception at the RAA gallery on Saturday, April 16 from 2-4.  Elin Pendleton will judge the show for cash prizes:  $150 for First Place, $100 for Second, $50 for Third as well as Honorable Mention ribbons.
The show prospectus, with more information, including paint-out dates and times, is available on the RAA website: click here to download.  Hard copies will also be available in the RAA gallery.
Contact co-chairs, Evelyn Ifft, harvilleifft@verizon.net or Ginger Pena, gingerpena@verizon.net for more information.
What's Happening with  MCAEEF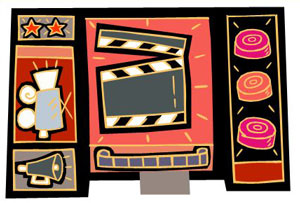 We have four great films lined up for our SPRING 2011 REDLANDS CINEMA CLASSIC film series starting on Tuesday February 22 and 24th. Please go to our website www.redlandsartassociation.org Click on Movies at the top and download your own color program.  While you are at it view the two Videos that show what we do with the funds raised from this series now beginning its 12th year! Please share this with all your friends and families.  Viewing the videos is a good marketing tool for the Art Association, the gallery and our fund raising efforts.
GREAT NEWS – LAS FUENTES RESTAURANT has donated $220 as a result of using the coupons on the back of the movie tickets.  Congratulations to all of you for participating.
GUESS WHAT?  They have agreed to do it again so please save your ticket stubs.  They have also agreed to  accept last Fall's ticket stubs so if you still have some use them.  Remember we get 10% off whatever you spend there just give them your stub and in return you receive a voucher for 10% off your next meal .
YOUR MISSION – Come to the movies, bring friends, and EAT a lot at Las Fuentes. They have a really delicious and reasonably priced buffet daily.
See you at the movies – Annette Weis
Upcoming Excursions
The purpose of excursions is to encourage people to view art or other exhibits and hopefully be inspired by the recent contact. Our next trip is a request from members to visit the Museum of Tolerance in Los Angeles. (view their web site for info on four exhibits)
Our trip is planned for April 10th, Sunday. We will leave leave the gallery at 9:00 am.
Your cost: lunch, museum fee Adults $15/Srs $12, and a donation towards gas.
To sign up, email wisdombites.callig@gmail.com or phone (909) 867-9152. If e-mailing include RAA in heading.
It will be spring..time to explore! Margaret Spiess
Mixed Grill FavoritesPodcast
RAA member Cindy Jones Lantier is pleased to announce that the Mixed Grill Favorites Podcast will return with all new interviews starting Wednesday, 02 February, 2011. The first exciting interview will be with our own Candy Glendening. Other scheduled interviews include Connie Hozvicka, Roben-Maire Smith and Liz Kalloch. The interviews can be heard at http://www.mgfpodcast.com.
News from the Board of Directors
Your board of Directors is pleased to announce the addition of a new member. Mr. Mark McGuire, an attorney with Brown White & Newhouse has agreed to join us and we look forward to his active participation.
42nd Annual Multi Media Mini Show
at the Redlands Art Association Gallery and Art Center
ORIGINALITY, QUALITY, VARIETY IN SMALL WORKS
What is our MULTI-MEDIA MINI Show? Our annual juried show. Artists submit recent works of original design in all media such as photography, sculpture, ceramics, constructions, drawings, graphics, paintings (that's the Multi-Media), and …they must 14.5″ or smaller in all 3 dimensions (that's the Mini part).
Hand delivered piece(s) must be delivered to the Gallery on Sunday, March 6 from 10 am to 4 pm
Entry forms are in the mail to all RAA members and everyone who has entered the show. A form that you can type into and print off is located here on the website.
PAAR Sixth Annual Nine Day Paint-Out
Feb 19 – 27, 2011 Plein Air Artists of Riverside (PAAR), Riverside, Ca
In Affiliation with the Riverside Art Museum
This Sixth Annual Nine Day Paint-Out is followed by a two month exhibit at Riverside Arts Project with an awards reception March 4, 2011. Artists with easel, canvas and paint in tow will demonstrate their painting skill andcompete for $5000 in awards and prizes. Painting locations change each day. To participate or get more information on the paint-out visit their website.
Applications due: Feb. 9, 2011.
Terry d. Chacon (Events Chair)909 798-0567 / shacone@aol.com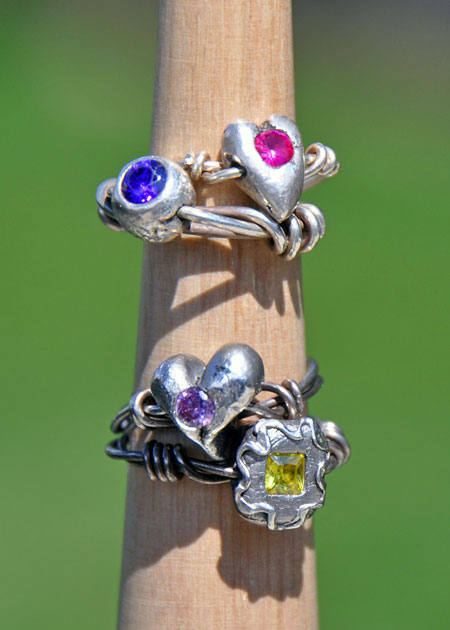 New Class: Wire Wrapped Bead Ring
Beginner's Class (4 hours max):  Create your own heirloom-quality silver jewelry with no prior experience.  Limited to 6 students.
You will leave this class with TWO beautiful wire wrapped rings suitable for wearing out the door or a gift for someone special!  Each ring will be made from a pure silver bead crafted into a design of your choice and adorned with sparkling cubic zirconium.
Techniques learned in this class include forming a bead using Silver Art Clay, setting a cubic zirconium, wire wrapping the fired bead into a ring of desired size and finishing/polishing the finished piece.  We will also discuss the use of organic matter which burns away during firing as well as firing charts for cubic zirconium and other stones.
$70 members/$75 non-members, price includes ALL materials and tools will be provided
Silver clay jewelry is 99.9% pure silver ("fine silver").
The clay consists of silver in powder form, with organic binders that burn off during the firing process. Each piece is created in clay, with texture, shape and details formed by the designer.  After firing, the piece is hand-burnished (polished) and oxidized/antiqued if desired.
Elin Pendleton Color System Bootcamp Workshop in March
Riverside near UCR
Three days, March 12-14
$200 for Newbies
$150 for "Repeat Offenders" – Color Boot Camp Graduates
Includes LUNCHES!
Elin's Color System for artists provides concrete guidelines for using color in all media to create depth, realistic scenery and true light/shadow relationships. The workshop runs for three very busy days, with critiques, theater presentations and dedicated work in your own media with the new color information provided.
Elin Pendleton is well known for her great teaching style and ability to give the knowledge she possesses to every student. She is a full member of the American Academy of E Her instructional dvds and Color System Flash Cards enhance the learning experience and bring the Color System right to your own studio.
Call Elin! (951) 742-7429
Just a reminder for the 2011 Artist's Bio's
I'd like to invite all members, new and old, to consider updating or writing a new artist bio for the book in the West Gallery. If you didn't rewrite your bio last year or submit one, now is the time to write a new one!
All we need is two sheets of paper:
1st sheet:  your studio name, contact details, & any other information your prospective buyer would be interested in – a paragraph would be fine. By all means include a small photo.
2nd sheet: include up to 3 photo examples of your work with a caption. Please put your name/studio name on this page at the bottom to prevent any mix ups.
Feel free to email the bio's to me at bizzilizzi7@gmail.com (but not mac documents because I have problems printing these) or drop off the sheets at the RAA in the labeled box above the pigeon holes. If you need any help or further information please email me. Thanks
Liz Coviello