12 Feb

RAA News February 2012
News from MCAEFF
Committee called to order by Jerry Meeker, Wednesday, November 11, 2012.at 3:00 PM.
Annette Weis had the photographer come in to take photos of Gail Brownfield in the various hats she wears as president, and of the committee doing the work they do and have done for about twenty years: helping schools apply for educational grants.
The Youth Hope headed by Heidi Mayer sent a progress letter indicating the grant they were given is being well used by the youth to produce a mural of "the old train station with their portraits."
A lively discussion by Annette Weis and John Brownfield over the merits of grants for both GATE (gifted) and develop-mentally challenged students proved enlightening. All agreed both should be given grants.
Gail reported that gallery sales at RAA were more successful than in 2010.
Janet Edwards' sale of her beautiful book of etchings and paintings at Barnes and Noble was highly successful, as well as the children's activities as reported by Tia Shires.
The Classic Movie Series at the Krikorian Theatre was attended by 200 to 250 at each performance. Annette Weis said they have proved to be financially successful. She does not know the names of the movies this year as yet, but the dates are as follows: Feb. 21 and 23, Mar. 13.and 15. Apr. 10. 12. May 8, 10. More information later.
Randy Hill, executive director, expressed his enthusiasm at the bright, colorful, and interesting and varied entries in the gallery: oils, watercolors, ceramics, sculptures. Keep them coming in.
Ed Sotello
N.A.W.A. Small Works Exhibition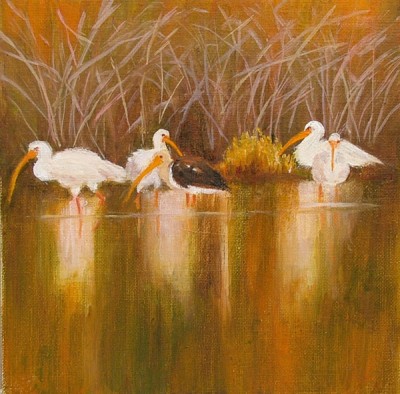 The 6×6" oil titled "A Few Beauties at Kiawah Island" has been accepted into the National Association of Women Artists' Annual Small Works Exhibition to be held February 1st through February 27th at the NAWA Gallery, 80 Fifth Ave, Suite 1405 New York, New York.   The organization, founded in 1889, has had prestigious members such as Marie Cassatt, Rosa Bonheur and more recently Judy Chicago.  Ms. Bell has been a member since 1994.  She is also affiliated with Plein Air Artists of Riverside, Laguna Plein Air Painters Association and the California Art Club.
Helen Bell
RAA Library Update
The library has been culled of about 100 books, either old ones, boring ones or duplicates in order to make more storage space for teachers.  I cleared 4 sections, books from 2 of them are now on the top of the shelves which makes it easier to read the titles.  Some of the culls were for sale, the rest donated to the Smiley Library.
This is your library.  It is operated on the Honor System, as an RAA member you are responsible to bring back the books in a timely manner.  There is no sign-out or in.  The sections are labeled (temporarily with tape) such as Art History, Women Artists, Crafts, Printing, Woodworking, Sculpture, Pastels, Oils/Acrylics, lots of Watercolor books, Design, Animal Reference, Flowers, Trees, Seascapes, American Artists, Western Artists, French Impressionists, individual artists and many more I've forgotten to mention.  It is a much bigger art library than Smiley has so please make use of it.  Enjoy and learn!
Evelyn Ifft, RAA Librarian
RAA Plein Air Paintout & Show
Ginger and I will be working out the details soon but wanted to get the dates out so you have some warning.  We have not decided definitely on a Theme or Locations, if any of you have some ideas let us know.  This year will not be a Show-Within-A-Show but rather showing in the Featured Artist(s) corner.  There will be late April and May paintout dates with locations in the coming newsletters, fliers in the Gallery. TAKE-IN is Saturday, June 2, 2012 and TAKE-DOWN  on Friday, June 22.  Due to the smaller space there will be a size limit.  This is an experiment so bear with us, which also causes less problems with the Gallery schedules.  We'll keep you posted.  Thanks for your interest!
Ginger Pena and Evelyn Ifft, Co-chairs