11 Feb

February RAA News February 2014
A MCAEEF Minute
Hello, everyone from your Margaret Clark Art Education Enrichment Fund committee. What a mouthful, good thing we can just call it MCAEEF committee. We held our monthly meeting today (Feb.5) and discussed many issues. As you know, our focus is to help carry out the RAA mission statement re. promoting the visual arts in our area. We do this mostly by reviewing and approving art education grants that a submitted to us. From where does RAA get these funds to allocate — from the classic film series income. Lets all go enjoy the films and help support our cause.
We approved one grant request today. Clement Middle School is going to hold art classes after school. Students attending these classes, taught by an RAA art teacher, will have demonstrated an interest in the visual arts. The $800.00 granted will provide the teacher and some needed supplies. This is one of 12 grants funded so far this year. RAA, through the MCAEEF committee has funded $20,000 worth of art instruction so far this year. 1,200 individuals have received direct art instruction with these funds. Now, this is something we should all be proud of! RAA is actively reaching out to the community and helping students in the Redlands Unified School District and other organizations experience the joys of the visual arts.
We will keep you up to date on our future actions.
The MCAEEF committee
Photo artists wanted
The Redlands Art Association is advertising their 5th Annual Community Photography Show to artists throughout the community. Open to the public. No membership required. Bring in 1 or 2 photos, framed w/wire on Saturday, Feb 15 from 2 to 5 pm. Entry Fee: One piece @ $5 / 2 @ $8. 20% commission on sales.
The show runs one week, Feb. 17 – 23, culminating in a "Meet the Artist" reception on Sunday from 2 to 4 pm at the Gallery downtown at 215 E. State Street, Redlands. The public is invited to see what inspires the photographer.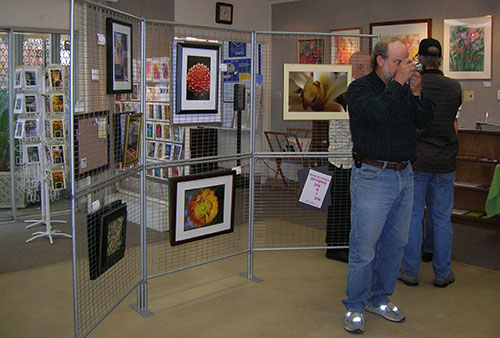 45th Annual MULTI MEDIA MINI SHOW
Variety in Mini Art!
The 45th Annual Multi-Media Mini Show, sponsored by the Redlands Art Association, will be open March 6 through 27, 2014 at their Gallery & Art Center, downtown Redlands. Jurist Thom Wright from Huntington Beach, will choose the best 150 pieces from those entered; pieces that make you say, "hmmm" and pieces that make you say, "Wow!". The public is invited to the Grand Opening on March 7, 5-7PM.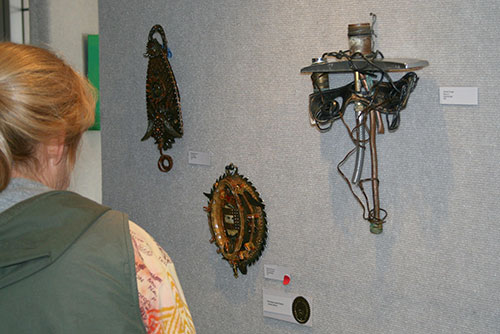 The Multi-Media Mini Show is unique to Redlands Art Association. What makes it different from other exhibits is that artists working in a multiple of media can enter their art in a juried exhibit. For example, artists can submit photography, digital (computer) work, jewelry, fiber art, drawings, glass, sculptures in wood- stone- and metal, as well as the traditional fine arts. The limitation of the art piece to 14.5″ including base or frame is the challenge. Naturally, its success has spawned similar shows, however, the MMM Show is still the only one of this scale in Southern California.
Jurist Thom Wright has combined his passions for art and engineering, and his two practices benefited from each other. After graduating with a BA & MA in mathematics from UCLA and CSULA, he began a career in aerospace. While working in advanced space systems and technologies development, he began taking art and art history courses at local community colleges. He began selling his art and successfully entering competitive shows in 1978.
His interest initially centered in abstract landscape and figurative painting, influenced both by 20th century European modernists and American expressionists. By 1986 his subject matter moved toward contemporary issues, including technology, geopolitics, and the global environment. His abstract painting style also migrated towards inclusion of industrial materials, found objects, and mixed media.
Desiring to improve his skills, theory and knowledge in art, he took early retirement and by 2006 completed the MFA program in Drawing and Painting at California State University, Long Beach
A gallery of his paintings can be seen on his website, www.thomwrightart.com.
The MMM Show is open to all California artists and/or RAA members.  The prospectus/ entry form is available at the Redlands Art Association, 215 E. State St., Redlands and on their website:www.redlands-art.org.   All entries must be hand delivered to the RAA Gallery on Sunday, March 2, between 10am – 4pm. Winners of the competition will participate in over  $ 3000 in cash and product awards.   Purchase Award Patrons will select their art pieces at a private showing before the exhibit opens for the public.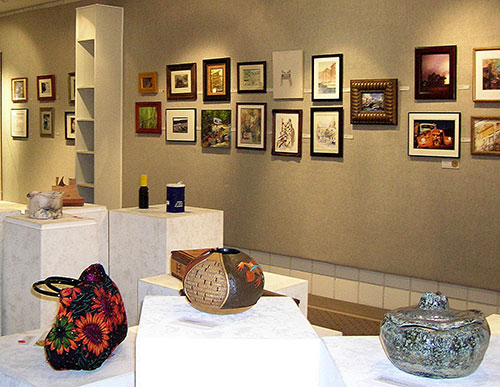 Grand Opening Gala will be Friday, March 7 from 5pm to 7pm.  "Our show is more than just a display of small pieces of art.  It is a collection of little "gems" … you=ll want to get up close while viewing." says Grace Fermier, long-time RAA supporter.
For further information on how to enter or become a Purchase Award Patron, please visit the Redlands Art Association at 215 E. State St., downtown Redlands, visit the website www.redlands-art.org or call, 909-792-8435.
Upcoming McElroy Exhibit
Everyday Mystery, a solo exhibit by member artist Penny McElroy will be on display at the University Art Gallery, University of Redlands from February 18 – March 22. The opening reception will be held on Wednesday, February 19 from 4:30 – 6:30 pm.
Submitted by Penny McElroy
Submitted by: Sandy Davies