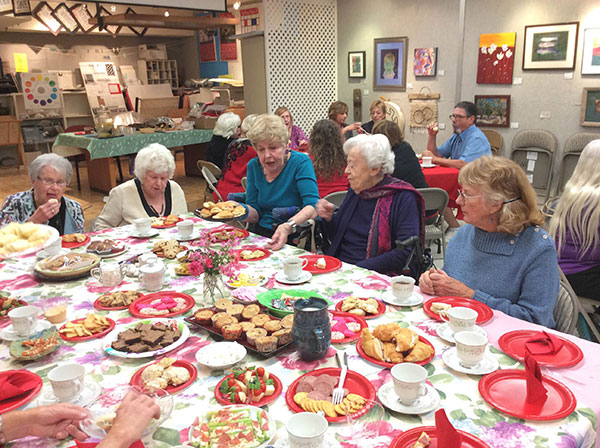 08 Feb

RAA News February 2015
2nd Annual Tea Party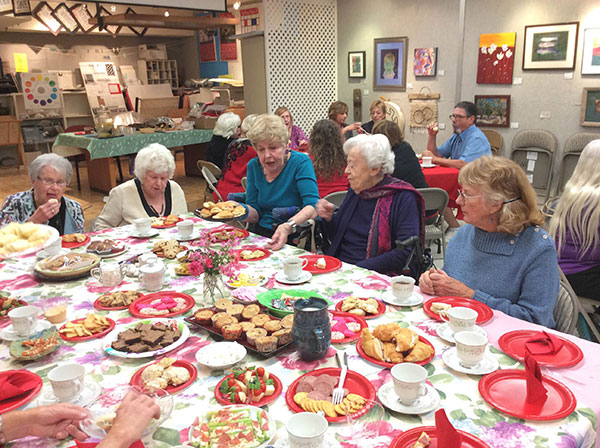 A big thank you to everyone who came to the tea party and brought the wonderful food. It was wonderful to meet new, returning members and founding members. Our two hours zipped passed so quickly. For some it was the chance to see the Ray Swanson show and reminisce about old times, when the RAA was on Vine Street and Citrus and for others it was a chance to catch up with old friends and make new ones.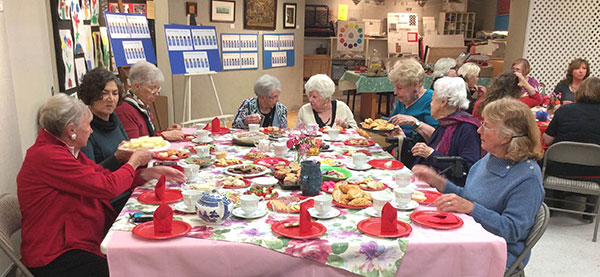 I'd particularly like to thank Cheryl O'Conner for her hard work with hospitality, Janice Commentz for greeting, waitressing and clearing up; Grace Fermier and her friend who helped with the clearing away and drying up; my sons William and Matthew for setting out the tables, laying them and folding napkins and putting the tables back at the end, Sandy Davies for offering to drive and collect people so they could attend, Pat Meeker for the loan of her lovely teapots and everyone else who helped in any way make it such a successful afternoon.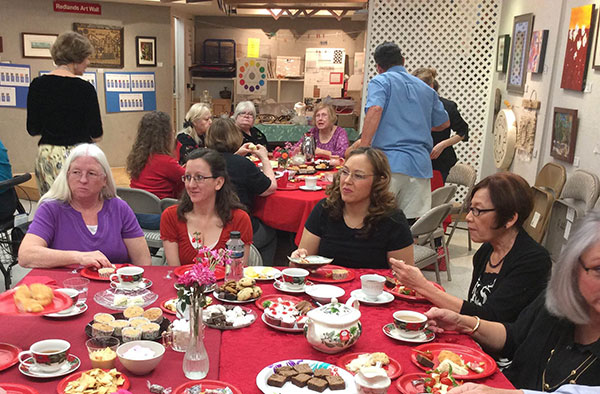 We'll see you all again next year.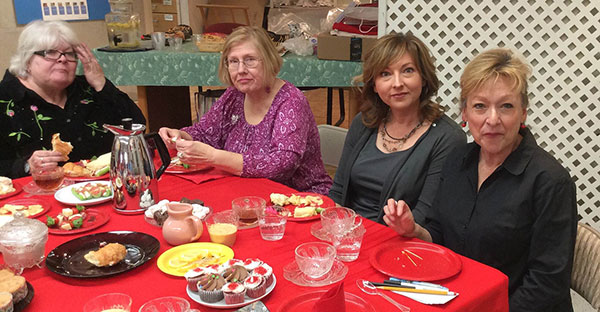 Liz Coviello , Historian in the Cupboard.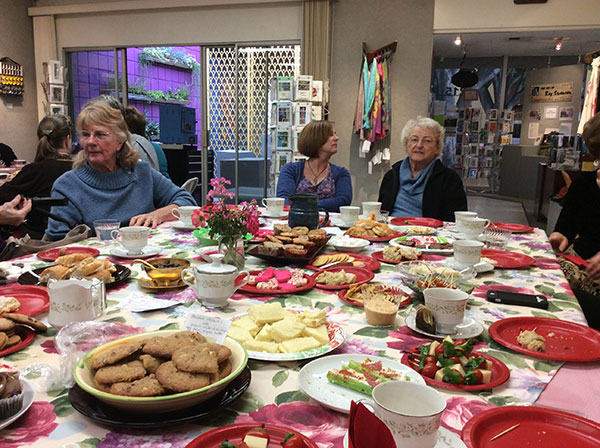 Do you have old photos of the RAA?
If  you have old photos of the RAA and events from the past I'd love to see them. We have very few of the RAA in Vine Street, on Citrus or at events such as Art in the Garden with Ann Blessener.
Many thanks,
Liz Coviello , Historian in the Cupboard.
Business card folder for artists
I just wanted to remind artists there is now a business card folder for a limited number of business cards, approximately 6, per artist. I made several sales of artists work this week and the customers were interested in the artist and asking about their websites and their work. It's hard to pass on details if we don't have it in the gallery.
Thanks,
Liz Coviello , Historian in the Cupboard.
Open to all artists….enter the Multi Media Mini Show!
Get your creative thinking cap on!  Get to the studio and make us some art!   Art that makes us say, "Wow!" or "Hmmm!".
The MMM Show is open to all California artists and/or RAA members.  Artists can submit up to three 3D or 2D pieces.  Multi-media means… anything!  Strict size limitation:  must fit within a 14.5-cube, including frame and/or base.  Our judge, Leslie A. Brown, will select which pieces will be put in the show, as well as give out the awards.  Since the prospectus/entry form will no longer be mailed out, it will be available at the Redlands Art Association, 215 E. State St., downtown, Redlands and on their website here: 2015 MMM Prospectus-Insurance E-FORM
All entries must be hand delivered to the RAA Gallery on Sunday, March 1, between 10am – 4pm. Winners of the competition will participate in over  $ 3000 in cash and product awards.   Purchase Award Patrons will select their art pieces at a private showing before the exhibit opens for the public.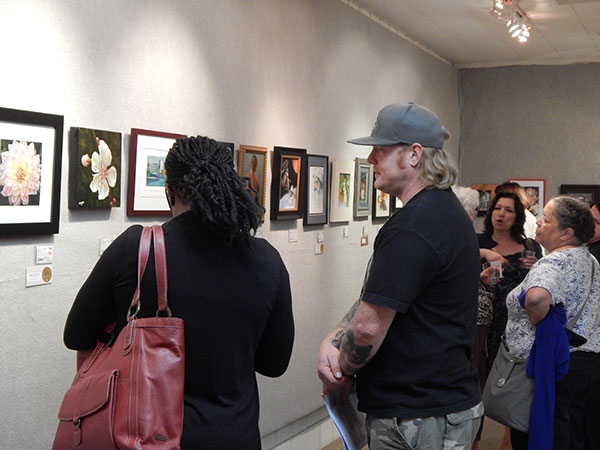 Grand Opening Gala will be Friday, March 6 from 5pm to 7pm.  The Artist's Award Ceremony will be on Sunday, March 8.
"Our show is more than just a display of small pieces of art.  It is a collection of little "gems" … you'll want to get up close while viewing." says Grace Fermier, long-time RAA supporter.
For further information on how to enter or become a Purchase Award Patron, please visit the Redlands Art Association at 215 E. State St., downtown Redlands, visit the website www.redlands-art.org or call, 909-792-8435.
Sandy Davies, MMM coordinator
Snezana Petrovick Coming to RAA: Tuesday Evening, March 31 @ 7 PM
RAA is privileged to have nationally and internationally acclaimed Snezana Petrovick, as guest artist.  She is an award winning 2D, 3D and 4D artist, independent curator, gallery director and educator.  A freelance designer in both Europe and the U.S., she has done design work for more than 225 theatrical productions, as well as 22 TV shows and eight movies.  She is chair of the art department at Crafton Hills College.
Mark your calendars now.  You won't want to miss the opportunity to hear this fascinating and amazing, multi-media artist speak on her life and art.
Also, Snezana will present a workshop on:  Saturday, April 4
Submitted by Lori Powell
Attention all Members who Shop on Amazon
Notice to all members who buy things through Amazon.com about a new charitable giving program they have.  When you want to shop on Amazon please sign on to Smile.Amazon.com. Select the Redlands Art Association in the drop down window and the RAA will receive 0.5% of your purchase refunded to our bank account.  This site provides access to the full line of products Amazon offers and in fact is a window to the official Amazon site.  Once you have selected the RAA you so not have to repeat that selection provided you always sign on to Smile.Amazon.com.  You can also switch to any other nonprofit charities Amazon lists.  Amazon has not increased prices to compensate as you are accessing the actual site anyone in the general public does.
Larry Harvill, Chair, Board of Directors
Art Alliance Announces 2nd Annual Riverside Art Market on April 25, 2015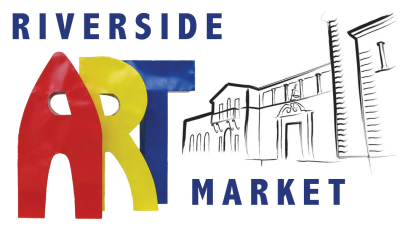 The Riverside Art Market is a free family friendly annual one-day event featuring artists and artisans presenting their own works for sale. In addition we welcome art galleries.  The types of items for sale include oil, acrylic and watercolor paintings, etchings, prints and a variety of crafts including jewelry, woodwork, pottery and items made of fabric, glass and metal.  Held at the historic Riverside Art Museum in downtown Riverside, the event will also feature pop-up restaurants, food trucks, a children's craft area, face painting, and live demonstrations of glass-blowing, print making and painting.
The event is organized by the Art Alliance, a supporting group of the Riverside Art Museum.  Proceeds will benefit local community outreach, children's art education programs, art classes and other programs of the Riverside Art Museum.
DATE: April 25, 2015
TIME: 10am – 3pm
PLACE: Riverside Art Museum, 3425 Mission Inn Avenue, Riverside, CA 92501
For more information and for the vendor application: Visit the Riverside Art Alliance website, the Riverside Art Museum website, or email ramartmart2@gmail.com
CONTACT FOR INQUIRIES: Patti Funder,
email ramartmart2@gmail.com or call (951) 201-8173.
PAAR's 10th Anniversary Extravaganza Celebration & Paint-Out
The Plein Air Artists of Riverside (PAAR), an Artist Group of the Riverside Art Museum (RAM), invites you to participate in PAAR's 10th Anniversary Extravaganza Celebration & Paint-Out, April 11 – April 22, 2015. The theme is "Loving the Landscape."
To kick off the celebration on Saturday, April 11 and Sunday, April 12, there will be four (4) mini-workshops (2 each day) at RAM with the following accomplished artists: John Budicin, Oil; Brenda Swenson, Watercolor; Sally Strand, Pastels; and Chuck McPherson, Mixed-Media. (Unless there is space available, these workshops are offered first to PAAR members only at a special PERK price.) Also that weekend (April 11-12) there will be 20 art supply vendorsexhibiting at RAM.
What is really exciting this year is that we will have 2 days before the Paint Out (April 11 and 12) which will be our Workshops with the Masters.  Golden Acrylics has committed to providing paint (all media) for our workshop participants.   In addition, we will have numerous vendors at RAM selling art products and who have also donated supplies for our workshops and Paint Out prizes.  To name a few:  Golden, The Brush Guys, Jack Farley's Art Supplies and the list continues with food vendors who will be there so you don't go hungry.
Not able to be there but who have sent product and prizes are Guerilla Painter (a $258 pochade painting box  plus…..), Raymar, Strathmore, Holbein, BestBrella – Every Paint Out participant will once again receive a Goody Bag filled with great stuff.
We are inviting the public  and other artists to participate in our Art FuZion happening during those two days for a small donation of $5.  Art FuZion is a chance to bring one's creativity to life.  All art created during that time will be auctioned off as a fundraiser for the Riverside Art Museum and for PAAR.  A Children's art corner is featured and a child will have a chance during a drawing to win a "Goody Bag" donated by our Sponsors.
The excitement is building.  The magnets for our cars are once again available for sale; a Anniversary Glass Ornament to commemorate the occasion is also available, and Anniversary hat pins will be given to every participant. Please take advantage of early bird pricing.
 For additional information click here.
Bonnie Kent, Publicity Chair, Plein Air Artists of Riverside