11 Jan

RAA News January 2011
New Class Format Introduced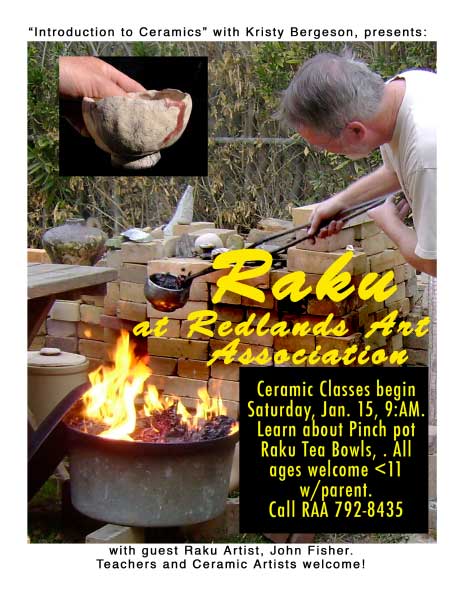 "Introduction to Ceramics" begins Saturday, January 15, at 9:00 AM, at the Redlands Art Association Gallery, 215 East State Street.
The class is taught by Kristy Bergeson and will be a four week session which may be on-going (open studio) based on sign ups.
Cost of the first four Saturday, two-hour sessions is $60 which includes clay fees.
Sign up at the RAA Gallery or by calling: 792-8435.
The classes are being offered as a "cross-age" learning experience, and children under 11 must be accompanied by a participating adult.
The first session will include, invited Raku Artrist, John Fisher, and the lesson will be based on the Japanese Tea Ceremony. Both traditional Japanese and Contemporary Californian Raku techniques will be demonstrated. Participants will make pinch pot tea bowls and other unique clay projects that will be fired in an outdoor firing. This is not a "production" opportunity, but a learning opportunity for beginning as well as experienced students.
RAA is piloting the use of Saturdays as an on-going, open, or "subscription type" studio opportunity that may include sessions throughout the day in a variety of media, based on facility capacities and participant interests. We'll see how this first "Intro to Ceramics" goes and plan for more.
Photography Show-In-A-Show
Call for entries:  Faces & Places Photography Show.
Here is a great opportunity to show off your best photographs, and to be part of RAA's third annual Photography Show.  This show is open to the community and RAA members alike.  Take-in for the show will be held on Sunday, February 13, 2011, from 10:00 a.m. to 2:00 p.m. The entries will then be hung in the east gallery, and will hang through the week.  A reception will be held on Friday, February 18, from 5:00 to 7:00 p.m.
The theme of the show is Faces & Places, so thus may include a wide range of subjects.
You may enter one or two photographs, which must be matted and framed, with wire for hanging (no saw tooth hangers). The entry fee is $5.00 for the first, $8.00 for two.  There is no size limitation. A 20% commission will go to RAA for any sales during the show.
The reception will be a chance for you to invite your family and friends, enjoy some refreshments, and socialize with other artists.  Your artwork may be picked up at the end of the reception.
So look at your photographs, choose your very best, and come be a part of this fun event!
For additional information or to ask questions, contact Judith Sparhawk at 909 793-1876 or email to jsparhawk746@yahoo.com.
January RAA Programs
"Redlands the Way It Was and the Art of Jan Harvey"
Tuesday, January 25 at 7:00pm
One of our own, RAA member Jan Harvey is a widely collected and exhibited printmaker. A rich and extensive body of her photographs of Redlands taken over many years has been a very frequently used source of images for her fine art prints. Like other member artists, Janet Edwards and Jeff Owens come to mind, Jan has become deeply invested in Redlands and a keen and thoughtful observer of our town. Something about Redlands gets under the skin of some artists and then, as is the case with Jan Harvey, interesting art is the outcome.
"Photographing Your Art and Preparing for Digital Presentation and Internet Posting"
Saturday, January 29 8:30-4:00 with Lisa Mozzini-McDill
Remember when 35mm slides were the way to submit work for exhibitions and documenting your work? THOSE DAYS ARE GONE, OVER, OUT OF DATE, OUT OF STEP, JUST PLAIN OUT. Get up to speed and develop computer skills needed to create great photos of your work.
Sign up for the digital photo for artists workshop on Saturday January 29. Bring your digital camera; laptop computer with connecting plug; a smallish art piece;and a tripod if you have a sturdy one Instructor Lisa Mozzini McDill recommends using Adobe Photoshop Elements in this workshop. It can be found on Amazon.com and, I am told, at COSTCO for around $80, either source. Sign up at the gallery; $65 members, $85 non-members.
You can see what Lisa has been up to at her website: www.lisamozzini-mcdill.com
Photo Show by Two RAA Members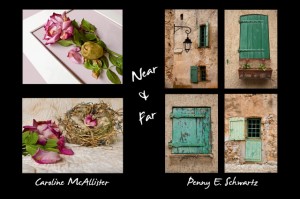 "Near and Far"
Photographs by
Caroline McAllister and Penny E. Schwartz,
January/February 2011
Artists' Reception:
3-6 pm Friday, January 28, 2011
Alumni House
625 Grove St., Redlands, CA 92374
RSVP to:
panache616@earthlink.net
caroline.mcallister1@yahoo.com
Spring Artist's Way Workshop
Sign-ups are being taken now for a new Artist's Way Workshop.  This popular class is based on the bestselling book, The Artist's Way, by Julia Cameron.  It is designed to unblock your creativity and to help in setting and reaching creative goals.  It is a fun and exciting class with a great group dynamic, and is led by successful photographer and  workshop leader, Judith Sparhawk.
The class begins with a free no-obligation Orientation on Wednesday, January 26, 2011 at 7:00 p.m.  This is a chance to learn more about this program, ask questions, and find out if it is for you.  The workshop will then begin the following week on Wednesday, February 2nd, from 7:00 to 9:00 p.m., and will continue weekly for 12 weeks.  Don't miss it.  Come into the gallery to sign up, or come to the orientation.  For more information, contact Judith Sparhawk at 909 793-1876 or email jsparhawk746@yahoo.com.
Silk Painting Classes
In addition to the class that is being offered at the RAA, "Silk Painting", starting January 11, at 6 pm,  Antionette Hanson is also forming a class in Palm Springs.
For those interested please contact: aartist09@gmail.com
Upcoming Excursion to the Pasadena Museum of California Art
There is an upcoming excursion planned for Sunday, January 23rd, to the Pasadena Museum of California Art to view "Scenic View Ahead" show.
Read the write up in Westways Magazine (AAASo Ca Publication) pg. 52-54. The show features watercolors done by prominent California watercolorists who were hired to paint the covers for Westways from  1927 to 1970. Westways was one of the few magazines to use original artist work for the cover.
We will leave Redlands at 9:00 am.  We will eat lunch in old town Pasadena and view the exhibit from noon – 3:00 pm. Your Cost: lunch, museum ticket $7 (auto club members $2 off), donation for gas.  I will take sign ups by:
email: wisdombites.callig@gmail.com (Please include RAA in title)
or by phone: (909) 867-9152
Either way you contact me, please give me your name, telephone/email. I can take four riders. If we have more people we need one more volunteer driver.
Thanks all…Margaret Spiess
Woodworking tool for sale.
Shop Smith Mark V, new motor and drive belts, several accessories, $350.
Contact Larry Harvill, 909-793-6761 or harvillifft@verizon.net.