09 Jan

RAA News January 2012
Upcoming Program: David Fairrington, portrait demo
Tuesday, January 24,  7 PM at the RAA Gallery and Art Center.
Guest Artist, David Fairrington, will be doing a portrait demo in oil from a photo. Fairrington says, "I will talk about using photos, how to take them and what to look for in the photo as you paint."
Fairrington was named a "Master Artist" by International Artist Magazine for his ability to capture and portray personality in his portrait paintings. He is one of a few artists who have been selected as one which officials in the Pentagon and other government services can select for their official portrait. After serving as an "Army Combat Artist", he opened his own design studio where, in addition to portraits, he made movie posters for all the large movie studios. Fairrington also paints still life – winning First Place in the National Orange Show 2010 All-California Juried Art Exhibition for his still-life of an orange.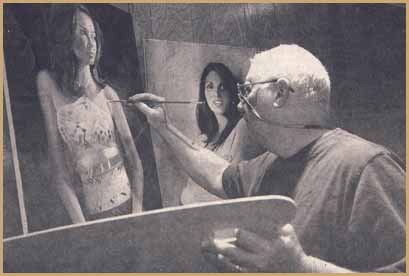 Celebrate the New Year with your updated bio.
I would like to invite all artists, to write or rewrite their bio.
Just 2 sheets (its not a catalogue of work):
Sheet 1: a brief bio and photo of yourself with contacts details (website/email address/telephone number)
Sheet 2: 3 photograph examples of your work with your name or website on the bottom of the page
Leave them in the office in RAA (mine is the box on the top of the pigeon holes) and I will file them.
Also: remember when you are taking pieces in for a show to include your business card with each piece.  People regularly ask about the artist of the work they purchase.
Many thanks, Liz Coviello (Historian)
RAA Scrapbooks/Archives
I will soon be updating the scrapbooks in the RAA and if you have anything pertinent that you think should go into the Archives please drop it off in the RAA office in my box.
Many thanks, Liz Coviello (Historian)
Senior Program Seeks Art Instructor
The City of San Bernardino is looking for an experienced teacher with expertise in acrylic, oil and watercolor to offer a 2-hour per week class at Perris Hill Senior Center, 780 E 21st St, San Berdo.  An additional class at the Senior Center at 600 W 5th may also be an option.   Contact Linda Gomez, recreation coordinator, of the City of San Bernardino for more detailed information.  She can best be reached by email gomez_li@sbcity.org.  She can also be reached by phone but spends her time divided between the two senior centers – 909-384-5435 or 909-384-5436.
Gail Brownfield
Welcome to Redlands Show: Margaret Clark Gallery at RHS
Redlands artists are invited to "bring out the classics." RAA and the community of Redlands want to give our support for the "revival" of the Margaret Clark Gallery at Redlands High School. The show, "Welcome to Redlands" will open March 18 and be open to the public as well as the school community for two weeks. The Margaret Clark Gallery is a full size, professionally appointed Fine Art Gallery with public access and a warm ambience, now available for community shows weekends, evenings and holidays. Principal Christina Rivera welcomes the Artists of Redlands to submit historic or recent works of art exhibiting a "pure" Redlands theme or local Citrus theme (one, special work only, please). Selected student work will be shown along with our most honored and revered Redlands Art Masters.  Dust off your early classic Redlands works or submit Framed Fine Art Prints including photographs.
Works will be collected by John Fisher at the RAA Gallery or during appointed times at the Margaret Clark Gallery (840 E. Citrus Ave. Redlands High School, Library Building just East of Grace Mullen Auditorium). You can call or email John to let him know you are interested. Artists may offer work for sale, commission free (donations accepted) and may supply personal flyers, cards and brochures to be placed in the display. Contact John via messages at RAA Gallery, 792-8435 or John's email: jd.fish@verizon.net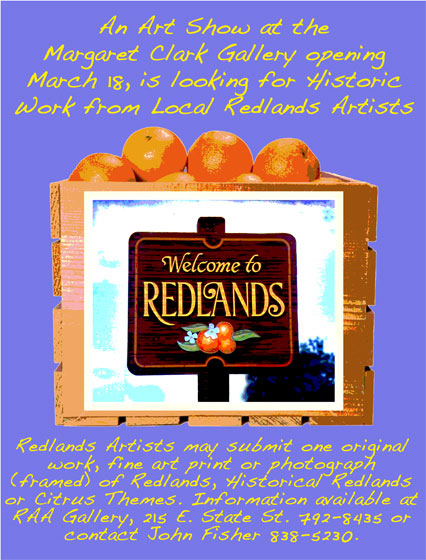 John Fisher