13 Jan

RAA News January 2015
RAA Welcomes Two new Gallery Coordinators
Two new Gallery Coordinators have recently been hired by the personnel committee of the Board of Directors. Liz Coviello, a long time RAA member and our Historian, will cover vacation days and continue to help on take-in days. Bronwyn Weis comes to us with extensive computer experience and will work mostly Fridays and Saturdays. Both report to Judith Sparhawk, Gallery Supervisor. The personnel committee is very pleased to have had the opportunity to choose these two very special women.
Gail Brownfield, President and personnel committee member
Special gifts received
I am delighted to inform you of three special gifts we have received as a result of proposals submitted.
$250 from the Redlands Community Foundation to help underwrite the reception for the Ray Swanson show on Jan. 4th.  Do not forget to call in your RSVP.
$1,000 from the Radcliffe Foundation to support our general operations as determined by the Board of Directors.
$5,000 from the Lossett Foundation to help support our youth art education program.
Larry Harvill, Chair, Board of Directors
Attention all Members who Shop on Amazon
Notice to all members who buy things through Amazon.com about a new charitable giving program they have.  When you want to shop on Amazon please sign on to Smile.Amazon.com. Select the Redlands Art Association in the drop down window and the RAA will receive 0.5% of your purchase refunded to our bank account.  This site provides access to the full line of products Amazon offers and in fact is a window to the official Amazon site.  Once you have selected the RAA you so not have to repeat that selection provided you always sign on to Smile.Amazon.com.  You can also switch to any other nonprofit charities Amazon lists.  Amazon has not increased prices to compensate as you are accessing the actual site anyone in the general public does.
Larry Harvill, Chair, Board of Directors
Open to all artists….enter the Multi Media Mini Show!
Get your creative thinking cap on!  Get to the studio and make us some art!   Art that makes us say, "Wow!" or "Hmmm!".
The MMM Show is open to all California artists and/or RAA members.  Artists can submit up to three 3D or 2D pieces.  Multi-media means… anything!  Strict size limitation:  must fit within a 14.5-cube, including frame and/or base.  Our judge, Leslie A. Brown, will select which pieces will be put in the show, as well as give out the awards.  Since the prospectus/entry form will no longer be mailed out, it will be available at the Redlands Art Association, 215 E. State St., downtown, Redlands and on their website here: 2015 MMM Prospectus-Insurance E-FORM
All entries must be hand delivered to the RAA Gallery on Sunday, March 1, between 10am – 4pm. Winners of the competition will participate in over  $ 3000 in cash and product awards.   Purchase Award Patrons will select their art pieces at a private showing before the exhibit opens for the public.
Grand Opening Gala will be Friday, March 6 from 5pm to 7pm.  The Artist's Award Ceremony will be on Sunday, March 8.
"Our show is more than just a display of small pieces of art.  It is a collection of little "gems" … you'll want to get up close while viewing." says Grace Fermier, long-time RAA supporter.
For further information on how to enter or become a Purchase Award Patron, please visit the Redlands Art Association at 215 E. State St., downtown Redlands, visit the website www.redlands-art.org or call, 909-792-8435.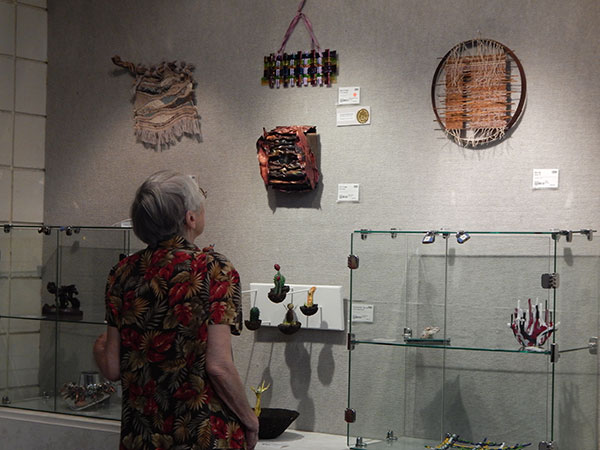 What Is a Juried Show?
Art shows are usually focused on one type of art – like photography or wall art: oils, watercolors, acrylics.
Someone is chosen to judge the art that was submitted for the show.  The judge would be known for his/her experience in the arts.  He does not need to be an artist but someone in the art realm.
For most shows today, the art image is sent by email and scanned onto a DVD so the judge can view it on a computer or projector screen.  The judge is told how many pieces the organizers want in the exhibit.  Then he choses which pieces will be shown in the exhibit.  Sometimes the judge chooses which pieces get prizes from their image on the DVD or he waits to see the exhibit up on the wall, when he can see the actual piece.
For the Multi Media Mini Show, the art is brought into the Gallery for viewing by the juror.  He is told he will have to consider not just the traditional art techniques but what the artist did to create his piece.  I mean, there is nothing traditional about putting a bunch of nuts, bolts, paperclips and do-dads together to create wall art and yet, the effort has to be appreciated.
The judge also chooses which pieces win an award.  He considers the prize – First place, Second place, or if it is a specific award – like "Best Watercolor".  He reviews the pieces he has chosen for the show and selects which ones he likes the best or is the best fit for the prize.
When an artist's work is chosen in a juried show, he gets bragging rights!
It is a star on his resume and the art piece can be featured in his portfolio.  Kinda like getting nominated for the Academy Awards.  Now if he wins an award in the show, he can feel like he's got the Oscar in his hands.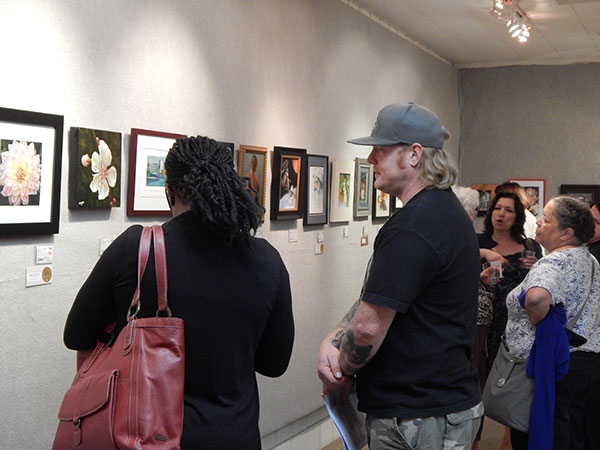 Of course, each juror is different and one piece of art not-accepted for this show may be accepted in another show by a different juror.
The rule of thumb is to keep making art and showing it off.  Sharing your art is most rewarding!  Enter as many exhibits you qualify for.
Sandy Davies, MMM Show committee
2nd Annual Afternoon Tea Party. Sunday 25th January 3-5pm
We had so much fun at the 50th celebrations afternoon tea party in November 2013, we've decided to hold a 2nd afternoon tea party; meeting old and new friends, for a chat with tea, coffee and delicious nibbles.
There is a sign up sheet in the gallery for finger food – small sandwiches, cookies, naughty nibbles. Please bring food on 2 or 3 plates so we spread it out across the tables.
Tea and coffee will be provided.
If you have a large teapot and would share it for the afternoon it would be appreciated.
It is also the last week of the Ray Swanson show and an opportunity to see his wonderful South West paintings.
Look forward to seeing you there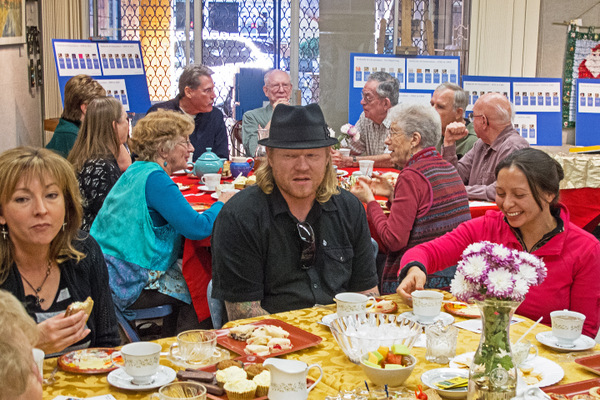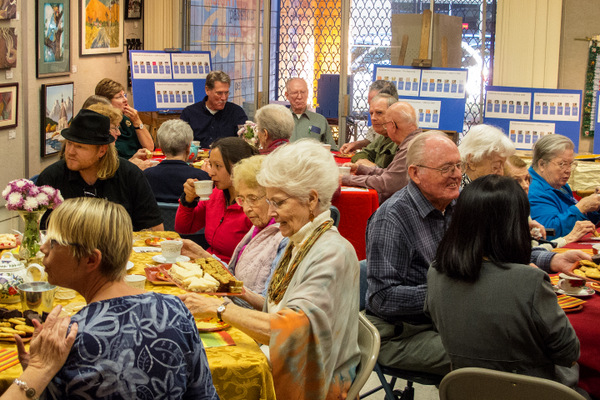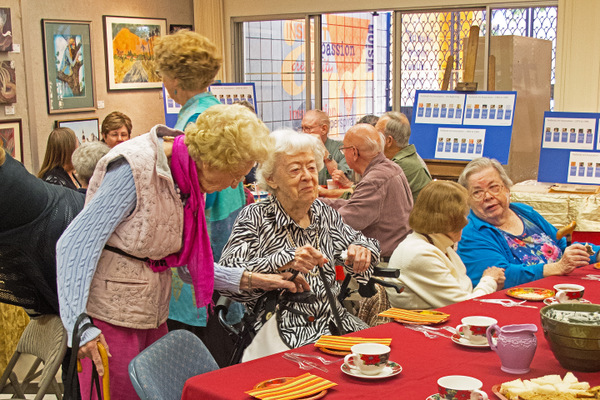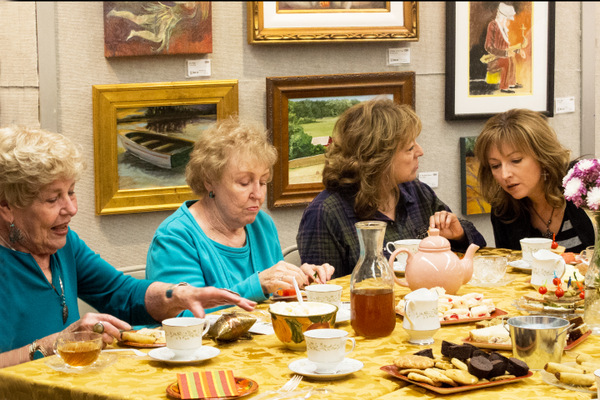 Liz Coviello, Historian in the Cupboard
Business Card Folder
There is now a small white business card folder for all artists business cards. It will only take about 6 rectangular business cards in each sleeve but we'd love to have your cards in there.
Customers regularly ask for an artists business card and now they can be at hand. For jewelry artists I suggest you leave business cards in your jewelry display case so customers can be given one when they make a purchase.
Happy making everyone
Liz Coviello, Historian in the Cupboard
Celebrate the New Year with a new Artist Bio.
Whether you are a renewing member or a new member we'd love to have your artist bio in the bio book.
Just 2 separate pages –
Page 1: some biographical details about yourself, a small photo of yourself, contact details for your website, email etc.
Page 2: 3  photos of your work, contact details again.
Keep it simple.
If you'd like some ideas check out the bio book and see what others have written.
The black bio book is behind the desk in the west gallery.
Remember customers are interested in the artists and their work.
Wishing you all a creative 2015
Liz Coviello, Historian in the Cupboard.
Calligraphy Class Coming Up
Kristi Darwick, has studied calligraphy and art throughout the US, Canada and Europe. Kirsti left the corporate world to immerse herself in creative pursuits and now As President of the Southern California Society for Calligraphy, shares this passion with private and public groups. She is a professional lettering artist who teaches workshops in California and beyond. Recently she led eighteen artists on a study tour in Amsterdam and Bruges, with another trip planned for 2016, by popular demand.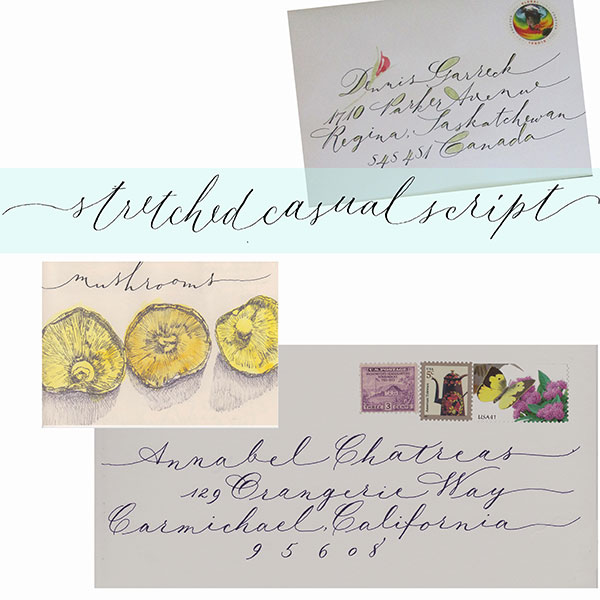 Note that Script is all the rage these days, used by graphic artists and trendy calligraphers alike. This class will introduce calligraphy-rendered script starting first with a ball-point or fine-tipped marker. We'll progress to the pointed pen with its expressive thicks and thins, which lend lush beauty to the writing. Depending on interest, more advanced classes may be scheduled in the future.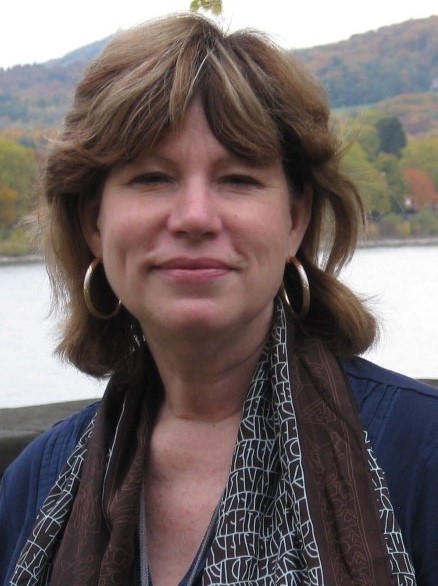 Kristi will instruct a 3-hour class on Wednesday, February 24th, 6-9 p.m. for those who make reservations. Call the gallery to reserve your place soon. Cost: $45
Upcoming Programs and Workshops
Mark your calendars now, so not to miss these upcoming programs and workshops.
February 17 Program: My Way with Watercolor by Ed Sotello
February 21 Workshop: My Way with Watercolor with Ed Sotello
March 31 Program: My Multi-Media Art with Snezana Petrovick
April 4 Workshop: Multi-Media Art with Snezana Petrovick
April 28 Program: Absence/Presence by Sculpture Artist Renee Azenaro
May 26 Program: Oil Painting by Martha Cowan
May 30 Workshop: Oil Painting with Martha Cowan
Note:  All programs start at 7:00 PM
Lori Powell, Education Committee