06 Jun

RAA News June 2011
Annual Meeting
The RAA annual meeting was held Wednesday, June 1, 2011. The pot-luck dinner was well attended, there was lots of great food to eat. New officers and the entire slate of the 2011-2012 Operating committee were introduced, the complete list can be found here. Larry Harvill introduced the new Board of Directors, the list of those members can be found here. Jerry Meeker provided a brief report from MCAEEF (our art education fund committee). Larry Harvill then gave an award to Janet Edwards, for her years of service to the RAA in so many capacities. The final item on the agenda was Evelyn Ifft, walking those in attendance through the architectural renderings of the proposed addition to our gallery. After the meeting adjourned, people had lots of fun flipping through old scrapbooks, thoughtfully brought by historian Liz Coviello.
A photo gallery with lots of picture (most taken by Judith Sparhawk) can be found here.
Candy Glendening, Newsletter Editor
This May's "Art in the Park" had very cool temperatures which made for lovely show. There were lots of people roaming about, and many artworks went to new homes. The central cashier location made it easy for artists to make sales, because there was no change to make! Member Kristy Bergeson spent some time interviewing the exhibiting artists, the movie is embedded right here for your enjoyment.
Candy Glendening, Newsletter Editor
Adeola Davies-Aiyeloja Wins Award
At the recent juried national orange show I won two awards for my "standing tall" entry in the citrus theme, the piece stood tall, won 2nd place & purchase award!
Submitted by Davies-Aiyeloja
Loss in the RAA Extended Family
Dr. George Riday, Artist, Professor, Minister, Army Chaplain,
Yes, George Riday was all those things, and many more. He died on Wednesday, May 25, at 99 years of age.
George was a long time member and supporter of the Redlands Art Association. Always interested in art, in retirement he became a watercolorist, often going on long painting trips or local painting excursions with his watercolorist friend and mentor, Don O'Neill, also an RAA member.
George had a doctoral degree and was a college professor of psychology, and as a skilled counselor was often sought out for his wise and caring counsel.
An ordained Baptist minister, he enlisted in the U. S. Army as a chaplain during the Second World War. He landed on the beach at Normandy on the third day of the great invasion, and went with the army in combat all the way to Berlin.
Our friend and fellow artist, George Riday, had a long and interesting life. He was always interested in what other artists were doing, and an appreciator of other people's work. He will be missed.
– Francis Wiley
Upcoming Anime Teen Workshop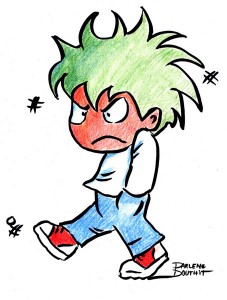 Darlene Douthit, Redlands Art Association teacher;  will be teaching a "Anime Teen Workshop"  at the Loma Linda Branch Library, it will be a hands on experience come join the fun!
25581 Barton Rd. Loma Linda CA 92354
July 12th at 4:00 to 5:00 p.m.
For information call 909-796-8621
Quick-Draw pet caricatures at Grand Opening of Redlands Dog Park
Darlene Douthit will be drawing Quick-Draw pet caricatures on site at the upcoming Grand Unleashing of the Grand Opening of the REDLANDS DOG PARK! June 12, 2011 time 12:00 pm for information Contact: PAWS 909-793-0898 website redlandsdogpark.net
The event is always filled with fun! She will be donating one colored caricatures (drawn at the event or from a photo for the raffle) Darlene offers free cartooning classes once a month at the Center for Spiritual Living Inland Empire call for information (909)-883-7171. Darlene teaches at Redlands art association fee $55.00 for 5 Mondays, 3:30 p.m. to 5:00 p.m. Phone 909-792-8435.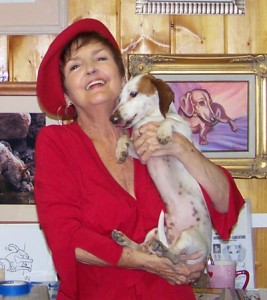 Pictured here is Darlene and her new Best Friend and inspiration, Charlie Brown! The caricature is Charlie Brown. He was rescued by the Riverside Humane Society and was one in a group of 200 dogs. Charlie is a piebald miniature Dachshund. He helped fill the loss of her 17 year old Dachshund Lobo and her 16 year old Chihuahua Dinky, who went to the Rainbow bridge. Darlene found Charlie at PetFinders.com, Pet Smart and TLC Inland Empire, were all helpful. Charlie is two years old, full of energy and a bundle of love! She feels very lucky to have been able to adopt him!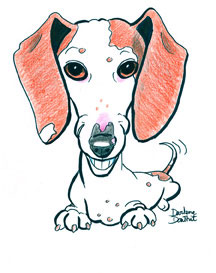 Her love of animals and art began at an early age, she has been drawing, illustrating and painting portraits professionally for over 30 years. She worked as an illustrator for children's books and magazines. She loves her work and is keeping prices down so pet lovers can afford to have a custom picture of their special furry friend. Her prices start at only $10.00 for a black and gray caricature bust, $15.00 for color.
Darlene Douthit • 909-886-1592 • darleneartstudio@earthlink.net •  DARLENEARTSTUDIO.COM
Note from an distant RAA member
Hi everyone. I miss RAA so much. I've been a member on and off for 35 years, so it's out of the question to not maintain my membership. The commute from Santa Monica will not allow me to participate regularly.
Doug Ketchum has inspired me to write. I too am on Etsy.com (karmahjean.etsy.com) and am doing pretty well. I just checked Doug's site and he has some gorgeous pieces, a lot of interest and some sales. I think, as an RAA member on Etsy, it would be supportive  to contribute 10% of sales from an RAA member back to the association. Having a shop on Etsy is definitely worth considering.
– Karen Mahmoudi